Retirement Expert: 5 Myths About Investing in Annuities That Are Costing You Thousands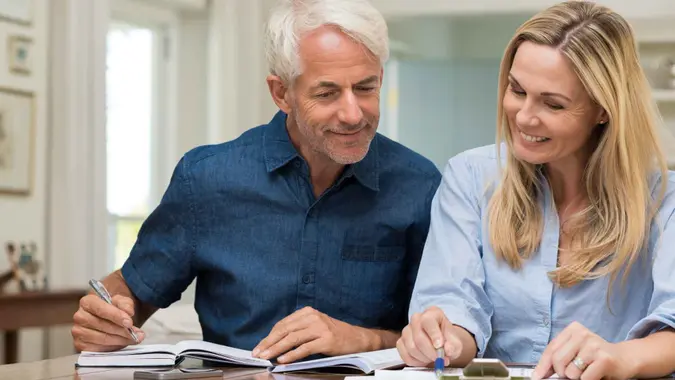 Ridofranz / Getty Images/iStockphoto
With the current environment of high interest rates and market volatility, some experts are saying that annuities can offer a form of protection — and that now is a great time to consider them.
Rona Guymon, senior vice president of Nationwide annuity distribution, said that while higher interest rates may have some negative impacts on the broader economy, they have the opposite effect for many types of annuities. This allows providers to offer higher levels of guaranteed income and higher crediting rates for investors.
"We've all experienced market volatility in the past couple years and that's likely to continue," said Guymon. "It's a great reminder that your investment balance can fluctuate wildly at any time if it's not protected, spotlighting the value of downside protection offered by many annuity products."
In addition, Guymon said, the impact of inflation has made it difficult to maintain spending power — so ensuring you are investing to outpace inflation is a key financial tenet. Annuities can allow clients to invest with protection and guarantees.
Yet, there are still many misconceptions around annuities which might end up costing you money.
Myth No.1: I don't need an annuity because I have a 401(k)
According to Guymon, while 401(k) plans can be an effective vehicle for accumulating retirement savings, most of them do not offer a decumulation strategy.
"In other words, it's on you to figure out how much you can draw down in retirement without exhausting your savings before the end of your life," she said. "And that money remains susceptible to market downturns, which means your savings could shrink dramatically when it's too late for you to go back to work."
Are You Retirement Ready?
In addition, she noted that wealthier earners will typically max out their contribution limits and may need additional tax deferred account options to save more money for retirement.
"That is where an investment only variable annuity or fixed indexed annuity could be a possible solution to maximize retirement savings," added Guymon.
Finally, she noted that some 401(k) providers are beginning to offer in-plan guarantee investment options, which are group annuities offered by the employer that can offer some of the benefits of individual annuities.
"These may be good solutions for 401(k) participants if they are available. Ask your employer if they offer such a solution, or if they are considering offering one in the future," she said.
Myth No. 2: Annuities are too costly
It's no secret that alongside inflation and soaring rates, retirement savings have taken a back seat for many Americans.
Guymon explained that annuities function as an insurance product, and while some may have underlying investment options tied to the markets, they also offer guaranteed income — and have features that offer protection during market fluctuations.
"While there are costs associated with some annuities, the return on that investment is confidence that you won't outlive your money or fall prey to market meltdowns later in life," she said. "When considering the cost associated with annuities, one question you should ask yourself is — can I afford to hope for the best when it comes to predicting my life span, financial needs or market performance, or do I want to build more certainty into my retirement plan and transfer those risks to an insurance company?"
Are You Retirement Ready?
Turning to advisors and financial professionals can help those new to annuities understand various options and fees associated with each one, including the level of downside protection and income guarantee they get in exchange for these additional expenses, she added.
Myth No. 3: Once you invest in an annuity, there's no escape
While it's true that in the past, some annuity providers locked in products and beneficiaries upon purchase, that's changed a lot in the past few years.
Today's annuity products have evolved, product development has progressed, and the industry is focused on providing more flexibility for investors, per Guymon.
For instance, some annuities include free withdrawal provisions, which allow contract owners the ability to withdraw a designated portion of their funds — often 10% each year — without incurring a surrender charge.
"Others have waivers that allow access to account values without penalties if triggering events occur, like hospital stays, nursing home admissions or terminal illnesses," she said. "Be sure to work with an advisor or financial professional to understand the level of flexibility any annuity you may be considering provides."
Myth No. 4: There's a right (or wrong) time to purchase an annuity
Annuities can provide protection and guaranteed income in any economy, and at all stages of the financial life cycle, said Guymon.
"They help investors prepare to navigate adversity in the future, which is impossible to predict," she said. "Having the opportunity to participate in a portion of equity market gains while limiting market losses is appealing to many investors who know they can't afford to risk outliving their income or seeing their savings crater at an inopportune moment."
Are You Retirement Ready?
Myth No. 5: Financial services providers are economically vulnerable right now
While there has been — and continues to be — some pressure in the banking sector, most annuity providers remain strong and stable.
"S&P Global said the U.S. life insurance sector is one of the most highly rated and stable sectors the firm tracks, with 91% of the rated companies in the AA or A rating categories," said Guymon. "Be sure to work with your advisor or financial professional to evaluate the strength and stability of the provider you are considering."
She recommended that investors look for established carriers with a long track record of navigating all kinds of market environments.
More From GOBankingRates