Pinnacle Bank Review: Small Bank Feel, Big Bank Features
GOBankingRates Score
Quick Take: Pinnacle Bank is a small regional bank with big bank features. It has a range of checking and savings accounts, CDs, health savings plans, home and auto loans, and investments through an affiliated firm. It has the technology you'd expect at a bigger bank, with online and mobile banking, transfers to external accounts, and the ability to send and receive money with Zelle.
Checking Accounts
Savings Accounts
Breadth of Products
Banking Experience
How did we calculate this?
Pros
Free checking and savings accounts with low minimum balances
Interest rate on the basic savings account is good
A wide range of services means you can do all your banking here
Online and mobile banking, external transfers and Zelle
Cons
Basic accounts have minimum deposit requirements
ATM charges may not be reimbursed
Pinnacle Bank Overview
Pinnacle Bank is a regional bank with 75 locations in Nebraska, Kansas and Missouri. Its 66 branches in Nebraska are the most of any bank in the state. Pinnacle Bank is part of Pinnacle Bancorp, which has 161 locations in eight states.
In addition to the Free Checking Account and PinnSavings Account, Pinnacle Bank has other savings and checking options, as well as home and auto loans, certificates of deposit, health savings accounts and wealth management services through Pinnacle Wealth Management.
GOBankingRates has named Pinnacle Bank a finalist among the Best Regional Banks of 2023.
Key Features
Here is a look at some of the best features Pinnacle Bank has to offer.
Free Checking Account
The Pinnacle Bank Free Checking Account pays no interest, but it also has no minimum balance, and you can open one with as little as $100. Electronic statements are free. Students, seniors and members of the military can get up to $10 in foreign ATM fees refunded each month.
For an extra $10 a month, you can add several benefits to any Pinnacle checking account. You'll get:
Up to $32 refunded on a non-sufficient funds fee, whether the item is paid or returned.
A refund for up to five money orders and five cashier's checks per statement cycle.
Up to $25 in incoming wire transfer fees refunded each statement cycle.
Up to $10 of foreign ATM fees or surcharges refunded per statement cycle.
PinnSavings Account
To open a PinnSavings Account, you need to deposit at least $100 and maintain that balance to avoid the $1.00 per month statement charge. You can make up to six withdrawals in each statement cycle at no charge — more than that will cost you $1 each. The interest rate, as of Dec. 6, 2022, is APY.
Pinnacle Bank also offers the PinnCheck Market Account, which is a money market account. This account requires a $1,000 minimum balance to avoid the $10 monthly maintenance fee and pays a tiered, variable rate of interest.
Breadth of Products
Pinnacle Bank offers a range of checking, savings and money market accounts, plus certificates of deposit. You can also get home loans, home equity loans, and lines of credit, auto and personal loans. Pinnacle also offers Health Savings Accounts, IRAs and trust services. A full suite of business banking products and services is also available.
Banking Experience
Pinnacle Bank offers online banking with bill payment and mobile banking. Customers can send and receive money with Zelle. Customers also have access to TransferNow through online banking, which lets you transfer funds between your Pinnacle Bank accounts and your accounts at other institutions. You get five free inbound standard transfers each month — after that, they are $2.00 each. There's a $2.00 charge for standard outbound transfers. For next business day outbound transfers, the charge is $7.50.
The Pinnacle Bank mobile app is free and has a rating of 4.8 stars on the App Store, and 4.3 stars on Google Play. The mobile app can be used to view account balances, see transaction history, transfer funds between accounts, make mobile deposits and pay bills.
The Pinnacle Bank website offers video instruction on how to use online banking, mobile banking and other features, as well as financial education.
Comparable Regional Bank Options
While Pinnacle Bank has lots of advantages, you may want to consider other banks before making a decision on where you'll put your money. Consider these other similar options.
Union Bank and Trust
Union Bank and Trust has locations in Nebraska and Kansas and offers many of the same services as Pinnacle Bank, including checking and savings accounts, loans and investments. UBT is a smaller bank with fewer branches, so the choice may come down to which branch is closest to you.
Midwest Bank
Midwest Bank has 11 locations in eastern Nebraska, so this choice may also come down to location. Midwest Bank has been run by the Cooper family for five generations and has deep roots in the community, where it was named one of the Best Community Banks to Work For by ICBA in 2022.
Final Take
If you're looking for a one-stop shop for your banking needs, and you live in Pinnacle's service area — or outside it, if you want to bank virtually — this is a solid choice. You should find everything you might need, from deposit accounts to loans to investments and retirement accounts.
FAQ
Who did Pinnacle Bank merge with?

Since its founding in 1938, Pinnacle Bank purchased several smaller banks in Nebraska in the 1950s, 60s and 70s, then expanded into Kansas in 1976 and into Missouri in 1999. Pinnacle Bank is part of Pinnacle Bankcorp's Family of Independent Banks, with "sister" banks including Bank of Colorado, Pinnacle Bank Wyoming, Pinnacle Bank Texas, Pinnacle Bank New Mexico and Pinnacle Bank Arizona.

Is Pinnacle Bank a big bank?

Pinnacle Bank is a mid-size regional bank with over $39 billion in assets. Along with its holding company, Pinnacle Bancorp, Pinnacle Bank locations total 161.

Does Pinnacle have Zelle?

Yes. Customers of Pinnacle Bank can send and receive money from family and friends with Zelle, as part of the bank's mobile banking app.
Rates are subject to change; unless otherwise noted, rates are updated periodically. All other information on accounts is accurate as of Dec. 6, 2022. 
Editorial Note: This content is not provided by any entity covered in this article. Any opinions, analyses, reviews, ratings or recommendations expressed in this article are those of the author alone and have not been reviewed, approved or otherwise endorsed by any entity named in this article.
To discover the Best Regional Banks, GOBankingRates looked at the top regional institutions (excluding credit unions, online banks and neobanks) with under $100 billion in total assets. To determine rankings, GOBankingRates looked at the following factors: (1) checking product minimum deposit; (2) monthly checking fee ratio (percentage based on the minimum to avoid the fee compared to the monthly fee itself); (3) savings product minimum deposit; (4) savings product APY; (5) Bauer rating (out of 5 stars); (6) products/services offered (auto loans, mortgage loans, credit cards, investment services and insurance); and (7) the average mobile app rating between the Android and Apple app stores. All factors were then scored and combined, with the lowest score being best. Factors (1) and (3) were weighted 0.5 times, factor (4) was weighted 2.5 times, and factor (6) was weighted 1.5 times.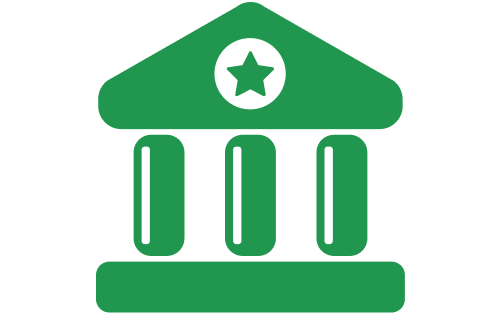 Take Advantage of our Best Offer(s)