Pinnacle Bank Review: A Full-Service Regional Bank
GOBankingRates Score
Quick Take: Pinnacle Bank is a full-service regional bank with locations throughout the Southeast. It offers a comprehensive selection of personal bank accounts as well as consumer loans, business banking and wealth management.
Checking Accounts
Savings Accounts
Mobile App
Banking Experience
How did we calculate this?
Pros
Nice selection of checking and savings accounts as well as CDs
Live bank reps answer calls during bank hours — no menus to wade through
Branches conveniently located in urban areas
Cons
Interest rates and customer service hours not listed on website
Branches located in just six states
Pinnacle Bank Overview
Pinnacle was founded in 2000 by a group of Nashville, Tennessee, business leaders who wanted to provide an alternative to the large national and regional banks they found too far removed from the customers they served. The bank prides itself on providing flexible products and easy access to live customer service associates. Pinnacle is Nashville's No. 1 bank by deposits, and it also ranks first for small business lending in Middle Tennessee. In addition to personal and business banking, Pinnacle offers wealth management services, including insurance.
With over 120 branches located across six states, Pinnacle is big enough to offer a comprehensive selection of personal banking and loan products and small enough to provide the personalized service customers want from a regional bank. That's why GOBankingRates selected Pinnacle as a Best Regional Banks of 2023 finalist.
Key Features
Learn more about the banking features that earned Pinnacle a spot on GOBankingrates' list of the Best Regional Banks of 2023.
Checking Accounts
Pinnacle offers five different checking accounts, all of which have free online and mobile banking with mobile check deposit, an instant-issue debit card, unlimited transactions and free ID theft resolution advice. Although each has a monthly maintenance fee, most are $10 or less, and all can be waived. Account holders get free access to Pinnacle's extensive ATM network. The minimum opening deposit is $100 for all checking accounts.
Basic Checking
Pinnacle's primary checking product is Basic Checking, a no-frills, non-interest-bearing account. The $5 monthly maintenance fee is waived if you receive your statements electronically.
Young Professional Checking
The Young Professional account is designed for recent and soon-to-be grads who might benefit from tools, resources and advice for managing their finances. Pinnacle will waive the $5 monthly service fee when you use direct deposit or electronic statements. Account holders can have four non-Pinnacle ATM fees refunded each month.
Access Checking
Access is an online-only account. In addition to refunding up to four non-Pinnacle ATM fees each month, Access gives you three ways to avoid the $8 monthly fee: use direct deposit and electronic statements; maintain a $1,000 average daily balance; or maintain a combined $25,000 outstanding balance across personal loans, auto loans and lines of credit.
Interest Checking
The Interest account is Pinnacle's relationship banking option. It offers complimentary checks and cashier's checks and refunds all non-Pinnacle ATMs. It also gives you three ways to get your $15 monthly maintenance fee waived: maintain a $2,500 average daily balance; maintain a $25,000 average combined balance across all accounts; or have $25,000 in combined outstanding balances across Pinnacle loans and lines of credit.
Senior Checking
The Senior checking account is for customers over age 55. This interest-bearing account has tiered rates and offers free checks and cashier's checks. There's a $10 monthly service fee, but Pinnacle waives it when you receive direct deposits or maintain a $500 average daily balance.
Savings Accounts
Pinnacle customers have four savings options to choose from: Vision Savings, Outlook Money Market, Zenith Money Market and certificates of deposit. All earn interest, and the savings and money market accounts qualify for use as overdraft protection when linked to a Pinnacle checking account — just maintain a balance sufficient to cover any overdrafts. All savings accounts require a $100 minimum deposit to open.
Vision Savings
Pinnacle's primary savings account is Vision Savings. This is a basic account that allows unlimited deposits to help you build a savings habit. Account holders can make unlimited transfers and withdrawals via an ATM or at the counter in a branch location. Maintaining a $500 average monthly balance gets the $5 monthly maintenance fee waived.
Outlook Money Market
Money market accounts typically earn higher interest than checking and savings accounts, and this one comes with free online banking and bill pay. Convenience withdrawals and transfers are limited to six per month, but there's no limit on how many ATM withdrawals and transfers and in-person withdrawals you can make. This account has an $8 monthly service fee. However, Pinnacle will waive it with one of the following: a $2,500 average monthly balance; a $15,000 average combined balance across deposit accounts; or a $150,000 balance across Pinnacle Asset Management accounts.
Zenith Money Market
The Zenith Money Market account rewards high balances with higher interest rates tiered according to your average daily balance. The account allows unlimited Pinnacle ATM withdrawals and transfers and unlimited withdrawals made in person at a branch location. The monthly fee is $12, but Pinnacle will waive it with one of the following: a $10,000 average monthly balance; a $25,000 average combined balance across deposit accounts; or $250,000 across Pinnacle Asset Management accounts.
CDs
Pinnacle CDs are available in terms ranging from 30 days to five years.
Mobile App
Pinnacle's new mobile app gives users an experience similar to that of using online banking from their computers. Whereas Pinnacle previously had separate apps for business and personal banking, the new app includes both. You can use it to manage transfers and loan payments. Account groupings like "Money I Can Spend," "Money I'm Saving" and "Money I Owe" help you stay on top of your budget. The app protects your money and your data with improved security features like face-ID login on supported devices. Apple Watch and Zelle integrations are in the works. Android and iOS versions both are rated 4.8 out of 5 stars.
Banking Experience
Overall experience was an important factor in Pinnacle Bank's inclusion as a Best Regional Banks of 2023 finalist.
Same-Day Availability of Funds
You won't find a cutoff time for deposits you make at a Pinnacle bank branch. As long as you arrive before the bank closes for the day, Pinnacle will post your deposits the same day you make them.
Customer Service
Pinnacle bank representatives answer calls during bank hours — no recorded messages or menus of options to wade through. In addition, the automated system is available 24/7, so you can get account information, transfer funds, stop payments and get loan and CD information whenever it's convenient.
Branch Locations
With over 120 branch locations in 17 primarily urban markets in the Southeast U.S., you have a good chance of finding a local branch if you live in a major metro area within the six states where the bank operates: Virginia, North Carolina, South Carolina, Georgia, Alabama and Tennessee. Branches are concentrated in North Carolina and Tennessee.
Comparable Regional Bank Options
It's always a good idea to compare banks before you make a switch. Here's a look at how Pinnacle stacks up against two competing regional banks.
United Community Bank
Like Pinnacle, United Community Bank has locations in Georgia, North Carolina, Tennessee and South Carolina. But while United Community's banking options are similar to Pinnacle's, its website is much more transparent, which makes it easy to evaluate whether it's the right bank for you.
Regions Bank
Pinnacle and Regions are both regional banks, but Regions' market covers a wider area — the South, Midwest and Texas. Regions also has more products, such as digital investing with InvestPath.
Final Take
Pinnacle offers a well-rounded selection of banking options, including an online-only checking account. However, you'll need to speak with a banking rep or stop in at a branch to find out about rates and current information about the accounts. Flexibility is a priority for Pinnacle, which means account features and benefits might change frequently. That makes Pinnacle best for those who want the option to bank online but place high priority on access to physical branches.
FAQ
Here are the answers to some commonly asked questions about Pinnacle.
Is Pinnacle a good bank?

Yes. Pinnacle is rated 5 stars by BauerFinancial. That's Bauer's highest rating, and it indicates that Pinnacle is a "superior" institution recommended by Bauer.

Is Pinnacle Bank insured by the FDIC?

Yes. Pinnacle's deposit accounts are FDIC-insured.

Who is Pinnacle Bank owned by?

Pinnacle Financial Partners Inc. and its subsidiaries operate as the holding company for Pinnacle Bank, according to the bank's profile on Yahoo Finance.
Information is accurate as of March 20, 2023.
Editorial Note: This content is not provided by any entity covered in this article. Any opinions, analyses, reviews, ratings or recommendations expressed in this article are those of the author alone and have not been reviewed, approved or otherwise endorsed by any entity named in this article.
To discover the Best Regional Banks, GOBankingRates looked at the top regional institutions (excluding credit unions, online banks and neobanks) with under $100 billion in total assets. To determine rankings, GOBankingRates looked at the following factors: (1) checking product minimum deposit; (2) monthly checking fee ratio (percentage based on the minimum to avoid the fee compared to the monthly fee itself); (3) savings product minimum deposit; (4) savings product APY; (5) Bauer rating (out of 5 stars); (6) products/services offered (auto loans, mortgage loans, credit cards, investment services and insurance); and (7) the average mobile app rating between the Android and Apple app stores. All factors were then scored and combined, with the lowest score being best. Factors (1) and (3) were weighted 0.5 times, factor (4) was weighted 2.5 times, and factor (6) was weighted 1.5 times.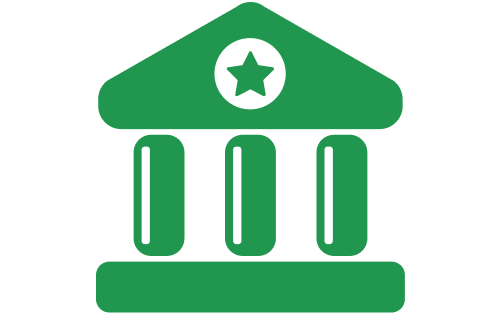 Take Advantage of our Best Offer(s)