Ameris Bank Review: Is It the Right Bank for You?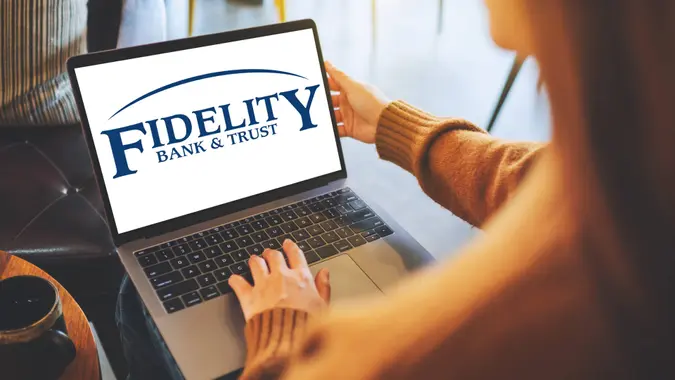 Farknot_Architect / Getty Images/iStockphoto
Founded in 1971 in southern Georgia, Ameris Bank started with the goal of giving its customers something different from its competitors. Throughout years of growth, the bank retained its community focus and today offers a full range of products and services, including personal and business accounts, loans and credit cards. If you were looking for a Fidelity Bank review, you're in the right place — the banks merged in 2019 and together have branches in the southeast and mid-Atlantic.
Is the newly expanded Ameris Bank right for you? This Ameris Bank review covers the following topics:
Who Is Ameris Bank Best For?
Ameris Bank might be growing, but it still provides the customer service you expect from smaller community banks. It's best for individuals who value developing a relationship with a bank they can turn to for all of their banking needs. Ameris also reaches out to customers who prefer banking on the go through the award-winning Ameris mobile banking app for iOS and Android devices.
Pros
Variety of accounts and loan options
Award-winning digital tools
Excellent customer service reputation
Options for waiving or reducing monthly maintenance fees
Free checking account available
Cons
Locations are limited to the southeast and mid-Atlantic
Fees for using foreign ATMs
Who Might Want To Choose Ameris Bank?
If you prefer one-stop shopping for your financial needs and live in the bank's service area, Ameris Bank might be ideal for you. Even if you live a little further out you can still enjoy the bank's products and services by banking online or through its mobile app. Ameris Bank is also a good choice for those who want a free checking account.
Who Might Want To Skip Ameris Bank?
If you're looking for a single product like a checking or savings account and don't need to use the bank's other services, you might want to look elsewhere. Ameris Bank offers so many different types of accounts that you may find it time consuming to sort through and compare all of them. Some accounts have high minimum balance requirements that you might have trouble meeting if you don't do all of your banking with Ameris Bank.
Types of Accounts Available
Ameris Bank offers a variety of financial products, including checking and savings accounts, loans, CDs and IRAs. Here's an overview:
Ameris Bank Product Line
Product
Minimum Deposit
Fees
Features
Checking
$25-$50
$0-$20
Credit monitoring and ID theft protection available with select accounts
Savings
$0-$100
$0-$11
No minimum balance required to keep the account open
Money Market
$2,500
$0-$12
Tiered interest rates to accommodate all customers
CDs
$1,000
N/A
Multiple term options
IRAs
$100
N/A
Option to automatically renew account at the end of the term
Loans
Loan terms vary
Fees vary
Low down payments and special financing for qualified borrowers
Checking Accounts
Ameris offers five personal checking accounts, each with features and perks designed to meet the financial needs of different customers. At-Ease Checking and Free Checking are good choices for customers who want a no-frills account with no monthly maintenance fees but don't mind limited check writing.
Amenity Checking offers several perks that aren't available on other accounts, including credit file monitoring and ID theft protection as well as cell phone protection for phone bills paid through the account. Advantage Checking features upgrades like a complimentary safe deposit box, fee-free incoming domestic wire transfers and ATM fee reimbursements.
All Ameris Bank checking accounts come with access to online, mobile and text banking. The minimum initial deposit for most accounts is $50. The exception is the At-Ease Checking account, which you can open online for as little as $25. Monthly maintenance fees for Amenity Checking and Advantage Checking can be waived or reduced by enrolling in e-statements or meeting minimum balance requirements.
Pros
Multiple options for waiving monthly maintenance fee
Discounts for customers ages 62 and older
Convenient bill pay and robust online and mobile banking services
Cons
Some accounts incur fees for excessive check writing or making deposits in person
Service charge for using non-Ameris Bank ATMs
Savings Accounts
Ameris Bank offers two savings accounts. The Personal Savings account is a standard savings account for adults, while the Minor Savings account is designed specifically for children and teenagers. Both accounts come with access to online, mobile and telephone banking. The Minor Savings account starts earning interest with a single penny in the account, but you have to wait until you have $200 to earn interest with the Personal Savings account.
Pros
No minimum balance required to open the Minor Savings account
The minimum daily balance to waive the monthly fee is lower than other banks
Access to online, mobile and telephone banking
Cons
Account holders might lose accrued interest when they close the account
Activity fee of $10 is charged for excessive withdrawals
Money Market Account
Ameris Bank offers a Personal Money Market account with a system of tiered interest rates. Like the bank's other savings accounts, it comes with access to online, mobile and telephone banking plus e-statements and account alerts.
Pros
Easy access to money with a debit card
Maintenance fee waived if you maintain the minimum balance
Cons
Activity fee of $10 is charged for excessive withdrawals
The $2,500 minimum deposit to open is more than other banks charge for a similar account
Certificates of Deposit
Ameris Bank offers CDs in terms ranging from one month to five years, all with minimum deposits of $1,000. Customers can apply for and manage their accounts online through the bank's website.
Pros
There's no charge to transfer interest to other Ameris Bank interest-bearing accounts.
Choose from multiple term options from one month to five years.
Apply online.
Cons
$1,000 minimum opening deposit is greater than other banks require.
Ameris does not post current CD interest rates on its website.
Individual Retirement Accounts
Customers can open both traditional and Roth IRAs through Ameris Bank. The initial deposit for these accounts is $100.
Pros
Affordable initial deposit
Flexible terms
Automatic renewal at maturity
Cons
Interest rates for IRAs not posted on the Ameris website, making it difficult to compare rates
Loans
Ameris Bank offers a full range of loan products, including mortgages, auto loans, credit cards, personal loans and lines of credit. The variety of mortgage options means there's something for everyone, from first-time homebuyers to those looking to build or refinance a home. Auto loans with competitive interest rates are available for new and used vehicles. The bank also has Visa and American Express credit cards featuring cash rewards and other perks.
Pros
Online application available for most loans
Special financing options for qualified borrowers
Multiple mortgage programs
Flexible loan amounts
No pre-payment penalty for personal loans
Secured and unsecured credit cards available
Financing for new and used vehicles
Cons
Some loans require in-branch visit
How To Bank With Ameris Bank
You can open an account at Ameris Bank by visiting a local branch or applying online through the bank's website. Before starting the application process, gather the necessary documents:
Government-issued identification (driver's license, passport)
Social Security number
Current residential address
Email address
Account number you plan to use to transfer the opening deposit
Co-applicant's personal information
Technology
Among Ameris Bank's strengths are its online, mobile and telephone banking systems. These platforms give you access to your account from any computer or smartphone or via text message on any cell phone. When you download the Ameris Bank mobile app you can also set up and use the mobile wallet for paying at the point of sale with select merchants. Not only do you have 24-hour access to your account information, but you can also receive alerts about activity on your account.
Telephone banking works via your cell phone's text messaging platform so you can still keep track of your account — even if you don't have a smartphone. You can activate text banking through the Personal Online Banking system and then text specific commands to 79680 and receive responses via text. Commands include checking your balance summary, reviewing recent transactions and getting the direct URL to the bank's online banking website.
Ameris Bank Fees
If you're considering opening an account with Ameris Bank, review the fees associated with account activities. Some of the fees are listed here:
ATM or debit card replacement: $5
Coin-counter fee: 10% of total amount
Foreign ATM inquiry, withdrawal or transfer: $2
Non-sufficient funds fee: $35
Statement copies: $5
Stop payment: $35
Wire transfer (domestic outgoing): $15-$35
Wire transfer (domestic incoming): $20
Wire transfer (international outgoing): $25-$45
Wire transfer (international incoming): $20
Availability of Funds
When you deposit money into your Ameris Bank account, the funds are available either the same day or the first business day after the bank receives the deposit. Money from electronic deposits is available that day, but you have to wait up to nine days to access money from a check deposit. The bank can withhold access to funds in the following circumstances:
The bank suspects the check you deposited will not be honored.
The check you deposited has already been returned once.
You deposit more than $5,000 in a single day.
You have a history of overdrawing your account.
Special rules apply to new accounts that have been open for fewer than 30 days. Although money from direct deposits is available on the day they're received, other deposits must meet certain conditions before the funds are released. Checks must be written out to the account holder, and you might need to use a special deposit slip or make the deposit in person. In some cases, the bank can hold funds until 10 days after the deposit.
Decide If Ameris Bank Is Right for You
If you want big-bank products with small-bank customer service, check out Ameris Bank. It offers a full lineup of banking products and services designed to meet the needs of customers. You also get access to all of your accounts through the bank's online and mobile banking systems that let you keep up with your balances, pay bills and make deposits wherever you are in the world.
This article has been updated with additional reporting since its original publication.
This content is not provided by Ameris Bank. Any opinions, analyses, reviews or recommendations expressed in this article are those of the author alone and have not been reviewed, approved or otherwise endorsed by Ameris Bank.