TD Bank Review: One of the Biggest Banks in the U.S. Provides Custom Banking Options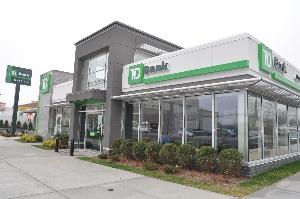 Headquartered in Portland, Maine and Cherry Hill, New Jersey, TD Bank is the 11th biggest bank in the United States. Whether you're opening your first bank account or applying for a home equity loan, this financial institution offers a wide range of financial products.
However, no two banks are alike and choosing the best bank for your money is never easy, requiring careful research. Do you want a unique banking experience? If so, discover the products and services offered by TD Bank, and decide whether this bank is right for you.
TD Bank Review
TD Bank delivers a multitude of financial products to meet the various demands of its clients. TD Bank account options include:
Checking Accounts
TD Bank offers six different types of checking accounts, including simple checking, student checking and premier checking. Monthly maintenance fees for checking accounts range from $5.99 to $25. The bank, however, waives the monthly fee if you maintain the minimum daily balance requirement. Student checking is always free. And if you're looking to earn interest on your checking account, this financial institution offers three options – TD 60 Plus, TD Premier and TD Relationship.
Savings Accounts
While some banks may feature one or two savings options, TD Bank offers seven different types of savings accounts to help reach your financial goals. You can start a nest egg with a simple savings account, or grow your money faster with a money market account.
Other options include the Holiday Saver and Club Saver, which are perfect if you need to save up for holidays or something special like a vacation. And if you're opening an account for a minor, the TD Young Saver is your best bet. You can also open a Health Savings Account to help pay for future medical expenses.
TD Bank CD Rates
Earn a higher rate of return on your savings with a certificate of deposit. TD Bank CD rates are competitive and range from 0.15% to 1.25% APY. Choose a CD term between 91 days and seven years. There are four options available to you, such as Basic CDs, No Catch CDs, Step Rate CDs and an IRA Add-Vantage CD. Get started with a low $250 deposit, plus there is the option to automatically renew your certificate of deposit at maturity.
Credit Cards
A TD Bank credit card features no annual fee and a minimum credit line of $500. Choose from multiple options, such as a rewards credit card and a cash back credit. These cards feature 0% interest on balance transfers for the first 18 months, as well as other Visa cardholder features (emergency card replacement, $0 liability on unauthorized purchases, auto rental collision damage waiver).
TD Bank Mortgage Rates

Whether you're purchasing, refinancing or applying for a home equity loan, TD Bank mortgage rates are competitive. Apply online and receive a same-day loan decision. Choose from different mortgage products, including a 30-year conventional mortgages or 15-year mortgages.
TD Bank Auto Loans
Getting an auto loan has never been easier. You can apply for a TD Bank auto loan in-person, online or over the phone. These loans feature a low, fixed rate, and in most cases, you don't need a down payment. Enjoy the convenience of paying your auto loan bill online.
Advantages and Disadvantages of TD Bank
One of the biggest advantages of TD Bank is its number of locations. With more than 1,300 locations, account holders typically have easy access to a bank branch or ATM. Additionally, TD Bank has up-to-date online and mobile banking features. Account holders can bank on-the-go and access their information from a computer or mobile device. They can pay their bills online, view account statements, schedule payments, transfer funds and receive real-time account information.
Another plus: TD Bank hours of operation. Most banks and credit unions are open between the hours of nine and five — TD Bank is different. This bank offers longer banking hours, and typically opens its doors at 8:30 a.m. The bank doesn't close until 8 p.m on Fridays and 3 p.m. on Saturdays. As an extra bonus, TD Bank is open on Sundays and Presidents Day.
With it's many banking options and unique services, TD Bank is a top pick. But currently, TD Bank branches are only located on the East Coast from Florida to Maine.
Should You Bank with TD Bank?
TD Bank strives to create the best experience for its customers. You'll discover a wide selection of products, competitive rates and innovative features. If you're looking for a bank with longer hours on the weekends, and one with locations in multiple states throughout the East Coast, consider opening an account with TD Bank.