Chase Credit Card Comparison: How the Sapphire Reserve Card Stacks Up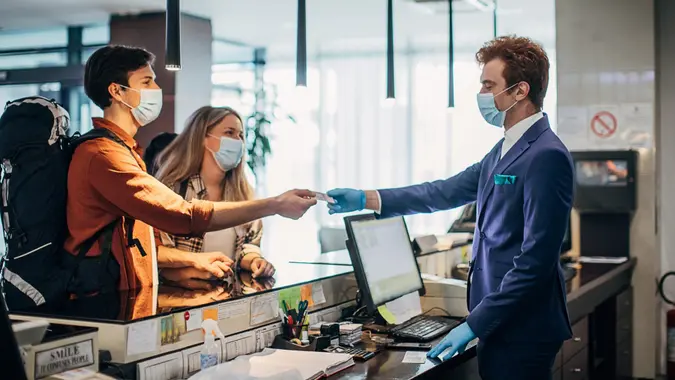 South_agency / Getty Images
The Chase Sapphire Reserve is a card worth carrying for frequent travelers. Chase is known for having some of the best travel credit cards on the market, which gives the Chase Sapphire Reserve a place among the best of the best.
It offers a lucrative welcome bonus toward travel and better travel cash back rewards than with some travel rewards cards. This Chase credit card comparison will show how the Sapphire Reserve stacks up against other Chase card offerings.
Chase Sapphire Reserve Card Features
The big draw to the Chase Sapphire Reserve is the 60,000-point sign-up bonus, which cardmembers can earn by spending $4,000 in the first three months after card opening. The bonus points are equal to $900 worth of travel when redeemed through the Chase Ultimate Rewards® program.
To reap the most significant rewards, Reserve cardmembers must book their travel through Chase Ultimate Rewards. After the first $300 is spent on travel annually, cardmembers can earn:
5x points on Chase Ultimate Rewards airline ticket purchases
10x points on Chase Ultimate Rewards hotel and car rental purchases
3x points on other travel worldwide
Additionally, cardmembers earn:
10x points on Chase Dining purchases booked through Ultimate Rewards
3x points on other dining, including eligible delivery services, takeout and dining out
1 point per dollar spent on all other purchases
The most prohibitive Reserve requirement for many people is the high annual fee. While the Reserve does offer a $300 annual credit for travel goods and services charged to the card, the card has a pricey yearly fee of , with another $75 for each additional card for authorized users. That may be a steep price for those who don't rack up the rewards.
Before applying, potential cardmembers should determine whether their travel habits will maximize this card's benefits and make it worth paying the annual fee. 
For those looking for a card with an attractive introductory balance transfer or purchase APR offer, the Reserve lacks both of these benefits. Balances can be transferred to the Reserve card for a $5 or 5% fee, whichever is greater, but the cardmember will pay the standard APR of on the transferred balance.
Chase Sapphire Reserve Card Travel Benefits
The Chase Sapphire Reserve card is geared toward travelers, and it outshines many travel rewards credit cards. Some of the standout Reserve travel perks include:
Access to more than 1,300 airport lounges with a one-time enrollment in Priority Pass™ Select
Trip cancellation insurance and trip interruption insurance
Auto rental collision damage waiver
Lost luggage reimbursement of up to $3,000 per passenger if the cardmember or an immediate family member experiences lost or damaged checked or carry-on luggage due to carrier error
Trip delay reimbursement of up to $500 per ticket for the cardholder's family if travel is delayed more than six hours or requires an overnight stay
Chase Credit Card Comparison
Consumers should compare card options carefully before filling out a credit card application and applying for a credit card. Here is a little more about the four other featured Chase cards and how they compare to the Sapphire Reserve. With low or no annual fees, consumers who can't swing the Sapphire Reserve's steep annual fee can still get some great rewards and benefits from these cards. 
Chase Sapphire Preferred Card
Of Chase's card offerings, the Chase Sapphire Preferred card is the most similar to the Reserve, with a few notable differences.
The most significant difference is in the annual fees. The Preferred card only charges annually compared to the Reserve's annual fee. The Preferred card has a slightly better APR at . But what a cardmember might save on the annual fee and APR with the Preferred card, they lose in perks.
The Preferred card does not have the $300 annual travel credit like the Reserve, but cardmembers can earn up to $50 in statement credits each account anniversary for Chase Ultimate Rewards hotel purchases. Also, while the Preferred card does offer several travel benefits, the list isn't as extensive as the Reserve card.
Ultimate Rewards purchases using the Preferred card earn fewer points, up to 50% less for some purchases than the Reserve, but the Preferred card does have some rewards perks that the Reserve does not.
Preferred cardmembers earn 3x points on qualifying online grocery purchases and 3x points on select streaming services, whereas the Reserve cardmembers earn one point for each dollar spent on these purchases.
The Preferred card might be the better travel rewards option for those who don't travel enough to make the Reserve's annual fee worthwhile.
Chase Freedom Unlimited Card
Like the Sapphire cards, the Chase Freedom Unlimited card is a sound cash back card for travelers, earning cardmembers 5% on Chase Ultimate Rewards travel purchases. But what makes this card most attractive is the introductory offer and bonuses for new cardmembers.
New cardmembers who spend only $500 on purchases in the first three months from account opening can earn a $200 bonus. Perhaps even better, they earn 5% cash back on up to $6,000 in gas station purchases during the first year, which could be as much as $300 cash back. Finally, new cardmembers get a 0% introductory APR for 15 months on balance transfers and purchases, followed by an APR of .
Not bad for a card with no annual fee that pays 3% cash back rewards on dining, 3% on drugstore purchases and 1.5% on all other purchases. 
Chase Freedom Flex Card
The Chase Freedom Flex card is very similar to the Chase Freedom Unlimited. The most notable difference is that the Freedom Flex card has quarterly rotating bonus cash back rewards categories. Cardmembers can earn 5% rewards on up to $1,500 on bonus category purchases each quarter. Past bonus cash back categories include Amazon purchases, streaming services and grocery store purchases.
The Chase Freedom Flex offers an introductory APR of 0% for the first 15 months, followed by an APR of .
Chase Slate Edge Card
Consumers who need a good balance transfer card or a low-interest card might want to consider the Chase Slate Edge card. While this card is not a rewards card, it does have the best balance transfer offer of the Chase cards: 18 months of 0% APR on balance transfers and purchases from account opening, after which the APR is .
Additionally, cardmembers who meet minimum card requirements are automatically eligible for a possible 2% APR reduction each year until they reach the minimum. Requirements are reasonable: make on-time payments and spend a minimum of $1,000 during the year.
Final Take
In this Chase credit card comparison, which Chase card is best? That all comes down to the cardmember. Having the more expensive Reserve card can pay off for frequent travelers, particularly for those who use the card to purchase plane tickets, rent cars, book hotel rooms and dine out. With the $300 annual credit and higher points ratio, the Reserve card is not that much more expensive than the Preferred card if you use it wisely. 
However, the Freedom Unlimited or Freedom Flex are much better options for those who do not travel regularly or are looking for a great introductory offer on a card with no annual fee. Regardless, most people searching for a new card will likely find at least one Chase card that meets their needs.
FAQ
Here are answers to commonly asked questions about Chase credit cards.
Which Chase card is best for me?

Choosing the best Chase card comes down to determining what features and perks will benefit a cardmember most.
The Sapphire Reserve and Sapphire Preferred cards offer excellent travel rewards but come with higher annual fees and APRs than some other Chase cards.
Those in need of a balance transfer card might find the Freedom Unlimited or Freedom Flex cards to be the best card options but may miss the extensive travel perks of the Sapphire Reserve if they travel frequently.

What are the different types of Chase credit cards?

Chase offers travel rewards options in its Sapphire Reserve and Sapphire Preferred cards and cash back rewards options with the Freedom Unlimited and Freedom Flex cards. Additional types of Chase cards include dining, hotel, airline, and business cards.

What is the most elite Chase card?

The most elite Chase card is the Chase Sapphire Reserve card. It boasts high rewards for frequent travelers. Chase also issues a few elite co-branded cards, such as the United Club Infinite card.

Is Chase Slate or Chase Freedom better?

The Chase Slate Edge card has a longer 0% introductory offer than the Chase Freedom Unlimited or Freedom Flex, and eligible cardholders may get up to a 2% reduction in APR each year. But, it does not offer rewards. Chase Freedom cards are a better option for those interested in cash back rewards.
Rates are subject to change; unless otherwise noted, rates are updated periodically. All other information on accounts is accurate as of June 14, 2022.
Editorial Note: This content is not provided by Chase. Any opinions, analyses, reviews, ratings or recommendations expressed in this article are those of the author alone and have not been reviewed, approved or otherwise endorsed by Chase.