Credit Card Annual Fees: Are They Worth Paying?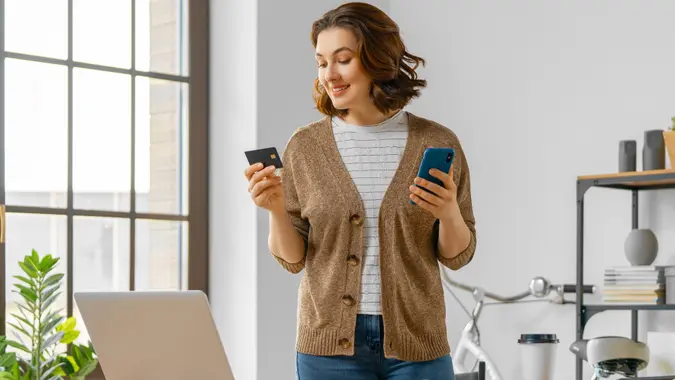 Choreograph / iStock.com
Choosing a credit card can be a confusing process, with different providers offering appealing rewards, sign-up bonuses and other perks that can tempt you to quickly sign on the dotted line. Before you do, make sure you check for information about the card's APR, grace period and fees, including whether or not you will be charged an annual fee. Not every credit card charges an annual fee, so you will need to decide whether the advantages that come along with an annual fee card are worth the cost.
What Are Credit Card Annual Fees?
Credit card annual fees are the amount you must pay each year to have the credit card. Some credit cards charge consumers yearly fees simply for the privilege of having the plastic in their wallets; whereas, other credit cards do not charge annual fees.
The fees vary based on the type of credit card you choose. With the payment of the annual fee, a consumer might earn additional perks or get a lower APR rate on their card. Examples of the perks you might get with an annual fee credit card include:
Rewards: Airline miles or cash-back rewards
Travel and purchase insurance: Including car rental insurance and extended warranty coverage
No foreign transaction fees: No fees for transactions made abroad
Annual fees could range from $39 to $95, more or less, but exclusive, invite-only credit cards such as the American Express Centurion card will charge fees as high as $5,000 per year. Some cards waive the annual fee the first year but charge you each year thereafter. Make sure to read the fine print so you know what to expect.
Advice from CardCritics: Pay No Interest Until 2024 With These Top-Rated Cards
What Do Credit Card Annual Fees Give You?
An annual fee could be worth it if you can offset the cost with the amount you get back, either in rewards, cash back or other perks. For example, the Capital One Venture Rewards travel credit card allows you to earn two miles per dollar on every purchase and 5 miles per dollar on hotels and rental cars booked through Capital One Travel. In addition, you'll receive up to a $100 credit for Global Entry or TSA Precheck. The annual fee for the card is $95, so if you plan on using this perk, the card will pay for itself.
You'll earn miles toward flights as well, so this card could benefit frequent travelers. If you don't travel enough to earn more than $95 in rewards each year, this card might not be worth it for you.
Even if you are not a frequent traveler, you might be able to benefit from an annual fee card that offers cash back. For instance, consider the Chase Sapphire Preferred Credit Card, which also charges an annual fee of $95.
With this card, you earn two points for every $1 spent on travel and dining and one point on every $1 spent on other purchases. Each point is worth 1 cent in cash back, which means that 100 points equal $1 in redemption value. So, if you spend more than $5,000 annually on dining and travel, you'll earn over $100 in cash back, which will cover the annual fee. Or if you spend over $10,000 annually on other purchases, you'll also make back the annual fee and then some.
Credit Card Types With Annual Fees
If not all credit card offers come with annual fees, which ones require you to pay this extra cost? Most often, the fee is reserved for cards issued to people with lower credit scores; however, they also accompany other types of cards.
Types of Annual Fee Credit Cards:
Secured cards: Secured cards are similar to prepaid cards in that they require you to make your own cash deposit, which then becomes your line of credit. Over time, with good card management under your belt, the company may extend additional credit to you.
Rewards cards: Rewards cards also might come with annual fees. These cards offer specific benefits, like cash back or discounts on travel costs for using them regularly.
Airline cards: Airline or frequent flier cards are rewards cards that apply points, specifically toward travel upgrades or free airfare.
If you do take on a card with an annual fee, you may have to pay that fee all at one time each year that your contract renews. It also could be broken down into payments over a year.
Keep in mind, if your credit card issuer decides to impose a new annual fee — or raise the current one — federal law requires companies to notify you 45 days before the new fee becomes effective. This gives you time to reject the new fee if you choose, which is usually accomplished by closing your credit card.
Are Credit Card Annual Fees Worth It?
Certain people can recover the cost of an annual fee credit card; but, at the end of the day, there is no true difference between any no-annual-fee credit cards and credit cards with fees, except that one costs you more money. By maintaining a strong credit history and comparison shopping for credit cards, it is more than likely that a consumer can find a credit card with no annual fee plus all the perks and rewards they like.
Takeaway
Credit card annual fees could be beneficial if you're sure the card's perks are worth the fee. In many cases, taking advantage of the credit card's offers could easily offset the cost. However, there are plenty of credit cards on the market and there may be free alternatives. Do your research first and compare other card offers before you apply.
Cynthia Bowman and Stacey Bumpus contributed to the reporting for this article.
All information about American Express card offers has been collected independently by GOBankingRates and has not been reviewed or approved by American Express. These offers are not available through GOBankingRates.