Navy Federal Platinum Credit Card Review: Great for Balance Transfers and More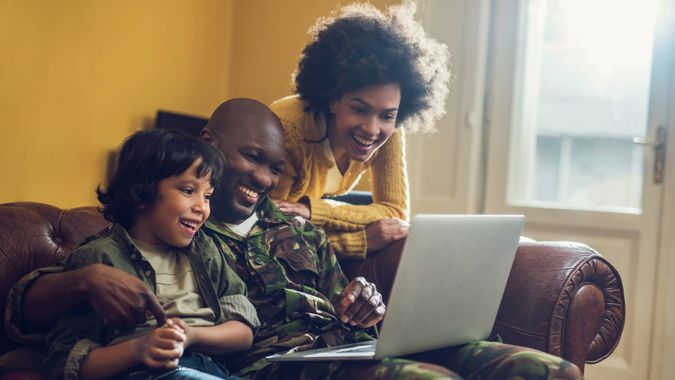 BraunS / Getty Images
The Navy Federal Credit Union Platinum credit card is for members of the credit union only, but that is actually part of the appeal. Navy Federal Credit Union is a members-owned, not-for-profit financial institution whose entire mission is dedicated to serving current and former members of the military and their families. The specific features of the Navy Federal Credit Union Platinum card are tailored towards that mission, making it a great choice for qualifying members.
Here's what you'll see in this credit card review:
Navy Federal Platinum Card Overview
The Navy Federal Credit Union Platinum credit card is designed specifically for qualifying members who carry a balance on their credit cards. Members can transfer outstanding balances on other cards to the Navy Federal Platinum card with no balance transfer fees whatsoever. Additionally, there's no annual fee on the card, along with no foreign transaction fees or cash advance fees. This means the card can almost serve as a substitute for a no-fee personal loan, along with its other capabilities as a traditional credit card. However, unlike a personal loan, this credit card also carries a number of significant features at no additional cost.
Earn More Perks From Your Credit Card
Benefits
This card is the lowest-rate card offered by Navy Federal Credit Union, which makes it ideal for those in need of transferring a credit card balance. It can also be a good option for those needing to pay for a large purchase over time. Members of the military are a particularly good fit, as the card doesn't have any foreign transaction fees. In fact, no Navy Federal Credit Union credit cards have foreign transaction fees. This means that members stationed overseas can use the card without worrying about paying an additional 3% fee, as is common with some other credit cards.
Currently, Navy Federal is offering a great promotion on this credit card as well. In addition to charging no balance transfer fees, members can enjoy a 0% introductory balance transfer interest rate for the first 12 months if they apply by June 30, 2021.
In addition to all of these primary uses, the card comes with plenty of additional benefits, including the following:
No annual, balance transfer, cash advance or foreign transaction fees
24/7 customer service from stateside representatives
Zero liability for unauthorized transactions
Access to your FICO score
Collision damage waiver
Extended warranty service
Travel and emergency assistance
Cellphone protection
Outside of any promotions, the card offers a low variable annual percentage rate between 5.99% and 18.00%, depending on creditworthiness. Additional information about all of these perks can be found on the Navy Federal Credit Union Platinum Card website.
Drawbacks
No credit card is perfect for everyone. One of the few drawbacks of the Navy Federal Credit Union Platinum Credit Card is that there aren't any rewards points attached to it. For example, you won't earn points or cash back on purchases you make with the card, as you can with some competitors. However, because you may be able to save on interest with this card due to its low rates, especially with a balance transfer, it has the potential to outweigh the rewards that could be earned on higher interest rewards cards.
How To Apply For a Navy Federal Platinum Card
To open a Navy Federal Credit Union Platinum credit card, you must first become a member of the credit union. Membership is open to all branches of the military, not just the Navy, and eligibility extends to those on active duty, veterans and their families. This includes members from the Army, Navy, Marine Corps, Air Force, Coast Guard, Space Force and even ROTC. Essentially, if you have any military affiliation at all, you can join Navy Federal Credit Union.
Earn More Perks From Your Credit Card
To apply for this specific credit card, simply visit the Navy Federal Credit Union Platinum Credit Card webpage and click the orange "Apply Now" button. If you're not a member, you'll have to join the credit union first, but if you're an existing member, the application process is easy, as Navy Federal will already have your identifying information.
Bear in mind that not all applicants are automatically approved for the card. Navy Federal will have to pull your credit report and ask you some personal and financial information as part of the application process. To get approved, you'll need average to excellent credit.
Who This Card Might Be Best For
This credit card is clearly designed for two types of customers: those that carry a balance on their credit cards and those planning to make a large purchase and wanting to pay it off over time. The card stands out due to its lack of annual, balance transfer, foreign transaction or cash advance fees, and the credit union behind it stands out for its understanding of the military community. Navy Federal Credit Union serves over 1.5 million military veterans, and as a member-owned non-profit, it focuses all of its resources on servicing the needs of military families. The current 0% balance transfer promotion makes the card even more appealing for those in need of some additional financial flexibility.
More From GOBankingRates