3 Killer Credit Card Combos for Travelers That Earn You – Almost – Quadruple the Rewards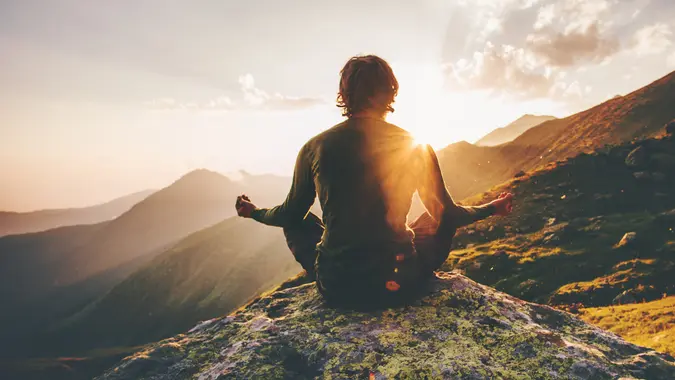 Everste / Getty Images/iStockphoto
What makes a great credit card? Affordability and low annual percentage rates might spring to mind. But, for the best credit cards, customers need to seek the best rewards. 
Credit cards should be used to gain all the perks and advantages that come with them: building credit scores, cash bonuses, insurance protection and handling bills more effectively. 
Perhaps more importantly, though, is utilizing cash back to save on every dollar spent. Be it for business or leisure, there's a credit card that can help consumers take hold of all of those benefits at home or abroad. 
Savvy travelers can combine travel points from different credit cards to optimize their rewards by doubling up with two complementary credit cards. Here are some of the best credit card combos travelers can use together to maximize rewards.
Chase Sapphire Preferred and the IHG Rewards Traveler Credit Card
When bundled together, Chase Sapphire Preferred and the IHG Rewards Traveler Credit Card are two of the best options. The Sapphire card gives back points for travel purchases, and IHG Rewards complements it by awarding users points for their stays.
The Sapphire Preferred card comes with an additional sign-up bonus of 60,000 points for new members. This equates to roughly $750 of a credit redeemable through Chase Ultimate Rewards. To qualify, users simply need to spend $4,000 with the card within three months of joining. 
The other core benefits include:
5x points on Chase Ultimate Rewards travel purchases
2x points on all other travel purchases
3x points on dining, delivery, online groceries and streaming
1 point per dollar spent everywhere else
Customers can also earn an additional 15,000 points per referral, up to a maximum of 75,000 points in total.
The Chase Sapphire Preferred card offers APR and an annual fee of . To be eligible, you must have an excellent credit score.
IHG Rewards is the perfect credit card for booking accommodations worldwide. Redeemable points are awarded for purchases at all approved locations. These include some of the most renowned international hotels and resorts, including the InterContinental Group, Regent International Hotels, Crowne Plaza and Atwell Suites. 
The main benefits include:
Up to 17x points at IHG Hotels and Resorts
A fourth night's stay for free when booking three nights via Chase Ultimate Rewards
If a new cardmember spends $2,000 within the initial three months of receiving their card, they can redeem an additional 120,000 points. Similar to the Sapphire cards, members can earn an extra 50,000 points for referring five other people.
The IHG Rewards Traveler Credit Card offers a APR with no annual fees. To be eligible, your credit score must be excellent.
American Express Gold Card and Hilton Honors American Express Aspire Card
American Express has some of the most lucrative credit card rewards systems in the industry overall, so it's no surprise that it covered its tracks for travelers, too. A brilliant perk that comes with the American Express® Gold Card is that users can claim up to five additional American Express cards with no additional annual fees. This benefit means American Express® Card Members can offset the regular annual fee associated with the Hilton Honors card.
The Gold Card is one of the best all-around credit cards with extensive travel benefits. Whether it's for regular use or travel on the go, American Express® Card Members can claim all of the following:
4x points at restaurants worldwide, plus takeout and delivery in the U.S., and groceries at U.S. supermarkets on up to $25,000 in purchases per year
3x points on flights booked directly with airlines or on amextravel.com.
1x points on all other purchases
$10 credit per month for purchases with Shake Shack, Grubhub, the Cheesecake Factory and more
$10 credit per month with Uber when using the card
Pre-sale ticket access
Lowest Hotel Rates Guarantee will refund the difference if the same accommodation booked is found at a lower price
No foreign transaction fees
The Hotel Collection Program gives members a $100 credit for stays of two nights or longer, as well as a room upgrade where available at participating locations
On top of the above perks, the Gold Card is presently offering 60,000 points as a welcome offer once members spend $6,000 within the first six months of use. Terms Apply.
The American Express® Gold Card offers a APR with $250 in annual fees. Your credit score must be excellent to ensure eligibility.
As extensive as the Gold Card is, consumers can elevate their rewards further by pairing it with the Hilton Honors American Express® Aspire Card. The Hilton Honors is an excellent add-on that covers getaways from start to finish and incorporates luxury add-ons for members.  
These benefits include:
14x points on eligible Hilton Resorts spending
7x points on travel and at U.S. restaurants, including takeout and delivery
3x points on other qualified purchases
Exclusive reservations and VIP status with Global Dining Access by Resy
Priority Pass Select for airport lounge admission
Baggage insurance
Car rental insurance
Free weekend stay at participating Hilton locations if members spend $60,000 or more using their card
$100 Hilton property credit for a stay of at least two nights at approved locations
$250 Hilton Resorts credit per year
$250 airline fee credit
Hilton Honors card members also have the opportunity to earn 150,000 points if they spend $4,000 during the three months after it is issued.
The Hilton Honors American Express® Aspire Card provides a APR and charges $450 in annual fees. To be eligible, your credit score must be excellent.
American Express is a GOBankingRates.com partner. All information about The American Express® Gold Card and The Hilton Honors American Express® Aspire Card has been collected independently by GOBankingRates.com. The American Express® Gold Card and The Hilton Honors American Express® Aspire Card are not available through GoBankingRates.com.
Capital One Venture X and Discover it® Miles Credit Card
Although these two are not issued by the same company, the Capital One Venture X card and the Discover it® Miles card are a terrific credit card combination. Both of these cards operate exceptionally as stand-alone options, but putting them together is even better. 
The Venture X stands out as the perfect all-in-one planned trips away card. All of the background noise being handled by Capital One gives the best range of benefits to customers.
The reward structure works out as follows:
10x miles on hotels and rental cars
5x miles on flights booked with Capital One Travel
2x miles on all other purchases
10,000 miles credited each year
$300 travel credit when booking with Capital One Travel
$100 credit on TSA pre-check
Price matching on flights and hotels
Capital One Lounge access
Hertz President's Circle gives free upgrades and lets members skip the queue
Pre-sales for tickets
Exclusive dining reservations
No foreign transaction fees
Cellphone protection
Miles never expire
New cardholders will receive 75,000 miles when they spend at least $4,000 within the first three months. Referrals for brand new Capital One customers can bag Venture X members a further 100,000 miles, too.
The Capital One Venture X credit card offers a APR and charges $395 in annual fees. It requires an excellent credit score to qualify.
The Discover it® Miles credit card takes a more simplistic approach than most. It pairs well, however, due to its ability to redeem points while at home and away. All of the points accumulated from trips can be redeemed for cash as well as travel spending, or used for purchases made with PayPal and Amazon. 
The Discover it® Miles card also has 99% acceptance, giving users more options on travel spending. The benefits include:
1.5x miles per dollar on all purchases
Discover will double miles earned within the first year
Free FICO score
No annual fees
The APR for the Discover it® Miles credit card is and depends on your credit score, which must be good to excellent.
Final Take
Choosing the most suitable credit card combinations will depend on travel frequency, fee structure and general spending patterns. Loyalty to certain airlines or hotels may also affect a consumer's decision-making.
FAQ
Here are some questions often asked by those considering credit card combos for travel.
Can you combine points from different credit cards?

This will depend on the card issuer's terms. Generally, if a customer has multiple cards from the same provider, they can usually combine points. However, points are not usually transferable to other separate cardholders.

Can you combine travel points from different credit cards?

Once the cards are with the same issuer and are authorized for the account in your name, most issuers will let you combine travel points.

Can you combine Chase points from different accounts?

Yes. By logging into a Chase Ultimate Rewards account, users have the option to combine or transfer points.

Can you combine airline miles with credit card miles?

This will depend on the card issuer. Some cards only allow customers to combine points with approved airlines. Other cards, such as Capital One, let users redeem them with anyone.
Rates are subject to change; unless otherwise noted, rates are updated periodically. All other information on accounts is accurate as of June 3, 2022.
Editorial Note: This content is not provided by the credit card providers. Any opinions, analyses, reviews, ratings or recommendations expressed in this article are those of the author alone and have not been reviewed, approved or otherwise endorsed by the credit card providers.
The information related to Chase IHG Rewards Traveler Credit Card was collected by GOBankingRates and has not been reviewed or provided by the issuer of this product/card. Product details may vary. Please see issuer website for current information. GOBankingRates does not receive commission for this product.