7 Cities Where People Could Be Offloading Their Vacation Rentals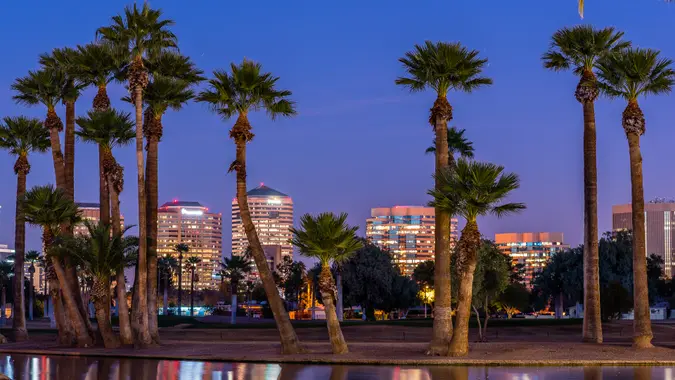 Gregory Clifford / Getty Images/iStockphoto
The so-called "Airbnb collapse" has been a trend of much debate, fueled in part recently by a viral tweet from Nick Gerli, CEO of the real estate data company Reventure. Citing revenue declines by nearly 50% for Airbnb owners in cities like Austin and Phoenix, Gerli predicts a "wave of forced selling" by owners in the areas hardest hit by plunging profits. 
The locales topping the list Gerli shared point to declines in markets that are either regional tourist hubs such as Myrtle Beach, South Carolina, and Sevierville, Tennessee, (home to Dollywood), and pandemic boom towns like Austin and Phoenix. 
Airbnb says Gerli's data, sourced from AllTheRooms, is inconsistent with its own. In its recent second-quarter report, the company boasted an 11% growth rate for bookings in the last year and its revenue grew by 18%.
While online chatter and reports from owners do point to a softening market and lower occupancy rates, many industry analysts point to contrasting data sources such as AirDNA, and suggest that any "collapse" is more of a correction. 
A wave of pandemic homebuying, and of second properties in particular, set the market for short-term rentals (STRs) on fire. Remote work inflated demand as white-collar workers tried to escape their cabin fever. But now, with employees being called back to the office, the glut of available properties simply means more competition for bookings, while travel and booking trends may also be shifting back to urban centers. 
Nonetheless, a flood of housing inventory would be a welcome turn of events for buyers and renters in many of these locales, which, like much of the nation, have struggled with adequate affordable housing. Purchasing a home is increasingly out of reach for many while renting is getting harder to afford, with median rent prices up 25% nationally year-over-year since four years ago.
Here's a closer look at the markets of the top seven cities where owners could be selling.
Sevierville, Tennessee
Revenue drop: 47.6%
Median home sale price: $415,000
Short-term rental listings: 8,816
Known for Dollywood and its famous native daughter Dolly Parton, this small city of around 15,000 people is also a gateway to the scenic Great Smoky Mountains, and tourism is a huge part of its local economy. Sevierville's housing market is somewhat competitive, with homes selling on average within 55 days and some with multiple offers, according to Redfin. The majority of homebuyers moving to Sevierville within the last year came from Los Angeles, Chicago and Washington. Gerli also pointed out in his data that Sevierville had 10 times as many Airbnb listings as it had homes for sale.
Phoenix
Revenue drop: 47.2%
Median home sale price: $437,000
Short-term rental listings: 7,286
Phoenix is the fifth largest city in the U.S. and Maricopa County has led the country in population growth for most of the past decade. Lured by jobs, remote work options and the warm climate, migrations to Phoenix have surged from places like Los Angeles and Seattle. This influx has pushed traditionally affordable home prices higher and made sufficient housing inventory a worsening issue. Median sale prices are up 19% since 2020, with supply outstripping demand.
Austin, Texas
Revenue drop: 46.1%
Median home price: $571,000
Short-term rental listings: 10,911
Another city that saw explosive population growth during the pandemic, Austin's housing market boom was fueled in part by people buying up properties as short-term rentals. Meanwhile, the city has grappled with growing issues of housing affordability as well as the growth of STRs. An Austin city ban on short-term rentals that aren't occupied by the owners was recently struck down by a federal judge, dealing a blow to the city's measures to regulate the market and address residential concerns.  
Myrtle Beach, South Carolina
Revenue drop: 45.1%
Median home sale price: $355,000
Short-term rental listings: 11,760
As a popular vacation destination with a long peak season and a relatively accessible housing market, this South Carolina coastal community has a lot to attract short-term rental investors. Median home sale prices are close to the current national average of $348,000. Without much fierce competition from prospective buyers, homes for sale stay on the market for a median 65 days and sell for 3% below asking price, on average. 
San Antonio
Revenue drop: 43.8%
Median home sale price: $279,000
Short-term rental listings: 6,157
With home prices well below national averages, the San Antonio market is a competitive one, with many homes selling quickly with two offers on average. Meanwhile, San Antonio is the fifth-hottest city in the country for short-term rentals, according to AirDNA, growing 28% from 2021 to 2022. As the vacation rental market has grown, so have concerns and efforts to regulate them. Several of the city's suburban areas, which saw a year-over-year growth rate of 43%, have taken measures to enforce permitting and tax collection on short-term rentals, enact tighter restrictions or prohibit them altogether.
Asheville, North Carolina 
Revenue drop: 42.5%
Median home sale price: $543,000
Short-term rental listings: 2,772
Asheville has popped onto the radars of tourists and transplants like retirees in recent years, which has fueled a local real estate bubble that's seen an 18.9% increase in median home prices over the last year. Meanwhile, rents have soared a reported 50% since 2017 [in Asheville's Buncombe County, and locals have bemoaned the party crowds renting out large homes and disturbing the peace.
Salisbury, Maryland
Revenue drop: 39.3%
Median home sale price: $241,000
Short-term rental listings: 48
On top of its charming vibes and accessibility to oceanfront destinations like Chesapeake Bay, the picturesque town of Salisbury also lures many from larger East Coast metros with housing affordability well below national averages. Its real estate market is also competitively hot. It's one of the rarer markets in current conditions where homes get multiple offers, waived contingencies and offers above asking price, despite higher interest rates.
Disclaimer: All revenue drop data is sourced from Gerli's tweet/AllTheRooms, which includes Airbnb data only. All short-term rental listing volume is sourced from AirDNA, which includes other STR platforms as well.
More From GOBankingRates