I'm a Real Estate Agent: Don't Buy Real Estate in These 5 States If You Want To Be Rich in a Decade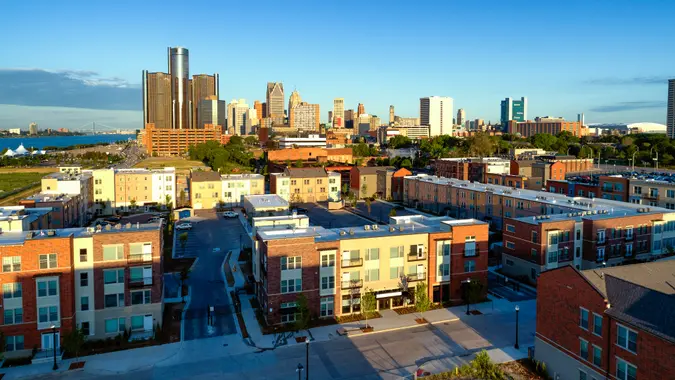 pawel.gaul / Getty Images/iStockphoto
The key to building generational wealth is real estate. How many times have you heard that?
You also might have heard the stories of the late 1980s, when Californians took their inflated real estate proceeds, moved to Washington and bought homes for cash. That drove up the prices, raising the equity for the existing homeowners. For years, Washington has been a reliable place to gain wealth in real estate. From 2001 to 2021, the median home price in Washington rose from $179,900 to $560,400, according to the state Office of Financial Management.
But not everywhere is a Washington. In some states, the profit potential for both investors and homeowners is far from stratospheric.
"Deciding where one should invest is going to come down to positive fundamentals," said Sebastian Jania, owner and founder of Ontario Property Buyers, which has worked in a variety of states. "These fundamentals will include strong employment growth, large net migration and an affordable entry price."
If you want your home purchase to be a wealth generator, real estate professionals recommend buying outside these five states.
Illinois
One of the states Jania has experience with is Illinois, which he said is a tough place to gain big equity on property.
"What we found from our experience is that some of the worst cities to invest in are in Illinois, such as Springfield, Peoria and many others," he said. "This is specifically because Illinois has seen some of the lowest appreciation compared to the rest of the country.
"While the price point can be attractive, if someone wants to get wealthy by starting off with single-family homes first and then upgrading to larger multifamily, they may find themselves in a position where they have a difficult time getting liquid before upgrading to the multifamily. Lastly, in Illinois, there is a fairly large property tax rate relative to other states, which means that more of the potential cash flow is eaten up every year."
United Van Lines' 46th Annual National Movers Survey showed that more residents left Illinois in 2022 for an out-of-state move than any state but New Jersey. The median sales price in Illinois is $234,000, according to an April 2023 report from Rocket Homes.
West Virginia
West Virginia, with a median sales price of $114,600, per Rocket Homes, is another state where real estate won't make you rich, said George Ng, the founder of New York Suburban Homes.
"In recent years, West Virginia has faced numerous economic challenges. The decline in population and limited job growth has only added to the state's economic woes," Ng said. "West Virginia has faced challenges in terms of job growth and diversification of industries. Reliance on industries such as coal mining, which has experienced decline, and automation has limited job opportunities and impacted the demand for real estate.
"West Virginia's economic indicators, such as per capita income GDP growth, have been relatively lower compared to the national averages, and slow economic growth has had a significant influence on the overall real estate market."
Arkansas
"Arkansas, though offering affordable housing options, has not seen significant real estate appreciation compared to other states," said Mike Qiu, the owner of Good As Sold Home Buyers. "Its economic growth has been relatively slower, and certain areas face limited employment opportunities. These factors can hinder substantial property value appreciation, making it less attractive for those seeking quick real estate gains."
Per Rocket Homes, the median sales price in Arkansas is $145,300.
Mississippi
U.S. News & World Report ranked Mississippi No. 48 overall in its 2023 Best States list. Overall, it was No. 40 in net migration, No. 49 in economy and No. 44 in growth.
"The state has bottom-of-the-barrel median home prices, being the second lowest in the nation. While this might sound potentially attractive for investment properties, couple the low prices with the lackluster appreciation in home prices, and you have a surefire path to relative real estate poverty rather than prosperity five years from now," said David Ambrogio, the founder and CEO of NOLA Wholesale Properties.
The median home price in the state is $141,900, according to Rocket Homes.
Michigan
"Michigan has gone through an economic recession in the past decade and home values have been steadily dropping since then," said Jonathan Faccone, managing member and founder of Halo Homebuyers. "Despite the state's efforts to improve, new development and job growth have not been able to offset the decline in home prices. This means that homes that are purchased now may not appreciate in value for many years, making it difficult to become rich from real estate investments within five years.
"Michigan's real estate market is still fragile and can be difficult to predict due to the state's recent economic difficulties. Therefore, buyers should avoid this state if their goal is to make a quick profit from real estate in the near future."
Michigan's median home value is $207,800, according to Rocket Homes.
More From GOBankingRates