Experts: Here's Why a Housing Market Crash Isn't Happening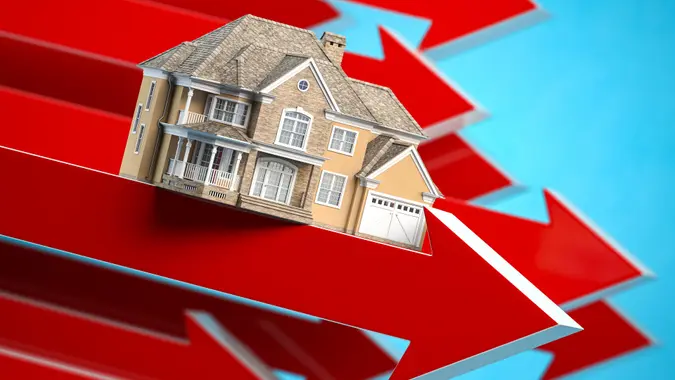 Bet_Noire / iStock.com
Not that long ago, the housing market was on fire. "Prices for homes were at astronomical highs just two years ago, brought on by serious demand from buyers and historically low inventory," said Maureen McDermut, a realtor with Sotheby's International-Santa Barbara. It wasn't uncommon for homes to sell six figures above the asking price, and homebuyers (who weren't putting in all-cash offers) were locking in mortgage rates below 4%.
Today, the homebuying landscape looks much different. For one, buyers have been moving away from home shopping due to the Federal Reserve rate hikes, according to McDermut. In fact, the Federal Reserve raised its target rate 10 times since March 2022. Though the Fed's rate doesn't directly influence the cost of long-term home loans, it definitely has an impact. And the average 30-year fixed mortgage rate has been just shy of 7% lately.
"This, coupled with supply chain issues being rectified, has leveled the market to normal," McDermut said. "The fact that the Fed decided not to increase rates for the first time in 15 months is a good sign, and will give more buyers the impetus to re-enter the market, now with more housing supply to meet the demand."
Even so, Fannie Mae predicts that overall home sales will fall by 18.4% in 2023. And some worry that the slowing housing market isn't just a correction, but a sign of an impending crash. Especially since some economists have been predicting that a recession is on the horizon, which historically, has not been good news for housing. 
Take Our Poll: Are You Concerned About the Safety of Your Money in Your Bank Accounts?
Are We Headed for a Housing Market Crash?
"Real estate is cyclical and by some definitions, we are currently in a downward part of a cycle," said Adena Hefets, co-founder and CEO at Divvy Homes. "But I do not believe this current cycle will look anything like the housing crisis of 2008."
As of October 2022, about half of U.S. homeowners had a loan-to-value ratio of 50% or lower, Hefets explained, meaning they owned at least 50% of their home value. That's a far cry from the situation in 2008 to 2010, when many homeowners had little-to-no (or even negative) equity in their homes due to excessively loose mortgage underwriting, leading to massive reductions in home prices and a high level of foreclosure activity.
"We're actually seeing the opposite now," Hefets said. "Homeowners with low mortgage rates and high equity are staying put in their homes."
Nadia Khan, a real estate agent and founder of Nadia Khan Estates, adds that 60% of today's mortgage holders have lived in their current homes for four years or less. Meanwhile, nearly 92% are locked into a mortgage rate under 6%. So homeowners aren't motivated to move and there isn't a lot of turnover.
"Further, mortgage lender requirements and standards are much stricter now than they were in 2008," Khan said. "The rate of default is very low." 
In other words, the demand for homes may have slowed, but it's still there. And most of those who do own homes are in a great position to hold on to them, even if the economy gets rocky.  
More From GOBankingRates