What Is Vinovest and Is It for You?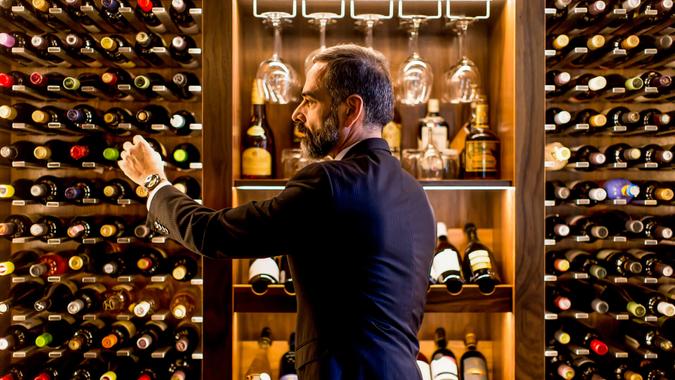 boggy22 / Getty Images/iStockphoto
Vinovest is a no-hassle way to get involved in the world of fine wine investing. Like art, rare coins and other high-end collectibles, fine wine is a so-called alternative asset that has a low correlation with more common types of investable assets like stocks and bonds. This can make it an interesting diversification tool for an investor's portfolio. Vinovest does a lot of the heavy lifting for rare wine investors in exchange for an annual fee, but how does it work, and is it right for you?

Find Out: How Does Cryptocurrency Work – and Is It Safe?
Learn: What Is a Non-Fungible Token and Why Are They Booming?
How Does Vinovest Work?
Vinovest dubs itself an "investment sommelier." In that capacity, the company selects and acquires wines for investors. Importantly, it also stores actual wine bottles for customers at its own secure facilities. This means that unlike intangible assets like stocks, you can actually access your wine at any time with Vinovest. The wine you own at Vinovest isn't just a paper entry, you own the physical bottles and can take them out and enjoy them any time you choose.
What Does It Cost?
Vinovest offers three pricing tiers for its investment services: Standard, Premium and Grand Cru. The lowest "Standard" tier requires a $1,000 minimum balance and a 2.85% annual fee. The Premium tier has a $50,000 minimum balance and a 2.5% annual fee, while the top-tier Grand Cru requires a $250,000 minimum balance and a 2.25% annual fee. Services for the Standard tier include the following:
Algorithmically-selected portfolios

Guarantee for 100% authentic wines in excellent condition

Access to network of world-class wine storage facilities

Enrollment in carbon offset program

Full insurance for wines
See: Where To Invest for the Rest of 2021
Check Out: 9 Safe Investments With the Highest Returns
The Premium tier adds the following:
Dedicated portfolio advisor

Customized portfolio construction options

Access to wine futures

Access to rare, auction-only wines

Exclusive invites to Vinovest wine tastings and events
The Grand Cru includes these additional services:
Preferred access to the rarest, most exclusive wine releases

Personalized quarterly portfolio insight reports

Access to the Vinovest Advisory Council
Learn: The Most Valuable Substances in the World
Discover: 15 Most Important Assets That Will Increase Your Net Worth
Is Vinovest for You?
Vinovest is clearly a specialty investment option, designed for those looking for an investment alternative to options like stocks, bonds and mutual funds. Although its primary appeal is likely for those who already have a wine collection or enjoy fine wine, the diversification aspects of Vinovest could likely help any portfolio. The relatively low minimum of $1,000 for the entry-level tier makes Vinovest open to nearly any type of investor. However, if you're looking to build a long-term portfolio, your financial advisor will likely suggest that a $1,000 wine investment shouldn't be your first step. For all practical purposes, Vinovest is likely more appropriate for an investor with an already-established portfolio looking to diversify, not a first-timer looking to make an initial investment.
The question each investor must answer for themselves is whether the investment returns and services provided by Vinovest outweigh the annual fees. Also, unlike with other types of intangible assets, there's a real risk that Vinovest customers take physical possession of their investments and drink them away. If you don't have the willpower to treat your Vinovest purchases as a real investment, then you're risking losing the potential of your long-term returns.
More From GOBankingRates
Last updated: July 28, 2021