Overextended on Your Mortgage? 7 Ways To Make That Monthly Payment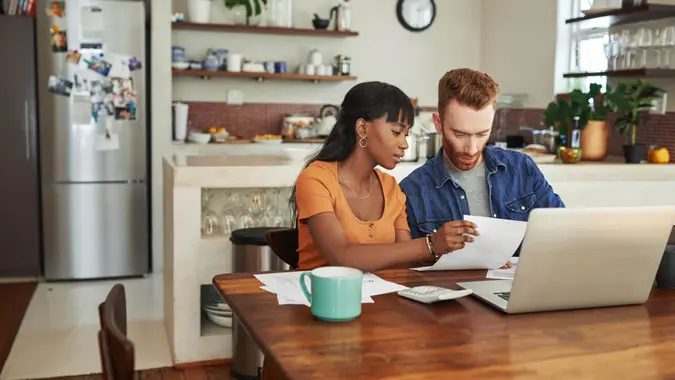 mapodile / Getty Images
Overextending on your mortgage payment isn't all that uncommon, but it can be stressful.
Many people end up with a more expensive property than they initially budgeted for, resulting in a mortgage they can barely afford. But even those who bought a home well within their means don't always account for hidden or unexpected costs like maintenance, repairs, property taxes and rising insurance premiums.
Whatever the reason might be, here's what you can do to make payments if you've overextended on your mortgage.
Reach Out to Your Lender
It's important to act quickly upon realizing that you're struggling with your mortgage payments. Liz Hunter, director at Money Expert, suggested speaking with your current lender about your options and what they can offer you. Be sure to negotiate with them and compare what they're offering with other lenders.
"Don't agree to a deal with your current lender until you've shopped around. Use a comparison website to compare the fixed-rate lengths, monthly costs, total costs, and fees of different mortgage deals via alternative lenders," said Hunter.
Refinance Your Loan
Refinancing can be a good way to lower your monthly mortgage payment, especially if you qualify for a lower interest rate. You'll typically need to reset your loan term, which could lead to you paying more in total interest and keep you in debt longer, so keep this in mind.
"When you have a mortgage payment that's too high, you have a few options," said Cara Macksoud, Certified Financial Behavior Specialist and CEO of Money Habitudes. "First and foremost, always check your rate. While the current market might not seem to have many options, years ago, there were higher interest rates and when interest rates went lower, there was a benefit to refinance."
Get a Roommate or Rent Out Your Space
"Making ends meet to cover a mortgage that seems too high can be daunting, and I speak from experience," said Gene Caballero, co-founder of GreenPal. "When I first got out of college and landed my inaugural job, the weight of my monthly mortgage was hefty. I had to get innovative, and quickly."
He continued, "To make the numbers work, I took on two roommates — each paying $1,000 per month. Their contributions towards the monthly expenses significantly lightened my financial burden. Over time, this arrangement not only helped me stay afloat but also allowed me to gradually ease into a position where, after about four years, I could comfortably afford the mortgage on my own."
Just make sure your current home insurance provider or lender allows for roommates, as some might not. "You'll need to check with your lender to ensure this isn't outside the conditions of your loan," said Hunter. "Check with your home insurance provider, too, ensuring that your current policy covers lodgers in your home. If it doesn't then you will need to take out a policy that does in order to protect everyone in your household."
Get a Second Income Source
Another option is to get another source of income, like a side gig.
"Taking on a side hustle is definitely the best way to pad your income," said Scott Lieberman, founder of TouchdownMoney. "And while there are lots of side hustles out there, I'd recommend delivery driving or dog walking. Why? Because you can start getting paid almost immediately — and when you need to make mortgage payments, you don't have time to slowly build a business. Just download an app like DoorDash or Wag, complete your registration, and wait to be approved. You could be adding to your income by the end of the week!"
Of course, if you do have some time, you could start a side business or even get another job.
"The other option would be to pick up a second job or start a business from your home — something you can handle and maybe also create a tax write-off because you're using your home," Macksoud said.
Switch to a Cheaper Insurance Plan
If your homeowners insurance premium has increased, it could make it harder to afford your mortgage payment. In that case, consider switching to a cheaper plan or reaching out to you current provider about reducing your premium.
"If you have mortgage protection, buildings, contents or life insurance, consider shopping around for cheaper deals using a comparison site. While this doesn't directly reduce your mortgage, any money saved can go directly towards your monthly repayments." said Hunter.
Speak With a Mortgage Broker
"Seek help from an independent mortgage broker," said Hunter. "Once you've benchmarked the rates available, it's worth seeking professional advice. A mortgage broker will assess all of your options, advise you on which is most suitable, and support you throughout the application process."
Look Into Assistance Programs
Depending on your circumstances, you might be eligible for a temporary financial assistance program.
"If a borrower is delinquent or in imminent danger of becoming delinquent, they should contact their mortgage servicer to learn about potential options available to them," said Rana Fleming, director of default management at Enact Mortgage Insurance. "Many mortgage companies offer homeowner assistance programs to help these borrowers. Available options may include a loan modification which could reduce the borrower's monthly payment."
More From GOBankingRates