How Will AI Stocks Fare If the US Enters a Recession? 6 Experts Weigh In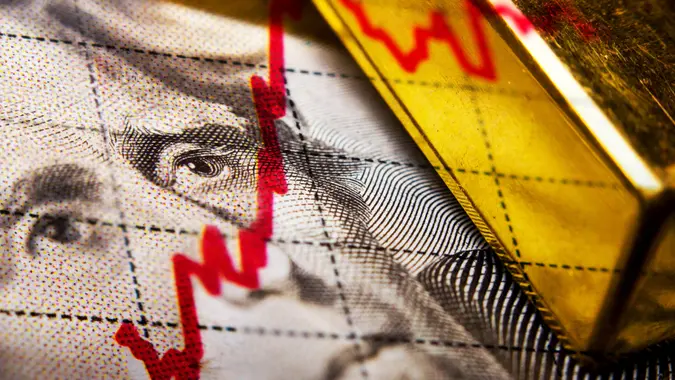 claffra / Getty Images/iStockphoto
There have been talks about a potential recession for many months, and experts are divided on whether it will happen, and if so, whether it will be mild or a more drastic one. In turn, opinions are split on how artificial intelligence (AI) stocks, which are on a roll and have been driving the recent market rally, will fare in the coming months and whether it could affect their trajectory. 
Just this week, Bank of America CEO Brian Moynihan reiterated on CNN that there will be a recession in 2024, with the U.S. economy expected to dip by as much as 1% for up to four quarters. The sentiment was echoed by Jeffrey Buchbinder and Adam Turnquist of LPL Financial, who said their base case calls for a mild and short-lived recession to begin by year-end, while the latest economic data have slightly raised the odds of a soft landing.
Meanwhile, tech stocks — led by the AI craze — have also been driving the market rally lately. Shares of chipmaker Nvidia for example, are up an eye-popping 181% year-to-date (as of June 29) and were buoyed following the first quarter earnings release on May 24, which noted what some analysts called "jaw dropping" guidance for the next quarters.
Against this backdrop, what do the coming months look like for AI stocks if the U.S. enters a recession? Here are some expert takes.
They Will Remain Unscathed
Matt Tuttle, CEO and CIO of Tuttle Capital, said that while the Federal Reserve has been clear about its intentions to lower inflation to 2%, it is going to be nearly impossible to do so without engineering a recession.  Yet, he added, it's likely that the current hype in AI stocks and mega cap tech will survive a recession relatively unscathed.
Make Your Money Work for You
"The fear of missing out on the part of professional and retail investors, plus the perceived safety of some of the mega cap tech stocks, should continue to propel them higher," he said.
Not All AI Stocks Are the Same, so Not All Will Fare the Same
Callie Cox, U.S. investment analyst at eToro, said that while many companies have claimed AI as their identity, their outlook depends on how they could fare in a high-rate, slow growth environment. 
"When a trend is this young, it's hard to know which stock will lead the pack, and many AI-focused companies are smaller and speculative," said Cox. "They don't have the upper hand in terms of economic conditions."
Cox added that if you're investing in AI as a long-term play, you may need to think about a basket of different types of AI stocks versus picking just one that you think could succeed. While a recession may not impact AI's long-term performance, it could cause the space to take a few steps back in the short term, added Cox. 
"It's fair to feel excited about AI, but investors need to recognize the challenges in front of them. These themes take a while to play out, and the market's near-term fate could depend more on the economy and earnings," said Cox. 
They Might Lose Some Air
Peter C. Earle, economist at the American Institute for Economic Research, said he continues to believe the U.S. will experience an economic recession within the next 12 to 18 months. 
Make Your Money Work for You
"The severity of that recession, however, could range from quite mild to severe. Where it falls on that spectrum is difficult to guess, but will directly impact how hard the financial markets get hit," said Earle. "AI stocks, owing to the degree to which they've run up, are likely to lose some air if a recession is bad enough that it affects corporate earnings. When economic growth slows, less consumption and less investment lead to lower revenue, which reduces earnings expectations, lowers valuations, and pulls down prices. There's no reason to believe that if the stock market takes a hit, AI stocks won't be hit as hard as any other stocks."
Earle also noted that various AI indices have stocks in that space rising anywhere from 50% to just over 90% since the start of 2023. Meanwhile, the S&P 500 is up 14% year-to-date (as of June 29).
"Just as it was with dot-com stocks and many others before them, those explosive returns could give them more room to fall if an economic contraction dents their forward-looking earnings estimates," added Earle.
Cautious Optimism
Tejas Dessai, research analyst at Global X, said that the firm remains highly optimistic about the trajectory of AI, despite potential challenges on the economic horizon. There are two reasons why.
First, despite concerns about a recession, consensus projections for the second half of the year expect meaningful corporate earnings growth. Second, there is rapid innovation emerging from the AI space as well as a flurry of applications emerging across the board. 
"Overall, we believe the rally we've seen has plenty of legs still. So far, we've seen Big Tech lead the markets, but the smaller tech names are very well positioned for upside surprises in the coming days. Markets will be watching closely for clues in the second quarter earnings, which are due in the coming weeks," said Dessai. 
Make Your Money Work for You
Dessai added that while investment opportunities presented by AI are vast, the fact of the matter is that the technology is still in its early stages. A passive approach to investing through exchange-traded funds (ETFs) is really the ideal way to gain exposure to these "paradigm-shifting mega-trends."
A Potential Bubble Is Coming
Jason Mountford, stock market analyst at investment platform Q.ai, said that while AI remains the darling of the tech and investing world, that wave most likely has a limited time to ride.
Mountford added that as with most new technology, the hype is likely to form into a bubble, which will burst and other advancements and uses of AI — of which there are many — will continue at a more sustainable pace. 
"So we could see some significant gains still to come, though I wouldn't be surprised if this results in a correction at some point which sees a large portion of these returns given up," said Mountford. 
Mountford added that the current trend could only be broken by some sort of economic or geopolitical event. A recession could very much be a catalyst that sees investors shift out of their speculative positions, which could lead to significant correction.
"The challenge for investors is that there's really no way to know whether this up cycle will last weeks, months or years," he added, recommending that staying invested for the long term in a diversified mix of assets is always the best option.
Make Your Money Work for You
AI Gold Rush: The Start of a New Tech Bull Market
One of the most bullish tech analysts, Wedbush Securities' Dan Ives, said in a clients' note that the AI craze is not hype. Instead, he calls it the "4th Industrial revolution" that is playing out across the tech sector, likening it to the "1995 Internet Moment."
"Many will benefit in this AI Arms Race. With Microsoft a clear market leader in the AI race along with Nvidia, this battle will be a long one over the next decade as we expect other technology companies besides Google, such as Oracle, Amazon, Salesforce, Palantir, MongoDB, Apple, IBM, Meta, Adobe, Snowflake, C3.ai and other tech stalwarts along with smaller players in the industry, to collectively spend tens of billions in this AI arms race over the coming years," he wrote.
Ives wrote that while the sentiment around tech stocks was extremely negative with a cloudy macroeconomic landscape coming into 2023, tech stocks led by AI have seen the opposite.
"AI has changed the tech world and investor sentiment with this transformational technology is an 'Internet Moment' in our opinion," Ives said.
Ives added that tech stocks will be heating up in the second half of the year. He said, "Heading into the second half of 2023 we see a much broader tech rally ahead as investors further digest the ramifications of this $800 billion AI spending wave on the horizon and what this means for the software, chip, hardware and tech ecosystem over the next year."
"We believe overall the tech sector will be up another 12%-15% in the second half of this year led by software and the chip sector with Big Tech remaining the 'torch bearer' for this tech rally continuing to heat up," he wrote. "While bears will continue to fret about tech valuations and the uncertain macro backdrop, we believe this ultimately is the start of a new tech bull market we see heading into 2024 being driven by this AI revolution coupled with a stabilizing IT spending environment."
Make Your Money Work for You
More From GOBankingRates