California Tax Rebate to Be Biggest in History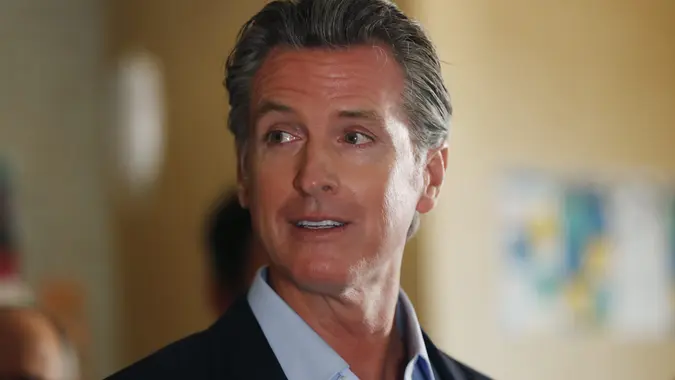 K C Alfred/Shutterstock.com / Shutterstock.com
In a move that surely has absolutely nothing to do with the upcoming gubernatorial recall election, California Governor Gavin Newsom went on TikTok to announce a $100 billion economic recovery plan.
See: Two-Thirds of Californians to Receive Stimulus Checks From Gov. Newsom's Proposal
Find: What California Has Taught Us About the Tension Between COVID Safety and the Economy
@gavinnewsom

BREAKING: CA is creating the biggest state tax rebate in US history.
The plan includes $12 billion for direct cash payments to state residents in the form of a tax rebate. Known as the Golden State Stimulus, it will provide $600 payments to families with an income up to $75,000, some of whom — those earning under $30,000 — are already receiving it, plus $500 to families with dependents. Undocumented residents will be eligible. The state's median household income was $75,235 in 2019, according to the census department, but Newsom estimates that two-thirds of Californians will be eligible for a payment.
In addition to the rebates, the plan will include funds to help low-income Californians pay rent, which will help them and their landlords.
See: California City Debuts Universal Basic Income Program to Help Residents Survive Economic Crisis
Find: Federal Judge Overturns National Eviction Ban, but Decision Might Not Stick
Although the plan is big and generous, California is looking at a $75 billion budget surplus. Unlike many other states in the union, it is in a good financial position for spending money. The plan is still in the proposal stage and needs to be approved by the state legislature, so it is too soon to start spending the money. The state's tech industry has done well during the pandemic and has been able to offset tax revenue losses in the service and tourism industries.
Make Your Money Work for You
The proposal has spurred criticism from Republicans who call for bona fide tax relief rather than one-time payments. But Republican Assemblyman James Gallagher, who filed a lawsuit to challenge Newsome's use of executive power during the pandemic, supports what he terms the "recall refund," saying that "putting money back into the hands of taxpayers is the right thing to do," the Los Angeles Times reports.
More From GOBankingRates
Make Your Money Work for You