These Cities and States Have the Best Rent Control Laws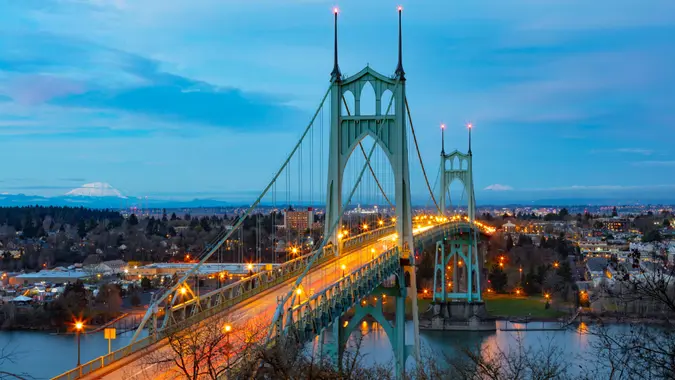 DaveAlan / Getty Images
According to research conducted by the National Multifamily Housing Council (NMHC), many major cities across the United States do have rent control laws — even if these laws aren't fully applicable at a statewide level.
The Future of Finances: Gen Z & How They Relate to Money
Explore: 3 Easy Tips To Turn Your Credit Woes Into Wows
Here's an overview of several of these cities, and states, with some of the best rent control laws in the U.S.
California 
While many cities in California raised rents to record-breaking highs in 2022, the state of California does have statewide rent control caps. City specific laws extend to cities in Northern and Southern California that have rent control and tenant protection programs.
Here are the cities in Northern California with rent control programs:
Sacramento
Vallejo
Richmond
Oakland
Hayward
Berkeley
Fremont
East Palo Alto
Mountain View
San Francisco
San Jose
Milpitas
Los Gatos
Take Our Poll: Do You Think Student Loan Debt Should Be Forgiven?
These Southern California cities and county areas also have rent control programs:
Palm Springs
Santa Ana
Inglewood
Gardena
Culver City
Los Angeles
West Hollywood
Santa Monica
Thousand Oaks
Los Angeles County
Make Your Money Work for You
Saint Paul, Minnesota
The city of Saint Paul, Minnesota approved the Residential Rent Stabilization Ordinance in November 2021. According to the Saint Paul city website, this ordinance limits monthly rent increases to 3% in any 12-month period. This includes when tenant(s) move out. Saint Paul residents also have access to affordable housing through the ordinance and acknowledge property owners' have a right to a "reasonable return on investment."
So does Minneapolis also offer rent control? According to NMHC's data, the other half of the Twin Cities allows its city council to enact rent control.
New York
The state of New York does not offer statewide rent control programs. However, certain cities across the state do have rent control. Here are some of the cities and suburbs where you can find these laws:
Sloan
Russell Garden
Niskayuna
Hoosick Falls
Rensselaer
North Greenbush
Voorheesville
Green Island
Watervliet
Bethlehem
Depew
New Scotland
Croton-on-Hudson
Mount Kisco
Pleasantville
Buffalo
View the NMHC's interactive map for a full list of New York cities and suburbs where rent control laws apply.
Make Your Money Work for You
New Jersey
New Jersey does not offer statewide rent control law. However, certain county and city laws are in effect, including Randolph and Morristown. View the NMHC's interactive map for a full list of New Jersey cities and suburbs where rent control laws apply.
Portland, Maine
Only one city in Maine receives rent control: Portland. According to the City of Portland, the Rent Control Ordinance went into effect on January 1, 2021. This ordinance establishes a base rent of most rental units in Portland to the rent charged in June 2020. The ordinance caps the amount by landlords may increase rent annually and is applicable to both long-term rental units and short-term rental units. 
Protections to tenants are also provided under the ordinance, including notice of rent increase and additional notice or payments before evicting certain tenants.
Takoma Park, Maryland
Maryland does not offer statewide rent control law, but county and city laws are in effect. Residents of Takoma Park receive rent control through Takoma Park's Rent Stabilization Law.
District of Columbia
Those living in the District of Columbia receive rent control. This law is the Rental Housing Act of 1985, amended as the act applying to all rental housing accommodations in the District of Columbia. 
Make Your Money Work for You
The act is administered by the Rental Accommodations Division (RAD). Title II of the Act is rent stabilization, applying to any non-exempt rental unit. Other parts of the Act, like eviction protections, apply to all District tenants.
Oregon
Those looking to move to a state with statewide rent control laws can find it by moving to any city in the state of Oregon.
According to the State of Oregon's Department of Administrative Services, the allowable rent increase percentage is 9.9% for the 2022 calendar year. Previously, it was 9.2% in 2021.
Per SB 608, a 2019 Senate Bill that amended existing laws relating to the termination of residential tenancies and rent increases, the Oregon Office of Economic Analysis calculates and publishes the maximum annual rent increase percentage allowed by the statute ORS 90.323 or ORS 90.600 for the following calendar year.
More From GOBankingRates
Make Your Money Work for You