Consumer Price Index: Inflation Slows to 4.9% as Food Prices Finally Begin to Fall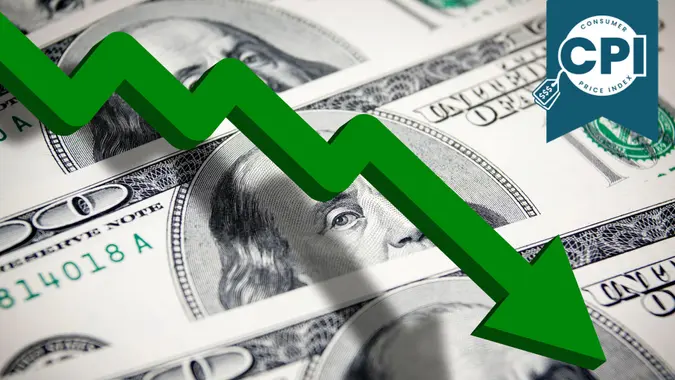 Consumer inflation continued its slow descent, standing at 4.9% in April — the smallest 12-month increase since the period ending April 2021 — according to the Bureau of Labor Statistics' (BLS) Consumer Price Index (CPI), released May 10.
This is good news for consumers, as this latest set of data was lower than estimates, as economists surveyed by The Wall Street Journal expected inflation to increase at a 5% annual pace, and expected a 0.4% month-over-month increase, according to Dow Jones. Shelter prices remained the largest driver in consumer inflation. 
Whether these new numbers give the Federal Reserve, whose inflation goal is 2%, reason enough to pause its hikes remains to be seen. 
In addition, core CPI, which excludes food and energy prices, rose 0.4% in April bringing it to 5.5% over the past 12 months.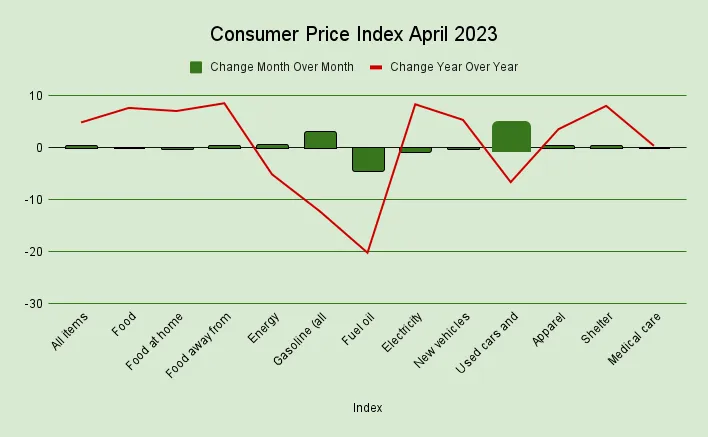 Energy and Gas
In April, the energy index rose 0.6%, while the gasoline index increased 3%. They however both decreased over the past year, being down 5.1% and 12.2%, respectively.
Meanwhile, the natural gas index decreased 4.9% over the month, the third consecutive decrease in that index- and prices for electricity decreased 0.7% in April.
Make Your Money Work for You
Food
The food index remained unchanged for the month, while the food at home index finally fell 0.2%.
Shelter
The shelter index was the largest factor in the monthly increase in the core CPI, increasing 0.4% in April, with the index for rent rising 0.6%. It increased 8.1% over the last year, accounting for  more than 60% of the total core CPI.
Meanwhile, the index for lodging away from home decreased 3% in April after rising in each of the previous four months.
Other Increases
Prices for used cars and trucks increased 4.4% in April and prices for motor vehicle insurance increased 1.4%.
The indexes for recreation, household furnishings and operations, personal care, apparel, and education also increased in April.
Other indexes with notable increases over the last year include motor vehicle insurance(+15.5%), household furnishings and operations (+5.3 percent), recreation (+5% p), and new vehicles (+5.4%), according to the BLS.
More From GOBankingRates
Make Your Money Work for You
Make Your Money Work for You