Experts: Here's When the Surge in Inflation Could End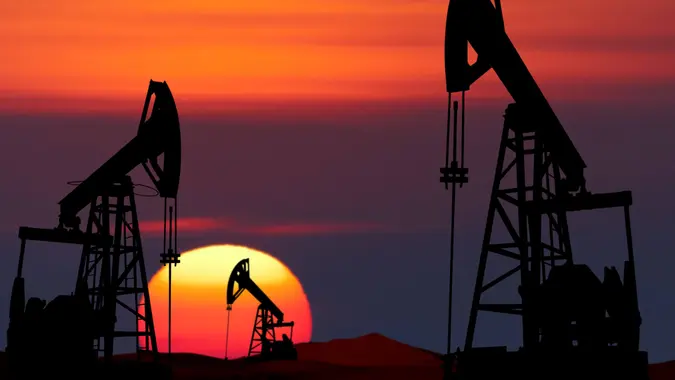 Dmitry Pichugin / Shutterstock.com
The price of rent, food, gas and just about everything else climbed in February as the Consumer Price Index (CPI) jumped by 7.9% over the last year. That's nearly four times the Fed's target rate of 2%, according to Reuters.
The Labor Department's report revealed an annual inflation surge that's without precedent over the past 40 years. Inflation was already public enemy No. 1 for many economists before Feb. 24; but, that day, Russia's invasion of Ukraine only further disrupted global supply chains and energy security — both of which are primary drivers of inflation.
Find: How Much Is Inflation Actually Costing the Average Family Each Month?
More: When Will Inflation End? (And What Can You Do in the Meantime?)
An already thorny situation is now immensely more complicated, so GOBankingRates asked the experts to shed light on what it all means and when consumers can expect relief.
Inflation Probably Will Peak in April, But a New Era is on the Horizon
A trio of factors spurred the inflation that continues to gnaw away at your household's purchasing power, but one is more important than the rest.
Make Your Money Work for You
"Looking back, we had inflation for three reasons," said Georgia College and State University professor of economics Dr. J.J. Arias, who cited the following factors:
A reduction in the number of people willing to work
A disruption of supply chains
Large increases in the money supply by the Federal Reserve
"The first two causes will have a temporary effect on inflation," Arias said. "The third cause has a permanent effect on inflation as long as the Fed continues to create money at the rate it has been since COVID-19. The rate hike by the Fed indicates a change in Fed policy."
Key Stats: 8 Numbers You Need To Know About Inflation
What Arias alludes to is the fact that, despite the crisis in Ukraine, the Fed is still expected to hike interest rates this month — the first of as many as seven increases planned for 2022. Economists expect inflation to peak above 8% in April and then start to subside, according to Reuters — but not to the levels that consumers had grown accustomed to for so long.
In the decade before the pandemic, inflation averaged a historically minuscule 1.5%, but the Wall Street Journal cites economists who expect rates to fall to 3% or 4% by the end of 2022 — and to remain there for decades to come.
Make Your Money Work for You
Until the Price of Oil Levels Off, There Can Be No End to Inflation
Nearly one-third of the CPI's February surge can be blamed on the soaring cost of gasoline. America imported just 2% of its oil from Russia prior to its invasion of Ukraine, according to CNN. But since oil is priced on the global commodities market, the enormous disruption to Russia's massive energy industry is felt everywhere — and no amount of money manipulation from the Fed can change that.
"The interest rate hike will not assist in slowing inflation," said Dorothea Hudson, an economist with InsuranceProviders.com. "When inflation is caused by very high consumer demand, then a hike in interest rates can slow the economy down and reduce demand.
"However, we do not have excessive demand in the current situation. We have a shortage of petroleum, the excess cost of replacing that petroleum by buying it from Russia, and a vast number of dollars injected into the currency markets without corresponding production. So, a reduction in the rate of inflation is unlikely in the near future. An increase in petroleum production would be key to alleviating these issues."
Make Your Money Work for You
It's important to note that expensive oil pushes the price of everything up because oil provides crucial fuel for far more than just cars.
"The increase in the cost of oil not only impacts the price of gas at the pump, but it's also a raw material in other products and a key component of manufacturing costs," said Jonathan Silver, founder and CEO of Affinity Solutions. "The knock-on effect on prices of other goods is significant."
Demand Is Falling Among the Wrong Households for the Wrong Reasons
In order for inflation to subside, either supply has to rise or demand has to fall. The good news is that demand is already falling. The bad news is why. Prices have risen so much that the poorest households simply can't afford to keep buying many of the things they need. The more affluent households, on the other hand, have hardly taken notice.
See: How To Protect Your Financial Future From the Effects of Inflation
"Our data shows that growth in spending among lower-income groups was significantly lower year-over-year, whereas growth among higher-income individuals continues to rise," said Silver, who cited the following year-over-year statistics:
Spending on gas: Up 43% among higher-income groups, only 23% among lower-income groups.
Spending on clothing: Up 22% among higher-income groups, down 30% among lower-income groups.
Food-service spending: Up 16% among higher-income groups, up 2% among lower-income individuals.
Furniture and home furnishings spending: Up for higher-income groups by 6% and down 33% for lower-income groups.
The Russian Wild Card
Before Russia invaded Ukraine, most economists agreed that recovering supply chains, diminished consumer demand, Fed rate hikes and balance sheet reductions would muffle inflation to a rate of roughly 4% on the year before falling back to normal at the end of 2022.
February changed everything.
"The one big factor creating inflation now is the war in Ukraine, which is causing oil prices to rise," Arias said.
Possible outcomes now include a land war in Europe and shifting international borders and alliances. With so many variables, accurate economic predictions are getting harder and harder to make. One thing, however, is certain: The ship is unlikely to right itself before the crisis in the East plays out.
"I don't see the inflation rate returning to its historic levels of 2% until the war in Ukraine ends and the Fed continues to lower the rate of money growth," Arias said.
More From GOBankingRates
Make Your Money Work for You