This Florida City Has the Highest Inflation in the US — 2 Factors Impacting Costs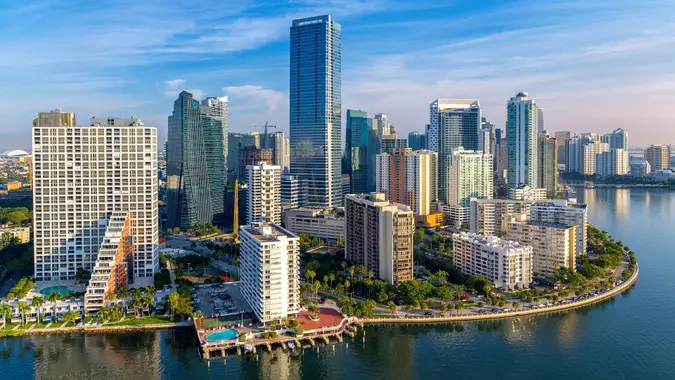 Wirestock / iStock.com
While inflation has cooled down, some American cities are being hit more than others. In October, inflation stood at 3.2% from 3.7% in September, according to the Bureau of Labor Statistics' (BLS) Consumer Price Index (CPI), released Tuesday, Nov. 14.
Yet, in some cities, inflation is more than double this figure — Miami, for instance, shows the highest inflation in the U.S., with a rate of 7.4%, according to BLS data. By comparison, Phoenix and Atlanta, which suffered from high prices last year, saw their inflation standing at 2.9% and 3.2%, respectively.
And many things are more expensive in Miami.
Housing
For starters, housing prices are skyrocketing. In October, Miami home prices were up 1.2% compared to last year, selling for a median price of $557,000, according to Redfin. Conversely, U.S. median home prices stood at $413,874 for the month. In turn, Miami's inflation is largely driven by the rise in shelter prices — 11.9% in October — with rents increasing a whopping 12.9% for the month.
These figures, too, are higher than the national ones, as the index for shelter –the largest contributor in October — rose 6.7% over the last year, according to BLS data.
"Many people have relocated to South Florida in the last three years," said William Luther, director of the American Institute for Economic Research's Sound Money Project and associate professor of economics at Florida Atlantic University. "Those new arrivals will eventually cause living standards and tax revenues to rise. But they also push prices up in the near term for items with slow-to-adjust supplies."
And the figures speak for themselves. Food was also more expensive in Miami. In October, overall food prices were up 4.3%, compared to 3.3% nationally. Meanwhile, food away from home was up 8.2% in Miami, compared to 5.4% nationally.
Make Your Money Work for You
Similarly, the energy index, while falling 2.5% in October nationally, rose 5.7% in Miami. Meanwhile, prices for gas were down 5% in the U.S., but up 2% in Miami.
"We will eventually build more houses and expand energy capacity. But, until then, new arrivals push up prices," said Luther.
Increasing Population
Another factor pushing inflation up is population growth, which rose faster than any other state last year, Sean Snaith, director of the University of Central Florida's Institute for Economic Forecasting, told Bloomberg.
After decades of rapid population increase, Florida is now the nation's fastest-growing state for the first time since 1957, according to the U.S. Census Bureau data — increasing by 1.9% between 2021 and 2022.
More From GOBankingRates