How Consumers Can Regain Financial Confidence Amid Burnout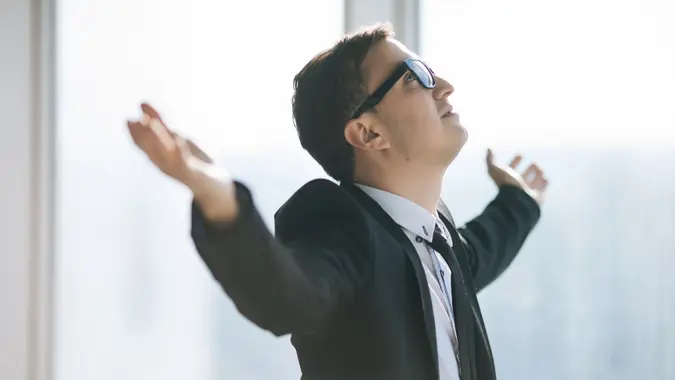 F8 studio / Shutterstock.com
Burnout is hitting consumer confidence and, following a financially and emotionally draining year, Americans are increasingly demanding financial guidance to weather what could be another roller-coaster year, a new survey found.
Do You Have a Tax Question? Ask a Tax Pro
Advice: With a Recession Looming, Make These 3 Retirement Moves To Stay On Track
Find Out: How Much Americans Have in Their Savings Accounts in 2023
The new KeyBank 2023 Financial Mobility Survey showed that a whopping 42% of Americans say they are feeling overwhelmed or burned out regularly, with the sentiment being most prominent among younger age groups. Indeed, 52% of millennials or younger and 54% of those under 35 say they are experiencing burnout more acutely. As the survey notes, that "can impede not only job performance but overall financial health as well."
In turn, there has been a sharp drop in financial confidence, as the share of Americans facing financial challenges has grown to 55%, up from 37% in 2021, and fewer Americans (33%) report feeling savvy about their finances this year compared to last year (43%).
There are ways consumers can regain their financial confidence though.
Financial Stress Will Continue Awhile
Mitch Kime, EVP of consumer client growth at KeyBank, deemed the survey findings "surprising."
Make Your Money Work for You
"We would think that the early days of the pandemic put more stress and challenges on consumer's finances," he said, "but rather we are seeing more of that now due to the current state of the market."
As we begin 2023, consumers continue to feel the financial burdens of inflation and interest rates, Kime said, adding that he expects burnout to persist with the cost of living continuing to rise, salaries plateauing and some industries facing layoffs. 
"To help cope with burnout, 39% of Americans are spending less and budgeting more," he said, "but to battle burnout on all fronts, remember to check in with yourself regularly to best prioritize your workload, physical and mental health, budgeting strategies and personal time."
Kime said younger Americans are bearing the brunt of the burn, partly because they have less emergency money saved compared to their older counterparts.
"While boomers and Generation X are tightening the purse strings and tapping into savings when necessary," he said, "millennials are trying to save while still planning and building their future."
Advice and Digital Options Offer Solutions
The survey also found that the top three things that will make consumers feel more financially resilient in 2023 are financial information, digital banking tools and advice from a financial advisor.
Make Your Money Work for You
In terms of steps Americans take to protect themselves from financial faux pas, 33% of consumers say it's by better identifying and prioritizing needs versus wants, but with plans to spend more money on experiences or events.
According to Kime, with more opportunities to spend, Americans should watch their discretionary spending and compare current outflows from years prior.
"Determining what you can afford to spend is the first step toward staying financially fit," he said. "Once a budget is established, you can put those funds aside, or start saving part of every paycheck, to meet your needs and avoid dipping into emergency savings."
He added that safety measures to protect finances could also include tasks as simple as knowing how much you spend on subscriptions or regularly checking any auto drafts from your account.
Another key finding of the survey is that 85% of Americans say they strongly desire to become more aware of their financial picture; looking at 2023, they want "the one-two punch of data and insights."
Make Your Money Work for You
One way to achieve this and build a long-term plan is to consult with a financial expert, Kime said.
In addition, 47% of consumers say digital banking tools make them feel more financially resilient and 46% of consumers who consider themselves financial experts rely more on digital tools now than in 2021.
"Consumers want ease of access to their finances no matter where they are, making digital banking an optimal choice," Kime said. "As digital adoption is on the rise, confidence in digital tools grows and all needs turn digital — including bill pay, credit scores or transferring funds, which makes consumers feel more resilient and in control of their money."
Consumers Still Plan To Spend in 2023
Finally, despite all of the financial challenges and an uncertain economic landscape, an eye-popping 66% of consumers say they intend to make at least one big-ticket purchase in 2023, the survey found.
The top three purchases include vacations at the top spot, followed by clothes and technology.
"While inflation has pushed the cost of goods to inordinate highs, over the last year we have seen a shift in the prioritization of needs versus wants among Americans, ultimately impacting what they spend their money on," Kime said. "Most likely grown out of the pandemic, consumers are either playing catch-up on the things they missed out on over the past three years or are seeking a more work-life balance, which includes enjoying experiences and events more frequently."
More From GOBankingRates
Make Your Money Work for You