How the US Can Avoid a Possible Recession in 2023 as New Interest Rate Hikes Expected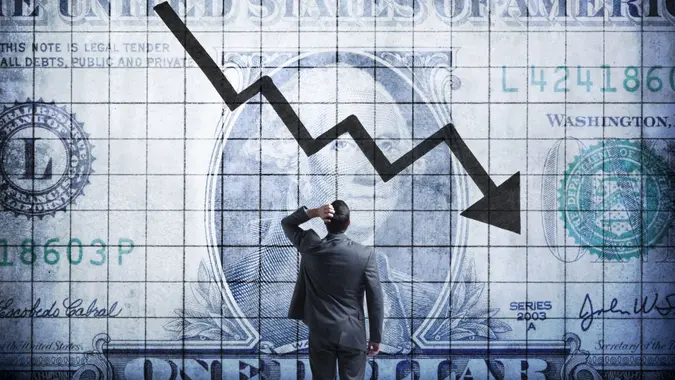 DNY59 / Getty Images
Talks of a potentially imminent recession have been going on for months. Now, however, some economists say that while a recession might occur in 2023, there are ways for the U.S. to avoid it.
See: What Is the Highest Income Level for Food Stamps in 2023?
Find: 10 Things To Stop Buying in 2023
Goldman Sachs chief U.S. economist David Mericle said that while the consensus estimate on the probability of a downturn in the American economy in the next 12 months is at 65%, in his view, the probability of a recession over the next 12 months is much lower — standing at 35%.
Mericle argued, per Goldman Sachs, that part of his team's disagreement with the popular likelihood estimate stems from the view on whether a recession is necessary to tame inflation.
"We think that a continued period of below-potential growth can gradually rebalance supply and demand in the labor market and dampen wage and price pressures with a much more limited increase in the unemployment rate than historical relationships would suggest," Mericle detailed in a Jan. 5 Goldman Sachs report.
Make Your Money Work for You
He added that, while the Federal Reserve tightened financial conditions substantially last year, the impact on GDP growth is likely to diminish this year.
"In other words, the drag on U.S. GDP growth from recent aggressive Federal Reserve policy will fade as 2023 progresses," he said.
In terms of wage growth in 2023, Mericle said that by the end of the year, he expects wage growth to slow to 4% from more than 5%.
"This would still be a bit too hot, but any sizeable drop would provide Fed officials with a proof of concept for the idea that gradual labor market rebalancing can dampen wage and, eventually, price pressures without a recession," he said.
Expect More Fed Rate Hikes
Finally, Mericle said that he expects the Federal Reserve to hike rates by 25 basis points in February, March and May, and to then hold the funds rate at 5-5.25% for the rest of 2023.
He added that while there are two possible rationales for cutting the funds rate in the future, Goldman Sachs doesn't see either of these taking place. First, the goods-driven decline in inflation expected in 2023 will not be a sufficient reason for the Fed to cut rates.
Make Your Money Work for You
"If tighter monetary policy succeeds in reducing inflation, I think the more natural path is to just leave the policy rate unchanged until something goes wrong," he said. "The second and more likely rationale for cutting at some point would be that the economy is entering recession or threatens to do so without an easing in monetary policy. We have cuts in our forecast over 2024-2026, but we do not intend for the timing to be taken literally and instead think of our path of cuts as a placeholder for an uncertain future date when something goes wrong," he added.
Other analyses which take a more optimistic view about a potential recession include that of S&P Global, which stated in a December 2022 commentary that it expects a "mild recession early next year, with the subsequent recovery to begin in the second half of 2023."
Bill Adams, chief economist for Comerica Bank, also echoed this sentiment. He said that the drag on the economy from rapid interest rate hikes, high inflation, and downturns in Europe and China make a mild recession more likely than not in the first half of 2023.
Make Your Money Work for You
Take Our Poll: Do You Think Student Loan Debt Should Be Forgiven?
More: 4 Tips for Staying Resilient When Job Searching in a Recession
"The U.S. will have a one-hand, other-hand kind of economy in 2023," said Adams. "On the one hand, the unemployment rate is likely to rise and jobseekers won't find work as easily. On the other hand, inflation should slow further and worker shortages improve as a more normal level of slack returns to the economy. The U.S. economy will work better for Americans who are primarily consumers, like retirees, but not as well for those whose wellbeing is most dependent on employment prospects, like recent college grads."
More From GOBankingRates
Make Your Money Work for You