Is Hosting the Super Bowl Worth It for Cities?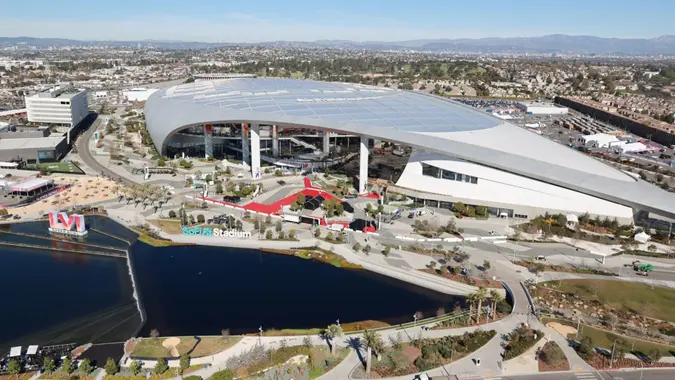 MediaPunch/Shutterstock / MediaPunch/Shutterstock
The NFL had a bounce-back year in 2021, with regular season television viewership at its highest point since 2015 and a 10% increase over 2020, according to Forbes. In the postseason, the cash kept flowing as more than 50 million viewers tuned in to see the Rams topple the 49ers in the battle for the NFC, according to Sports Media Watch. Another 50 million watched as the Bengals staged an epic comeback over the Chiefs to win the AFC Championship.
Last year, CBS raked in a record $545 million in ad revenue during Super Bowl LV, according to Reuters. USA Today reports that this year, NBC sold virtually all of its Super Bowl ad inventory by September and commanded a record $6.5 million for its most coveted 30-second spots — $6 million per half-minute was the original asking price.
Drawing more than 100 million viewers every year, there's no question that the Super Bowl is America's premier television event. But what about the NFL championship game as an in-person draw? Every city in America, it seems, wants to be the place where the last seconds of the playoffs tick away, but the cities that clamor to host the Super Bowl would be wise to think carefully about what it is, exactly, that they're wishing for.
L.A. is Primed for a Nine-Figure Payday
The game will be held at brand-spanking-new SoFi Stadium in Inglewood, California, which makes the Rams the second team in history to play a Super Bowl on their home field (the Bucs did it last year). Although, in an odd twist of fate, Los Angeles will play in L.A. as the "away" team.
Make Your Money Work for You
The official economic impact report on Super Bowl LVI for the County of Los Angeles and the City of Inglewood lays out a compelling case for what's to be gained by playing host. As the site where the 2021 NFL Playoffs culminate, the Los Angeles economy stands to gain between $234.32 million and $477.5 million — and the report cites that as a conservative estimate.
It breaks down like this:
100,000-150,000 out-of-town visitors will stay for an average of four days and three nights
They'll rent 150,000-225,000 total room nights in local hotels at an average rate of between $318.24-$348.75
On average, they'll spend $200-$300 per person, per day in local businesses
Direct visitor spending will total between $127.7 million and $258.5 million
Directly and indirectly, the Super Bowl will bring between 2,246-4,708 new jobs to the area
The region will gain between $12 million and $22 million in local tax revenue, with millions more going to the state of California
Economic Impact Reports Tend To Support NFL Numbers
It's not just dollars and cents. Cities want to host Super Bowls because Super Bowls put cities on the map. As the L.A./Inglewood economic impact report points out, the Super Bowl generates tens of millions of social media interactions. The event puts more than 100 million television eyes on the host city and supports local grassroots organizations and nonprofits.
Hosting the Super Bowl makes your city the place to be, at least for the moment. The opportunity to showcase your city to the country and the world is something that public officials dream of, and the economic impact reports they commission often use NFL-derived math to make their case.
Make Your Money Work for You
No city has hosted more than Miami, which has welcomed the Super Bowl 11 times, ahead of New Orleans' 10 and L.A.'s seven (this year will make it eight). In 2020, the Super Bowl Host Committee and the Miami Beach commissioners unveiled the economic impact report of that year's showdown between the 49ers and the Chiefs at Hard Rock Stadium where the Dolphins play. The report concluded the Super Bowl brought 4,597 new jobs to the area and had a total economic impact of $571.9 million. Nearby Tampa released a similar report about its own Super Bowl bounty one year later, which happened to be the other time that a team played the Super Bowl at its home stadium.
Just like this year's economic impact report out of L.A., these studies are designed either to sell the Super Bowl beforehand or justify it after, and they tend to mirror the formula that the NFL uses to stoke competition among would-be host cities.
Hosting the Super Bowl Is a Pay-to-Play Endeavor
Last year in February, around the time Tom Brady was winning his seventh and final title in Tampa Bay, economist Victor Matheson sat for a media interview that shed a lot of light on the economics of hosting the big game.
The NFL and its supporting committees say hosting the Super Bowl is good for a $300 million to $500 million payday, but Matheson said in the video that the true economic impact is actually a fraction of that — more like $30 million to $130 million.
Make Your Money Work for You
That's because of the litany of costs that host cities incur, which for many starts with the construction of a new stadium. Seven new NFL stadiums were built between 2006-2017, and every single one had hosted a Super Bowl by 2019. SoFi stadium debuted in 2020 and is hosting a Super Bowl in 2022. On average, Matheson said that taxpayers pay $250 million for stadium construction.
Not only do taxpayers give enormous subsidies and tax breaks to the NFL — which uses their expensive new stadium for free — but local public transportation is often stuck with millions in losses. He cited 2014, when NJ Transit got hit with a $5.6 million bill for carting fans to and fro during the Super Bowl at MetLife Stadium in New Jersey.
That same year, in 2014, the Minneapolis Star-Tribune published a 153-page NFL packet that revealed all the league's many expensive requirements, which potential hosts were compelled to meet. Among the demands were free parking, security, access to golf courses, billboards, transportation, food, hotels and exemptions from local, city, and state taxes — all for the privilege of paying to host the NFL's big party.
More From GOBankingRates