Items Hit Hardest by Inflation: How Gas, Bacon & More Fared in 2021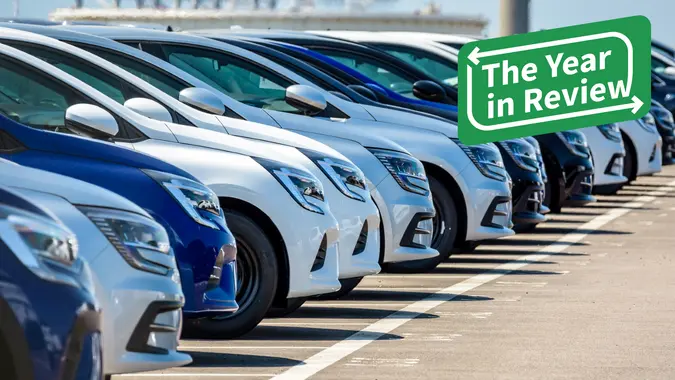 olrat / iStock.com
The inflationary forces that pushed prices up and up all year long were not distributed equally across the economy. In fact, just two or three broad categories account for nearly every one of the top 30 items that experienced the sharpest price increases across all categories in 2021.
Using data from the Consumer Price Index, GOBankingRates identified the items that inflation hit the hardest over the last year and over the most recent month. The results show that things were worst in the two areas that impact the daily lives of more Americans than anything else: the fuel they burn and the food they eat.
Keep in mind that the national rate of inflation between November 2020 and November 2021 was 6.8%, and the month-over-month rate of inflation between October and November 2021 was 0.8%.
Fuel — and Whatever Burns It — Took the Brunt of It
The average nationwide price of gas was $2.42 in January, according to the U.S. Energy Information Administration. By November, it was $3.49. Price tags got uglier across the entire economy in 2021, but the fuel sector suffered the worst of inflation's wrath.
In terms of year-over-year percentage changes in price, the top five spots dealt with fuel or things that need fuel to run — namely, vehicles. Here's how much prices rose between November 2020 and November 2021 for the five items that went up most dramatically this year:
Fuel oil: 59.30%
Gasoline (all types): 58.10%
Car/truck rental: 37.20%
Propane/kerosene and firewood: 34.30%
Used vehicles: 31.40%
Make Your Money Work for You
A little farther down, piped utility gas came in at No. 8, with a price increase of 25.10%. At the tippy-top of the list, there's no end in sight to the pain. The No. 1 and No. 2 biggest gainers of the year are also the No. 1 and No. 2 items that rose the most in the most recent month, albeit in the opposite order. Gasoline went up by 6.1% between October and November 2021. Fuel oil rose by 3.5%.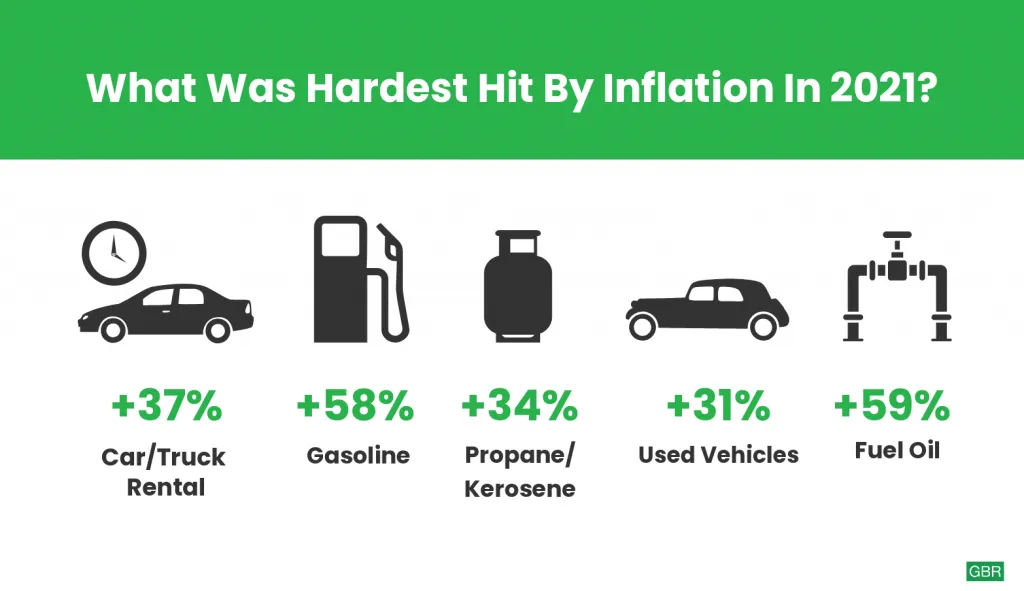 It Was a Bad Year for Motor Vehicles
The car/truck rental and used vehicles industries faced trouble on multiple fronts all year long. Most notably, a global chip shortage crippled auto production and robbed the used-car market of inventory at the same time that demand was soaring. The rental industry was already hurting for inventory after the top companies sold off big chunks of their fleets to stay afloat during the height of the pandemic.
The ripple effects touched every corner of the industry. The price of new vehicles went up by 11.1% on the year, as did the price of vehicle tires. Motor oil, coolant and fluids jumped by 9.7%.
Next Up: The Grocery Store
When you remove No. 7 hotels/motels — which increased by 25.5% year-over-year and 3.2% month-over-month — and No. 15 furniture and bedding (11.8%/0.6%), every item in the top 20 that doesn't involve fuel and cars is something you buy in the supermarket.
Here's a look at the food items that were hardest hit by inflation between November 2020 and November 2021, and where they rank on the list:
6. Beef roasts: 26.4%
9. Beef steak: 24.2%
10. Beef and veal, other: 24.2%
11. Bacon: 21%
12. Frozen orange juice: 16%
13. Ground beef: 13.9%
14. Pork chops: 12.7%
18. Ground chuck: 11.1%
19. Ham: 10.7%
20. Fresh fish and seafood: 10.6%
23. Fats and oils (including peanut butter): 9.1%
25. Eggs: 8%
28. Chicken, fresh whole: 6.7%
29. Whole milk: 6.6%
32. Frankfurters: 3%
Make Your Money Work for You
Month-over-month between October and November 2021, on the other hand, a few supermarket items actually decreased in price, which offers hope that — unlike with fuel — food inflation might finally be subsiding. Eggs went down by 2.7%, ground chuck went down by 1.2% and fresh fish and seafood went down by 0.3%.
More From GOBankingRates
Methodology: For this piece, GOBankingRates sourced the Bureau of Labor Statistics' November 2021 Consumer Price Index to find the most recently released data on the cost of select items. GOBankingRates then compared the cost changes, by percentage, month-over-month from October 2021 to November 2021 and year-over-year from November 2020 to November 2021. Finally, the data were scored and weighted, with year-over-year expenditure increases holding the most importance. Average annual earnings were sourced from the Bureau of Labor Statistics' November 2021 Real Earnings News Release. All data were collected on and up to date as of Dec. 10, 2021.