Kansas Has Free Land … Who Wants It?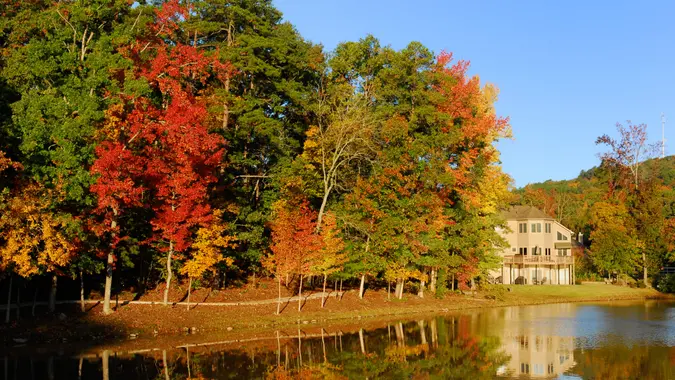 dlewis33 / iStock.com
Over the last few years, small Kansas towns have been offering free rural land, lots and cheap fixer-uppers to newcomers. As the nationwide housing shortage continues and city living becomes increasingly expensive, urban transplants have the rare opportunity to seize free land, even if it's rural land, and enjoy an affordable lifestyle in the heart of America.
Read: Expert Tips To Save Money on Your Next Move
Related: Planning a Big Move? 5 Things To Consider To Save Your Finances
When Did Kansas Start Offering Free Land?
In 2019, six rural Kansas towns started offering free land to transplants. These Kansas towns included Marquette, Mankato, Lincoln, Plainville, Osborne and Wilson. Most of these towns are located in Central or North Central Kansas with populations that then did not succeed more than 1,850 per town. As for the land itself, the 2019 deal was predominantly focused on lots. Free lots ranging in square footage were up for grabs with the caveat that construction needed to be completed within one to 4 1/2 years. 
The six rural Kansas towns that initially started offering free lots also played up the strengths that come with living in a rural area. Part of Lincoln's appeal is its many museums including Crispin's Drug Store Museum, which is dedicated to the golden age of small-town pharmacies. Plainville boasts being north of one of the largest oil fields in Kansas and where oil production is a key part of the local economy. And Osborne, sitting along the South Fork of the Solomon River, offers an abundance of outdoor adventure including fishing, hunting and hiking for individuals and families from all walks of life.
Make Your Money Work for You
Find Out: 8 Extra Moving Costs You're Probably Forgetting About
The Benefits of Moving to Kansas
Today, Kansas continues to offer deals on lots in addition to free land and super-cheap homes. As the COVID-19 pandemic begins to wind down, many workers have used the last two years to reassess what they are looking for and want next out of life. Some individuals have gone fully remote as workers, enabling them to move and work anywhere in the country. 
There has also been increasing recognition that life in a big city is not all that different from life in a suburb or rural area. Stanley Longhofer, a professor and founding director of the Wichita State University Center for Real Estate, said in an interview with The Hustle that there isn't a big difference between what's going on in the larger cities and the rural areas. 
Besides living on free land, what other opportunities come out of making a move to Kansas?
Affordable Housing
Jordan Dettmer is the co-owner and vice president of Penco, a civil engineering company located in Plainville, Kansas. Dettmer is a father of two and lives in Phillipsburg, Kansas.
Zillow currently prices the typical home value of homes in Kansas at $197,505. Dettmer said the average home in Kansas typically has spacious yards, basements and large garages. These offerings are appealing to newcomers, especially growing families on a budget. 
Make Your Money Work for You
Homes aside, Kansas prides itself on a low cost of living. The Kansas Department of Commerce said that the top individual tax rate is 5.7%. State sales tax is 6.7% and at 86.5%, the cost of living in Kansas is 13.5% less than the national average.
"Rural Kansas is a fantastic place to raise a family thanks to a very low cost of living with affordable childcare and housing," said Dettmer. 
Reasonably Priced Acreage 
Three years ago, Riley Blanton made the move to Kansas. Blanton is a graduate student therapist in Wichita, Kansas, and runs a website called Postpartum Brain, which focuses on perinatal mental health.
Since making the move, Blanton hasn't looked back. Blanton said that Kansas offers a cheaper price of living, the chance to live on land and opportunities to grow future businesses.
The chance to live on, or buy, acres of land is increasingly narrowing for Americans. However, Kansas has plenty of inexpensive acreage available for those who want it.
Make Your Money Work for You
"Land in other states might not be as available or as affordable as it is in Kansas. Because there is not a strong competition to buy a limited amount of land, you can find acreage for a reasonable cost," Blanton said.
Find Out: 5 Factors Working Moms Need To Consider Before Relocating
Success on Your Own Terms
Another aspect of living in Kansas that appeals to Blanton is the ability to move at your own pace. While Blanton lives in Wichita, which is a larger city than most rural towns, Blanton said it's easy to live slowly and then speed up when you need to in Kansas.
"There's less competition here for business ideas compared to other, more crowded cities. It breeds chances to find something that works for you and succeed at it, while still living affordably with the low price of goods and services in Kansas," Blanton said.
Economic Growth and Development
It's understandable to express hesitancy about accepting free land in a rural area. Many visualize rural living as the opposite of urban life. There's more room, but it's harder to stay connected with others and challenging to make a living.
But, this narrative is quickly shifting in light of how the differences between larger cities and rural areas are becoming fewer. 
The Kansas Department of Commerce said that Kansas provides its residents with a wide variety of career opportunities from working with your hands in a skilled trade to working with a local business or at a corporate headquarters. Residents are welcome to start their own businesses and explore entrepreneurship, too.
Newcomers interested in learning more about Kansas, and the state's target sectors for accelerated growth, may review the Kansas Framework for Growth, the state's first comprehensive economic development strategy since 1986.
More From GOBankingRates
Make Your Money Work for You