Memorial Day Travel: After 2022's Record Highs, Will Gas Prices Keep Dropping?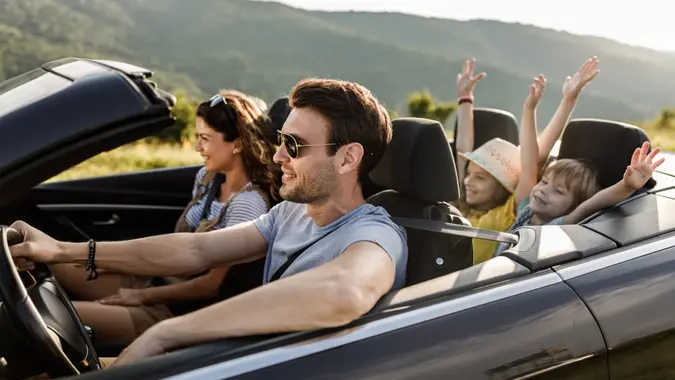 skynesher / Getty Images
More than 42 million Americans are expected to travel this Memorial Day Weekend, with approximately 37 million Americans driving to their destinations, according to AAA. Overall, Memorial Day road trips are up 6% from this time last year, which could have something to do with lower prices at the pump.
According to the U.S. Energy Information Administration, gas was $4.62 per gallon on Memorial Day 2022. As of May 25, the average price is $3.57 — or more than $1 cheaper per gallon.
After 2022's record-high gas prices, will gas prices keep dropping? Let's find out what the experts think.
Why Have Gas Prices Dropped So Much This Year?
Last year was a record high for gas prices. The highest recorded average price of gasoline occurred June 14, 2022 — just a couple of weeks after Memorial Day — at $5.01 per gallon. However, according to the Department of Labor, all gasoline prices have fallen 12.2% over the past year. And when filling up at the pump this year for Memorial Day weekend, paying $1.08 per gallon less than a year ago is a significant savings. 
Make Your Money Work for You
So why have gas prices dropped so much?
"The short answers are that the global oil markets have adjusted to the impacts of the Russian invasion of Ukraine and resulting sanctions AND the weakening global economy due to U.S. and European interest rate increases to slow inflation," said Ed Hirs, a UH Energy Fellow and an economics lecturer at the University of Houston.
Take Our Poll: Who Has Given You the Best Money Advice You Have Ever Received?
What Factors Determine the Price You Pay at the Pump?
When asked what factors go into the price of gasoline at the pump, Hirs said, "The cost of crude and cost of refining — and, in the U.S., the switch to summer blends for gasoline."
According to the EIA, taxes and distribution and marketing costs and profits also factor into the price of gasoline.
The cost of crude oil makes up the biggest part of the price you pay at the pump, which can vary over time and by different regions of the country. Federal and state taxes make up the next largest share of the gas price, with distribution costs and marketing and refining costs and profits contributing to the rest of the price.
Make Your Money Work for You
Will Gas Prices Keep Dropping Over Time?
Because the price of crude oil heavily influences the price of gasoline at the pump, it matters how much it costs per barrel — and that cost fluctuates.
"It is apparent that OPEC+ would like the price of crude oil to stay in the $70-to-$75/bbl range," said Hirs. "That will be the determining factor unless the Russian war on Ukraine spreads."
As of May 23, the price of crude oil is $73.81 per barrel, which is within the aforementioned range. If the Russian war on Ukraine spreads, however, Americans can expect an increase in the prices of gas.
Will the Price of Gas Increase During Memorial Day Weekend?
Gas prices haven't moved much over the last week, according to AAA data. And they might hold steady, according to Patrick De Haan, head of petroleum analysis at GasBuddy.
On May 23, De Haan tweeted: "That escalated quickly… our forecast was for the national average to hit $3.53/gal on Memorial Day… welp, we just hit $3.53 thanks to broad hikes in the Great Lakes, but we still could see a $3.53/gal national average on Memorial Day!"
Make Your Money Work for You
What Will Gas Prices Be Like This Summer?
Not as high as last summer, hopefully.
"I continue to be optimistic that the national average will remain under $4 per gallon for most of, if not the entire summer, with Americans spending a combined $1.6 billion less on gasoline over Memorial Day weekend this year compared to last," De Haan told various news outlets.
How To Save on Gas During the Memorial Holiday Weekend
Steve Sexton, CEO of Sexton Advisory Group, said that the day you choose to fill up your gas tank can make an impact on your wallet.
"According to a recent report by GasBuddy, the best days of the week to buy gas at lower rates per gallon are Mondays, Tuesdays and Fridays," he said. "If you're looking to save money ahead of the Memorial Day holiday weekend, plan to fill up your tank this Friday so you don't have to think about it on the holiday. Other ways to save money on gas include driving at a fuel-efficient speed, ensuring your car gets proper maintenance throughout the year and using a gas price app to find competitive rates in your area."
Make Your Money Work for You
More From GOBankingRates