New Debt Ceiling Negotiations Could Cut 'Discretionary Spending' Budget, Including Housing and Education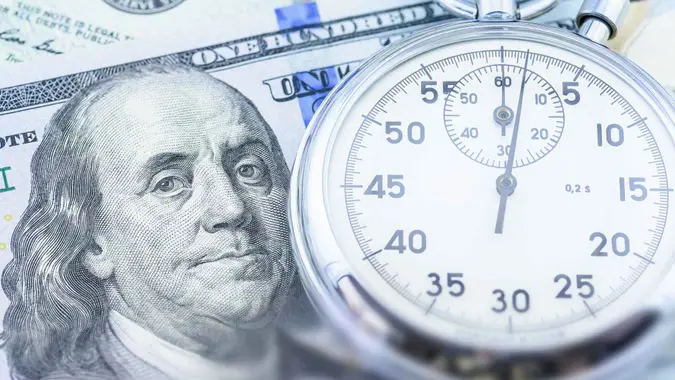 William_Potter / Getty Images
With just days before the United States faces financial default because the debt ceiling has not been raised, both sides of the aisle seem close to reaching a deal.
Reuters reported on Friday, May 26 that President Joe Biden and House Speaker Kevin McCarthy are "closing in on a deal," that would raise the debt ceiling. However, the concessions would include "capping spending on most items." 
Under the proposed deal, funding for discretionary spending on military and veterans would increase, while non-defense discretionary spending would be kept at current year levels, Reuters reported. 
As Reuters explained, "discretionary spending" is the country's $6 trillion annual federal budget that is set annually by Congress, with military spending typically accounting for half of that total, and the other half being dedicated to domestic programs such as law enforcement, transportation, housing and scientific research.
According to officials, under the deal, the total amount the government could spend on discretionary programs such as housing and education would be detailed, Reuters added. 
Make Your Money Work for You
In addition, CBS News reports that the proposed deal would also include transferring $10 billion of the $80 billion Internal Revenue Service (IRS) funding plan approved last year as part of the Inflation Reduction Act (IRA) to non-defense discretionary funding.
CNBC reported that the withdrawn IRS funding would be used "to cover much of the shortfall in domestic funding created by the GOP spending cuts, essentially preserving the programs while technically cutting the overall topline figure."
When asked about whether Americans should be worried that they might not see a deposit next week for "things like Social Security or their military paychecks," during a May 25 press conference, Press Secretary Karine Jean-Pierre said that the administration was fighting against Republicans' "extreme, devastating proposal that would slash, as you've heard me say, law enforcement, education, food assistance. All of these things are critical to American families who are just trying to make ends meet."
Meanwhile, Republican negotiator Rep. Garret Graves said that the administration was "refusing to negotiate on work requirements," which he called "crazy," according to Reuters, adding that disagreements over funding social security and Medicare versus work requirements continue to be an issue between the two sides.
The compressed timeline to reach a deal coupled with Fitch Ratings placing the country's AAA long-term foreign-currency issuer default rating on negative watch, is underscoring the gravity of the situation.  If the country were to default on its obligations, it would have dire consequences for the economy and American consumers.
Make Your Money Work for You
Take Our Poll: Are You Concerned About the Safety of Your Money in Your Bank Accounts?
Florida's Retirees Are Fleeing: Here's Where They're Going Instead
According to some experts, optimism remains that the U.S. won't default on its debt as this deal appears to be giving out wins to both the GOP and progressives.
"Speaker McCarthy noted that there is no agreement, but that negotiators will continue to work through this weekend," said Edward Moya, senior market analyst, The Americas, OANDA. "The debt limit increase is expected to last two years, defense spending is expected to rise, renewable energy will get funding, but there are still some red lines, such as work requirements for entitlements.  This will be a long weekend for negotiations, but time is running out as once a deal is outlined, 72 hours is required for lawmakers to review the text."
More From GOBankingRates
Make Your Money Work for You