Over Half of Americans Currently Use or Have Used Food Stamps, Survey Finds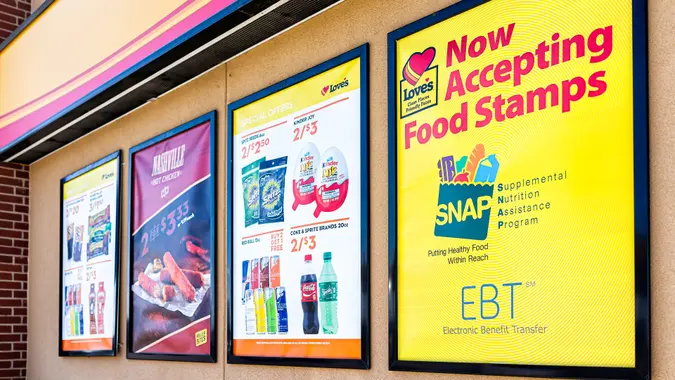 ablokhin / Getty Images
The U.S. certainly isn't the only nation where food insecurity is a crisis, but it does have the advantage of being able to address the problem through government-backed programs. One of the best moves the U.S. has made to address food insecurity within its bounds is the SNAP (aka food stamps) program. It's overwhelmingly popular, which suggests it's sorely needed. According to a new survey by GOBankingRates, half of Americans have been enrolled in or are currently enrolled in SNAP.
With so many people reliant on SNAP, it's worth knowing more about the program and what you can do to stretch your SNAP dollars. 
Who Uses SNAP? 
You don't sign up for SNAP if you've got tons of money to spare. The program is designed for people who are just scraping by and can't necessarily afford proper meals and nourishment. 
"SNAP is designed to improve food security for low-paid working families, low-income older adults (60 years and older) and people with disabilities living on fixed incomes, and other individuals and households with low incomes," said Amanda C. Nothaft, PhD, director of data and evaluation for Poverty Solutions at the University of Michigan. "People participate because they are having trouble feeding themselves and/or their families due to low income."
Nothaft notes that eligible seniors have lower application and participation rates. "Some of this may be due to the stigma of receiving government benefits among this population," Nothaft said.
Make Your Money Work for You
Why Is Food So Expensive in the U.S.?
Another question the prevalence and popularity of SNAP calls to mind is, "Why is something as essential as food so prohibitively expensive for so many people?" Note first that the U.S. is hardly an exception here.
"Having lived in and visited other places in the world, food isn't necessarily so expensive in the U.S., especially if you are just looking at food consumed at home. Food in much of Western Europe is more expensive," Nothaft said. 
Of late, food has become costlier both in the U.S. and abroad. "We have experienced a lot of inflation in food prices over the past year or so, but that has been fairly typical throughout the world," Nothaft said.
Also worth noting is that not all food is necessarily expensive. Junk food, for example, tends to be much more affordable. It's the good and the important foods that are so costly.
"Fresh fruit and vegetables are more expensive compared to chips and soda," Nothaft said. "Fresh lean meats are often more expensive than packaged box meals that are heavy in carbohydrates, sodium and sugars. Additionally, fresh food is more perishable, which creates a risk that it will go bad before it gets eaten, thus making these foods even more expensive in a more holistic calculation."
How Can You Stretch Your SNAP Dollars?
There are a few ways to make the most of your SNAP dollars, including shopping according to season and opting for frozen fruits and vegetables — without added sugars or salts.
Make Your Money Work for You
"Buying in season produce or buying frozen fruit and veggies is a way to save on produce," Nothaft said. "Buy staples in bulk, use coupons/discounts, plan meals; basically the same things anyone does to stretch their food dollars apply to people on SNAP. The main difference is that people on SNAP have fewer resources to work with, so stretching those dollars is even more important."
Look Into Local Programs for SNAP Matching
In addition to doing all the budget-friendly and savings-savvy work anyone on a tight budget would do, you should look into local programs that match SNAP dollars. 
"There are some programs, like Double Up Food Bucks in Michigan, that match SNAP dollars spent on produce dollar for dollar at participating stores and farm stands," Nothaft said. "These incentive programs can really help make produce more affordable for households."
How Can You Get Off SNAP?
There's no shame in taking advantage of SNAP, but not everyone who uses it wants to stay reliant on it. What can you do to get off SNAP? There's just one way.
"Really the only way to not need SNAP is to get to a place where you make enough money to not experience food insecurity," Nothaft said.
And whether you use it or not, SNAP is of vital importance and should not be stigmatized or undervalued.
"SNAP is part of the social safety net and hopefully, people use the assistance temporarily because they've experienced an emergency like a job loss," Nothaft said "People may use it multiple times during their lives, but the majority of users receive benefits for 3 years or less; however, it is important that it is available to people who need it without time limits, because some people are unable to get jobs that allow them to achieve food security."
Make Your Money Work for You
GOBankingRates surveyed 1,091 Americans aged 18 and older from across the country between Aug. 14 and Aug. 16, 2023, asking twenty different questions: (1) Have you had trouble paying your utility (gas, electric, heat, internet, etc.) bills in the last 6-12 months?; (2) Which of the following bills/expenses has been the hardest to keep up with over the past year?; (3) Have you bought a car/truck in the last 6-12 months?; (4) Have you ever been on food stamps?; (5) Have you or would you use artificial intelligence (AI) to earn a passive income?; (6) Where do you shop for the best deals on groceries?; (7) What is your current annual income?; (8) How much were you able to contribute to your savings this year?; (9) How much have your savings/investments decreased over the past year?; (10) Next year's (2024) Social Security Cost of Living Adjustment (COLA) will be 3% instead of the 8.7% it saw in 2023. Will this affect you?; (11) What assets do you have in your retirement portfolio? (select all that apply); (12) How much money do you currently have saved for retirement?; (13) How much personal savings do you currently have?; (14) What's the first step you would take if you were starting a small business?; (15) If given the choice between your current job and starting your own business, which would you choose?; (16) If you have any plans to start a small business, what is the timeline?; (17) How much do you currently spend on rent?; (18) How much do you currently pay monthly on your mortgage?; (19) How much has your housing (rent, mortgage, etc.) gone up over the past year?; and (20) How long do you believe it will take you to save, in order to buy a house?. GOBankingRates used PureSpectrum's survey platform to conduct the poll.
More From GOBankingRates