Recession in 2023? Hot Jobs Market and 5 Other Reasons It's Not Going To Happen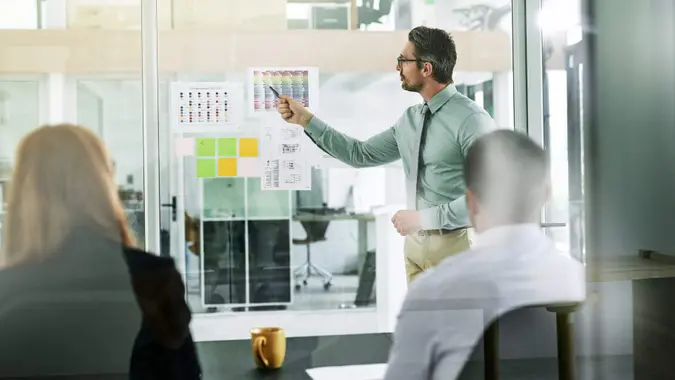 PeopleImages / Getty Images
Anyone who lived through the hardships of the 2009 recession that followed the subprime mortgage crisis is probably leery of hearing the word recession again. While the pandemic threw the economy into a temporary recession due to mandatory shelter-in-place orders that drove down business, the job market has since bounced back.
That doesn't stop people from being nervous, though. Since COVID relief programs have largely come to an end, inflation remains high, wages remain stagnant, and the Federal Reserve raised interest rates. Could the U.S. fall into recession again this year? Many fear so, but our experts suggest it's unlikely to happen. Here are their reasons.
New Jobs Added
Wayne Bechtol, a certified finance professional and senior tax accountant with Fiona, says things are already better than they were in mid-2022.
"The situation has improved considerably today, with inflation hovering near the 5% mark. Jobs have suddenly sprung up from nowhere, with employers adding up to nearly 339,000 jobs in May 2023. The figures for March and April 2023 (217,000 and 294,000, respectively) are highly encouraging," Bechtol said.
He suggests any shakiness in the economy "is ripe for a turnaround, despite the banking crisis, debt ceiling, rate hikes, etc." Therefore, he says "the recession threat is decreasing, as the probability has reduced to 1 in 3 from 50-50 at the start of 2023."
He has such confidence, he adds, "I will stick my neck out and say it will not happen, and the U.S. economy will navigate through troubled waters safely."
Make Your Money Work for You
Economic Growth and Low Unemployment
One of the biggest indicators of an impending economic recession is consistently low or negative economic growth. According to finance professional Gary Hemming with ABC Finance Ltd, the current economic climate in the U.S. is strong and there is no indication of a recession in the near future.
"The U.S. economy is currently experiencing a period of sustained growth, with GDP growth of 2.1% in 2022. The job market is also strong, with unemployment rates falling to 3.6% in June, one of the lowest rates since the start of the pandemic. Inflation is also [cooling]. This indicates that the U.S. economy is in a relatively stable position and is unlikely to experience a recession in 2023," says Hemming.
Government Support Programs
In addition, Hemming says the U.S. government's policies to stimulate the economy, such as the CARES Act, provided enough financial assistance to individuals and businesses affected by the pandemic to get many of them over the hump. "This has helped to maintain economic stability and is likely to continue to do so in the near future."
Strong Consumer Spending
Another sign that suggests a recession is unlikely this year is the fact that consumer spending has been strong despite the current economic climate. According to Linda Chavez, founder and CEO of Seniors Life Insurance Finder, "This is evidenced by the recent surge in online shopping as well as increases in retail sales and other services such as travel, entertainment and home improvement."
Make Your Money Work for You
Low Interest Rates
Though the Federal Reserve has increased interest rates, they're still relatively low overall, which helps to stimulate economic activity and discourage banks from hoarding cash. "This is a positive sign that the economy should remain healthy this year," Chavez says.
Favorable Global Economic Conditions
Lastly, Chavez points out that the global economy is also looking strong, with many of the world's largest economies posting solid growth figures. "This indicates that the U.S. will not be facing a recession alone and should benefit from the stability and strength of its international trading partners."
However, Recession Might Still Be on the Horizon
All that said, it doesn't mean a future recession isn't possible.
According to David Waddell, CEO and chief investment strategist at wealth management firm Waddell & Associates, while we haven't hit the 10% earnings downturn analysts predicted, we are at 6% now. "When you look at the textbook, it seems like we're at the beginning of an employment slowdown. Employment is the only thing holding us up — it's the last shoe to drop."
However, he feels that if we do enter a recession beyond 2023, it probably won't be severe.
More From GOBankingRates
Make Your Money Work for You