Which College Sports Make the Most Money?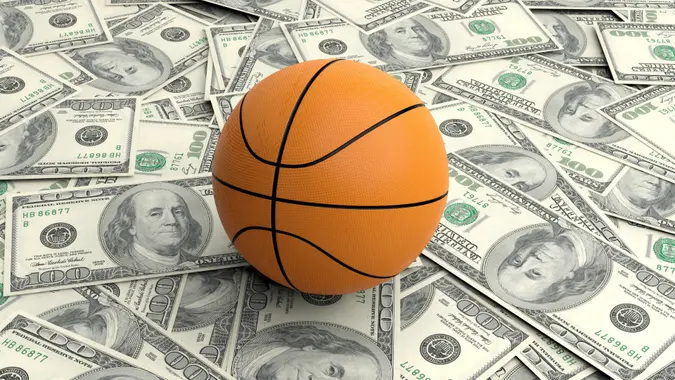 College sports are a big business. From the football playoff to March Madness, college sports have some of the most popular events around.
But how big is that business? How much money do college sports rake in? GOBankingRates looked at the top five revenue-producing college sports to see the breakdown. The numbers might surprise you.
Football
The biggest revenue producer among college sports is no surprise: It's football. College football brings in an average of $31.9 million per school per year, financial website Zacks.com reported. That's an eye-popping number, but it's even more impressive when you see that number is more than the next 35 college sports combined.
A large portion of that revenue comes from TV deals. ESPN's deal to broadcast the College Football Playoff is worth roughly $470 million annually, and the Power 5 conference TV contracts each bring in at least $200 million a year, according to On3.com.
The top-revenue producing schools for football won't surprise you, either. Texas tops the list at $144 million, followed by national champion Georgia ($134 million), Michigan ($126 million), Ohio State ($116 million) and Alabama ($110 million).
Basketball
The No. 2 revenue-producing sport for college is basketball, which brings $8.1 million per school. The bulk of revenue for basketball comes from CBS Sports' deal to broadcast the NCAA Tournament, which is worth $1.1 billion per year.
Louisville brought in $42 million to lead all schools in basketball revenue, followed by Duke ($37 million), Kentucky ($30 million), North Carolina ($27 million), and Indiana ($26 million).
Make Your Money Work for You
Hockey
The No. 3 revenue-producing sport is men's hockey, coming in at $2.5 million per school. No surprise, but the top schools in terms of hockey revenue are all in the north: Wisconsin leads the way at $6.2 million, followed by Minnesota-Duluth ($5.8 million), Providence ($5.6 million), Boston ($5.6 million) and Northeastern ($5.5 million).
Baseball
Baseball is the fourth-highest sport, raking in $1.25 million per school. The bulk of that money comes from TV revenue, especially the College World Series on ESPN. Vanderbilt makes the most from baseball at $5.5 million, with Florida State ($4.9 million), TCU ($4.6 million), Miami ($4.5 million) and Arkansas ($3.9 million) rounding out the top five.
Track & Field
Track and field is the fifth-highest revenue producing sport, bringing in $1.17 million per institution. Baylor is the top revenue producer at $5 million. Second is Howard ($4.6 million), followed by Florida State ($4.5 million), Miami ($4.4 million) and Duke ($3.7 million).
Equestrian
The sixth-highest revenue sport will probably surprise you: Equestrian. The sport brings in $886,000 per school, with SMU leading the way at $4.3 million. Fellow Texas schools TCU ($3.3 million) and Baylor ($2.9 million) are second and third, followed by Fresno State ($1.2 million) and Savannah College of Art and Design ($1.2 million).
More From GOBankingRates
Make Your Money Work for You