5 Places To Retire That Are Just Like California but Way Cheaper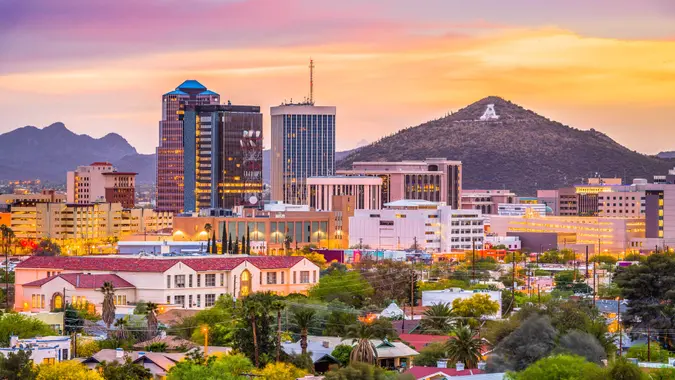 Sean Pavone / Getty Images/iStockphoto
California is a fantastic place to live, with its beautiful beaches, amazing weather, diverse cities and endless entertainment options. However, it also comes with a very high cost of living that can make retirement difficult. 
The five cities below all provide great weather, amenities, entertainment and outdoor activities at a fraction of the cost of California. You can easily establish the California lifestyle you love for much cheaper. So don't limit yourself. Here are five cities where you can get a little of the Golden State without spending all your gold:
Tucson, Arizona
Austin, Texas
Denver, Colorado
Portland, Oregon
Charleston, South Carolina
Tucson, Arizona
Tucson oozes old Southwest charm, and it enjoys mild winters and warm summers just like Southern California. You can enjoy outdoor recreation in stunning desert landscapes. The University of Arizona gives Tucson an academic energy while retaining a desert town appeal. 
Alex Locklear, realtor and founder of NC Cash Homebuyers, said, "Tucson offers a desert climate similar to Southern California, but with a much lower cost of living. The city has a rich cultural heritage and is home to many museums and galleries. It also boasts a vibrant restaurant scene, with diverse cuisines influenced by its proximity to Mexico."
Austin, Texas
Austin has exploded in popularity in recent years due to its warm weather, music scene, university influence and tech boom. It offers great outdoor spaces like Zilker Park and Lady Bird Lake. 
Make Your Money Work Better for You
As Josh Martin, realtor and owner of Atticus Home Buyers, said, "With its warm climate, diverse music scene and a reputation as the Live Music Capital of the World, Austin offers a California-like experience at a lower cost. The city's affordable housing options, strong job market and a vibrant culture make it an attractive destination for those seeking a more affordable yet exciting lifestyle."
Median home prices clock in around $475,000 and there is zero state income tax.
Denver, Colorado
Denver enjoys over 300 days of sunshine per year. The nearby Rocky Mountains provide plenty of outdoor recreation opportunities. 
"Not only does it boast a sunny climate and breathtaking mountain views," said Martin, "but it also offers a vibrant arts scene, outdoor recreational activities and a booming job market. Denver's cost of living is generally lower than major California cities, making it an attractive choice for those seeking a more affordable lifestyle."
Median home prices hover around $610,000 — expensive on a national level but relieving to those coming from San Francisco, Los Angeles or San Diego — and Colorado has lower property taxes than California. 
Portland, Oregon
Portland is a hip, vibrant city known for its coffee culture, foodie scene and abundance of breweries. It offers easy access to nature with Forest Park and the Columbia River Gorge right on its doorstep. Portland enjoys mild temperatures year-round that are very similar to Northern California, and it gets less rainfall annually than Seattle. Housing prices are rising but still more affordable than California. 
"Portland offers a laid-back, California-like vibe," said Martin. "The cost of living in Portland is generally more affordable than in cities like San Francisco or Los Angeles, allowing residents to enjoy a high quality of life without breaking the bank."
Make Your Money Work Better for You
Charleston, South Carolina 
Charleston exudes a romantic, historic charm combined with coastal beaches and Southern hospitality. There is great food, architecture and arts. The weather is warm and humid, though winters remain mild. Charleston median home prices are around $700,000, and South Carolina also offers retirement tax breaks. Charleston's slower pace provides a relaxing alternative to California living.
More From GOBankingRates