Wealthy Americans Are Aiming for a $3 Million Nest Egg — Should That Be Your Goal, Too?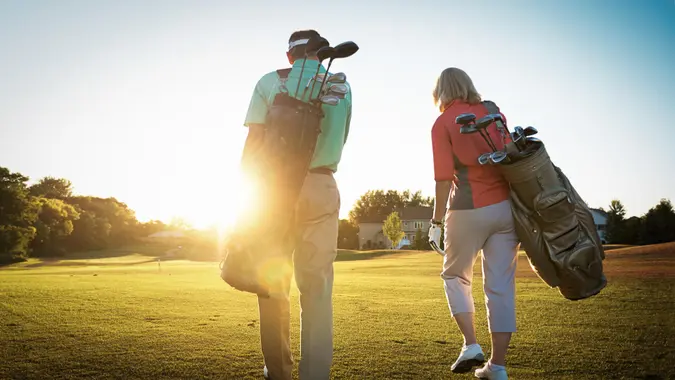 shapecharge / Getty Images/iStockphoto
The average American now thinks they will need $1.27 million to retire, a new Northwestern Mutual study found. And while that may seem like a lot of money, high-net-worth individuals — those with more than $1 million in investable assets — believe they will need more than double that to retire comfortably, with the average person in this pool estimating they will need $3 million.
Here's a closer look at why there's such a disparity between these two figures, which number is likely more accurate and how the average American can save $3 million for retirement, if that's their goal.
Why Wealthy Americans Are Aiming for $3 Million
There are two main reasons why a high-net-worth individual could have a much higher retirement savings goal than the average American, the first of which is their expectations for their lifestyle in retirement.
"For a high-net-worth individual, the operating expenses for what they're accustomed to are probably different from an average American, so the difference has to do with the lifestyle that they want to live if they don't want to adjust to a different lifestyle in retirement," said Aditi Javeri Gokhale, chief strategy officer, head of institutional investments and president of retail investments at Northwestern Mutual.
The second reason is that they may be planning to leave a larger financial legacy.
Make Your Money Work Better for You
"How much you want to leave behind in terms of legacy may be different for a high-net-worth individual versus the average American in terms of gifting, charitable contributions and stuff like that," Javeri Gokhale said.
Does the Average American Need $3 Million?
There's quite a difference between the $1.27 million the average American thinks they will need for a comfortable retirement and the $3 million wealthy Americans think they will need — but which figure is closer to the truth? Javeri Gokhale said that it really depends on the individual.
"I wish I had a magic number, but it's completely different [for each person] based on risks, lifestyle, how much you want to leave for legacy, even how much you want to travel in retirement," she said. It also depends on your personal circumstances: "You could be single, you could be married, you could have aging parents, you could have two kids, three kids, four kids, so that's why having that magic number is very difficult."
To find your specific number, Javeri Gokhale recommends meeting with a financial professional.
"That's where connecting with an advisor and coming up with a plan is important," she said.
Can the Average American Achieve a $3 Million Nest Egg?
If you crunch the numbers and decide that $3 million is your retirement goal, you might not know how to get there or if that's even possible. But Javeri Gokhale said hitting that number is more achievable than it might seem — if you plan properly.
"The planning is the same no matter how high your goal is, but the margin for error is smaller when the stakes get higher," she said. "So it's really important to start early, and it's really important to plan comprehensively."
Make Your Money Work Better for You
When formulating your retirement plan, it's important to "be very open and honest about your financial needs, how much debt you have and your risk-taking appetite," Javeri Gokhale said. "If you budget carefully, invest intentionally, eliminate debt and accommodate for risk, is it achievable? Absolutely, but you've got to take these steps."
More From GOBankingRates