Easy Ways to Start Your Retirement Early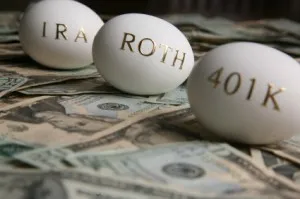 It doesn't matter how much you love your youth, there's always a small part of you that day dreams about that sweet golden age when all you have to do everyday is… well… nothing. The whole idea that "time flies" is too true, and soon enough retirements going to be knocking.  It's going to feel a lot better when it knocks holding a whole bunch of money.
You might thinking setting up your
Roth 401(k)
or
Roth IRA
isn't a necessity right now. To you, it's too complicated and a big impossible obstacle that you'll "deal with later."
However, setting up a Roth 401(k) or Roth IRA investment is pretty easy, and when you're 59.5 years old, you and your wallet will be thrilled you set it up when you did.
Just to refresh; Roth 401(k) and Roth IRA's are retirement accounts that can accumulate thousands of earned tax dollars into an account that appreciates over time and does not get taxed when you withdrawal for retirement.
How to Start an Account
So how do you start it? Let's make it simple and let you know how you can take steps to creating a Roth 401(k) or Roth IRA without the horrendous hassle that you fear it'll be.
First of all, talk to a professional. The fact of the matter is financial and investment advisers are available to help you through this process.
Wait. You're eligible right? There are certain Roth 401(k) and Roth IRA limits. Do you have a job and do you make less than $120,000 this year? OK. You're good to invest in a Roth IRA.
Five Easy Steps
1. Find your company. Look at your bank, mutual-fund provider, brokerage firm, or insurance provider. There are a lot of different Roth IRA's you can find out there, just make sure you find some place that can get the ball rolling.
2. Figure out the risks involved… Pick one that fits your lifestyle.
3. Watch out for those fee's. Make sure you ask because some providers have fees that will be high enough for you to change your mind and invest elsewhere.
4. Open your account by going to the provider and filling our forms, of if you want you can probably find the application online.
5. Choose some beneficiaries and start investing!