Should You Be Splitting Your 401(k) Between Traditional and Roth?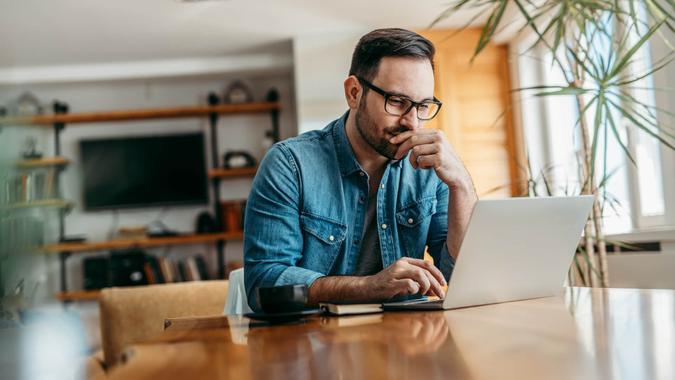 nortonrsx / Getty Images/iStockphoto
A traditional 401(k) plan provides tax deductions on contributions, but retirement withdrawals are fully taxable. A Roth 401(k) is the opposite: You won't get a deduction for your contributions, but all of your qualified retirement withdrawals will be tax-free.  Trying to determine which is the best option for you will depend on a number of factors, including your current and future tax brackets. If you change your mind along the way, you can split your 401(k) contributions, either contributing to both types or diverting your future contributions into whichever type of 401(k) you don't yet have. Here's a look at some reasons why you might or might not want to split your 401(k) contributions.
Read: A Troubling Look at the State of Retirement in 2021
See: 14 Key Signs You Will Run Out of Money in Retirement
When Should You Split Your 401(k)?
Generally, you shouldn't split your 401(k) contributions unless you have a reason. Here are two of the most common:
When You Want To Diversify for Tax Purposes
For years, standard wisdom in the financial services industry has been that retirees are in lower tax brackets than workers. But the truth is, there's no real way of knowing what tax bracket you'll be in when you retire, and if it will be higher or lower than the one you're in now. Yes, retirees generally draw lower incomes than full-time workers, but tax brackets now are relatively low from a historical standpoint. By the time you retire, it's possible that tax rates will be higher. You might also find yourself earning more in retirement than you imagine, which is another way you might find yourself in a higher tax bracket. Splitting your contributions between both a traditional and a Roth 401(k) is a way to hedge your bets when it comes to your future tax situation.
Learn: Here's How Much You Should Have in Your 401(k) Account, Based on Your Age
Explore: 25 Ways To Fix Your 401(k) Before It's Too Late
When Your Tax Bracket Changes
If you're in a high tax bracket now, you'll likely want to maximize the tax break that a traditional 401(k) can offer. But if you find yourself dropping into a lower tax bracket, whether by drawing a lower salary or through Congressional tax bracket adjustments, you might prefer contributing to a Roth 401(k), as your tax deduction won't be as large with a traditional 401(k). The opposite is true if you are jumping up to a high tax bracket — if you have an existing Roth 401(k), you might want to start contributing to a traditional 401(k).
When Should You Not Split Your 401(k)?
There could be any number of reasons why you might want to split your 401(k), but here are two reasons for keeping it intact:
Your Tax Situation Dictates That One Is Better Than the Other
In most cases, your tax situation should dictate which type of 401(k) to choose. If you're in a low tax bracket now and anticipate being in a higher one after you retire, a Roth 401(k) makes the most sense. If you're in a high tax bracket now, the traditional 401(k) might be the better option.
Are You One?: Americans Have More Than $1 Trillion Left Behind in Old 401(k)s
Decide: Should I Contribute To My 401(k) or Pay Off My Credit Card Debt?
You Prefer One Type Over the Other
Sometimes, personal preference is a reason for sticking with one type of 401(k). If you like taking current deductions, even if you're in a lower tax bracket, you might want to stick with the traditional 401(k). Similarly, if you're a long-term planner and would rather reap the benefits of tax-free withdrawals from your account in retirement, then you might prefer keeping your Roth 401(k).
The Bottom Line
Retirement planning is tricky enough without having to factor in tax scenarios. Before you make a change in your 401(k) that could cost you money over the long haul, sit down with your financial advisor and accountant to determine which option makes the most financial sense for you.
More From GOBankingRates
Last updated: June 29, 2021