22 US Cities Where You Can Retire on $5,000 a Month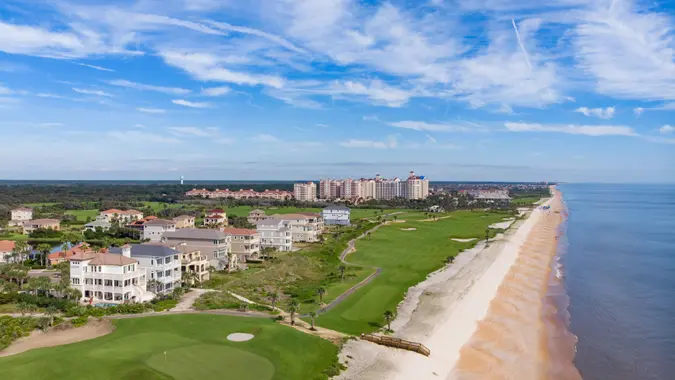 Michael Warren / Getty Images/iStockphoto
One of the most common worries people have when approaching retirement is whether they'll have enough to retire comfortably, especially with many people living longer. Kiplinger calls this the longevity risk; the life expectancy for American men has increased more than 15 years since 1950. For women, the increase is nearly 15 years.
See: Jaw-Dropping Stats About the State of Retirement in America
Good To Know: All the States That Don't Tax Social Security
That presents a challenge for soon-to-be retirees who will likely earn less after leaving the workforce. To add to this problem, many people fall victim to lifestyle inflation as their earnings increase, and it can be difficult to reverse that trend. However, keeping your expenses under control is key to having a financially secure retirement. So, how do you make that happen? The answer will inevitably vary depending upon your own expenses. In other words, we all spend different amounts on different things; some prefer only buying organic produce or luxury vehicles. In general, though, some cities are better than others in terms of affordability. Thus, this list will take a look at some of the winners by total monthly expenditures.
Learn: 50 Best (and Worst) Cities for an Early Retirement
First, we'll take a look at U.S. averages and then go from the highest total monthly expenses to the lowest total monthly expenses. The list will also break down the cost by rent, groceries, healthcare and transportation. These are the biggest costs for most Americans; thus, they are the most important categories to consider.
US Averages
Monthly expenditures: $2,183.00
2020 Average 1 bedroom rent: $1,277.00
% of population 65 and older: 16.5%
Annual grocery cost: $4,204
Monthly grocery cost: $350.33
Annual healthcare cost: $6,668
Monthly healthcare cost: $555.67
22. Walnut Creek, California
Monthly expenditures: $3,076
2020 average 1 bedroom rent: $2,077
% of population 65 and older: 29.6%
Livability: 78
Annual grocery cost: $4,708.48
Monthly grocery cost: $392.37
Annual healthcare cost: $7,288.12
Monthly healthcare cost: $607.34
21. Palm Beach Gardens, Florida
Monthly expenditures: $3,048
2020 average 1 bedroom rent: $2,120
% of population 65 and older: 29.9%
Livability: 81
Annual grocery cost: $4,594.97
Monthly grocery cost: $382.91
Annual healthcare cost: $6,541.31
Monthly healthcare cost: $545.11
Discover: The Cost To Retire in America's Sunniest Cities
Read: Most Tax-Friendly States To Retire
20. Aventura, Florida
Monthly expenditures: $2,901
2020 average 1 bedroom rent: $1,972
% of population 65 and older:28.8%
Livability: 72
Annual grocery cost: $4,557.14
Monthly grocery cost: $379.76
Annual healthcare cost: $6,587.98
Monthly healthcare cost: $549.00
19. Boca Raton, Florida
Monthly expenditures: $2,850
2020 average 1 bedroom rent: $1,919
% of population 65 and older: 26.8%
Livability: 80
Annual grocery cost: $4,632.81
Monthly grocery cost: $386.07
Annual healthcare cost: $6,541.31
Monthly healthcare cost: $545.11
More Tips: 27 Best Strategies To Get the Most Out of Your 401(k)

18. Beachwood, Ohio
Monthly expenditures: $2,628
2020 average 1 bedroom rent: $1,813
% of population 65 and older: 32.4%
Livability: 84
Annual grocery cost: $4,288.08
Monthly grocery cost: $357.34
Annual healthcare cost: $5,494.43
Monthly healthcare cost: $457.87
17. Delray Beach, Florida
Monthly expenditures: $2,561
2020 average 1 bedroom rent: $1,645
% of population 65 and older: 26%
Livability: 71
Annual grocery cost: $4,452.04
Monthly grocery cost: $371.00
Annual healthcare cost: $6,541.31
Monthly healthcare cost: $545.11
16. Naples, Florida
Monthly expenditures: $2,543
2020 average 1 bedroom rent: $1,572
% of population 65 and older: 52.5%
Livability: 78
Annual grocery cost: $4,918.68
Monthly grocery cost: $409.89
Annual healthcare cost: $6,734.68
Monthly healthcare cost: $561.22
15. Palm Harbor, Florida
Monthly expenditures: $2,533
2020 average 1 bedroom rent: $1,598
% of population 65 and older: 28.4%
Livability: 85
Annual grocery cost: $4,460.44
Monthly grocery cost: $371.70
Annual healthcare cost: $6,761.35
Monthly healthcare cost: $563.45
Learn: The Best Place To Retire in America Are All College Towns
Longevity: How Long $500K Will Last in Retirement in Each State
14. Bonita Springs, Florida
Monthly expenditures: $2,516
2020 average 1 bedroom rent: $1,488
% of population 65 and older: 41.8%
Livability: 80
Annual grocery cost: $4,519.30
Monthly grocery cost: $376.61
Annual healthcare cost: $7,821.56
Monthly healthcare cost: $651.80
13. Wilton Manors, Florida
Monthly expenditures: $2,435
2020 average 1 bedroom rent: $1,520
% of population 65 and older: 25.1%
Livability: 71
Annual grocery cost: $4,527.71
Monthly grocery cost: $377.31
Annual healthcare cost: $6,454.62
Monthly healthcare cost: $537.89
12. Tamarac, Florida
Monthly expenditures: $2,248
2020 average 1 bedroom rent: $1,347
% of population 65 and older: 25.6%
Livability: 79
Annual grocery cost: $4,359.55
Monthly grocery cost: $363.30
Annual healthcare cost: $6,454.62
Monthly healthcare cost: $537.89
11. Fairview, Texas
Monthly expenditures: $2,227
2020 average 1 bedroom rent: $1,337
% of population 65 and older: 27.8%
Livability: 78
Annual grocery cost: $4,258.65
Monthly grocery cost: $354.89
Annual healthcare cost: $6,427.95
Monthly healthcare cost: $535.66
10. Bradenton, Florida
Monthly expenditures: $2,207
2020 average 1 bedroom rent: $1,329
% of population 65 and older: 25.4%
Livability: 72
Annual grocery cost: $4,363.75
Monthly grocery cost: $363.65
Annual healthcare cost: $6,174.57
Monthly healthcare cost: $514.55
9. Largo, Florida
Monthly expenditures: $2,156
2020 average 1 bedroom rent: $1,227
% of population 65 and older: 25.9%
Livability: 82
Annual grocery cost: $4,388.98
Monthly grocery cost: $365.75
Annual healthcare cost: $6,761.35
Monthly healthcare cost: $563.45
8. Sarasota, Florida
Monthly expenditures: $2,138
2020 average 1 bedroom rent: $1,222
% of population 65 and older: 27.3%
Livability: 71
Annual grocery cost: $4,477.26
Monthly grocery cost: $373.11
Annual healthcare cost: $6,507.97
Monthly healthcare cost: $542.33
Learn: Suze Orman, Warren Buffett and Other Money Experts Weigh In on How To Best Set Yourself Up for Retirement
Budget: Best Cities To Retire on a Budget of $1,500 a Month
7. Estero, Florida
Monthly expenditures: $2,132
2020 average 1 bedroom rent: $1,105
% of population 65 and older: 48.2%
Livability: 84
Annual grocery cost: $4,502.48
Monthly grocery cost: $375.21
Annual healthcare cost: $7,821.56
Monthly healthcare cost: $651.80
6. Dunedin, Florida
Monthly expenditures: $2,108
2020 average 1 bedroom rent: $1,175
% of population 65 and older: 32.6%
Livability: 88
Annual grocery cost: $4,431.02
Monthly grocery cost: $369.25
Annual healthcare cost: $6,761.35
Monthly healthcare cost: $563.45
5. Oro Valley, Arizona
Monthly expenditures: $2,065
2020 average 1 bedroom rent: $1,268
% of population 65 and older: 33.9%
Livability: 83
Annual grocery cost: $4,132.53
Monthly grocery cost: $344.38
Annual healthcare cost: $5,434.42
Monthly healthcare cost: $452.87
4. Georgetown, Texas
Monthly expenditures: $1,979
2020 average 1 bedroom rent: $1,131
% of population 65 and older: 29.1%
Livability: 87
Annual grocery cost: $3,998.00
Monthly grocery cost: $333.17
Annual healthcare cost: $6,181.24
Monthly healthcare cost: $515.10
3. Palm Coast, Florida
Monthly expenditures: $1,974
2020 average 1 bedroom rent: $1,071
% of population 65 and older: 28.2%
Livability: 73
Annual grocery cost: $4,233.43
Monthly grocery cost: $352.79
Annual healthcare cost: $6,601.32
Monthly healthcare cost: $550.11
2. Catalina Foothills, Arizona
Monthly expenditures: $1,888
2020 average 1 bedroom rent: $1,079
% of population 65 and older: 31.5%
Livability: 77
Annual grocery cost: $4,275.47
Monthly grocery cost: $356.29
Annual healthcare cost: $5,434.42
Monthly healthcare cost: $452.87
1. Winter Haven, Florida
Monthly expenditures: $1,838
2020 average 1 bedroom rent: $943
% of population 65 and older: 25.3
Livability: 77
Annual grocery cost: $4,313.30
Monthly grocery cost: $359.44
Annual healthcare cost: $6,427.95
Monthly healthcare cost: $535.66
More From GOBankingRates