5 Reasons Saving for Retirement Is More Impactful in Your 20s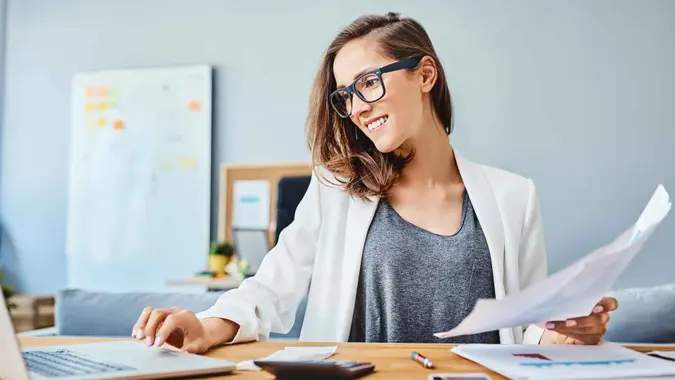 BartekSzewczyk / Getty Images/iStockphoto
You might have heard the cliché that it's never too early to save for retirement, but it's more than just a cliché — it's a solid financial plan that applies even if you're a 20-something Gen Zer decades away from retirement. In fact, saving for retirement in your 20s is an important ingredient in ensuring financial security once you hit your golden years.
Although it can be a challenge setting aside retirement savings in your 20s because you're just getting started in the working world, there are some targets you can aim for. Fidelity and Ally Bank both recommend saving an amount equal to your annual salary by the time you reach age 30. For example, if you earn $45,000 a year in your late 20s, you should have $45,000 saved up when you turn 30.
The good news is, saving for retirement in your 20s can be much more impactful than in later decades. Here are five reasons why.
1. You Can Take More Risks
One of the best reasons to save for retirement in your 20s is that you have a long time to overcome volatile market and economic cycles. This means you can take chances on stocks or other investments with higher risk, but a much higher long-term payoff potential. By the time you reach age 60, that stock you bought might have risen by a factor of 100 or more.
2. The Benefits of Compounding Interest
When you start saving in your 20s, time is on your side in numerous ways — one of which involves compounding interest, which can add up in a big way over the course of a few decades.
Are You Retirement Ready?
"It's common for young people to wait for a point when they will start saving, and that's going to be when they're more established in their careers and they have extra to save," Melody Evans, a wealth management adviser at TIAA, told The Washington Post. "But just like you automatically deduct money to pay for your utilities and your cable bill, consider automatically deducting money from your paychecks and use it to build your retirement savings."
3. Employer Retirement Plans
Maybe the smartest move you can make in your 20s is taking advantage of employer-sponsored retirement plans like 401(k)s. Contributing part of your paycheck to a 401(k) gets you into the habit of setting money aside for retirement early on in your career. Better yet, many employers match your contribution, which adds up to decades of free money.
Mindy Yu, director of investing at Betterment at Work, recommends taking advantage of all employer benefits to free up as much money as possible for savings.
"Make sure that you understand the benefits your employer offers, and consider how they can help you more effectively invest and save — for example, if your employer offers a health savings account, or HSA, money invested can help you pay for future medical expenses," Yu told Fox Business.
4. You Won't Miss the Money as Much as You Think
When you are just starting out in your adult life, your finances are essentially a clean slate, whether they involve utility bills or retirement savings. You haven't had enough time to develop bad financial habits, which means that adopting good habits in your 20s makes it easy to continue with those good habits throughout the rest of your life. If you wait until your mid-30s or later to start saving for retirement, suddenly you have a new expense that could disrupt your routine and budget.
Are You Retirement Ready?
5. You Have More Discretionary Income
Even though you might earn a lower salary in your early 20s, and could be saddled with college debt, chances are you don't have a costly mortgage or childcare expenses to deal with. Now is a good time to put any extra money toward retirement savings before the bigger bills show up in your life.
More From GOBankingRates