The Critical Money Task People Over 35 Find Most Confusing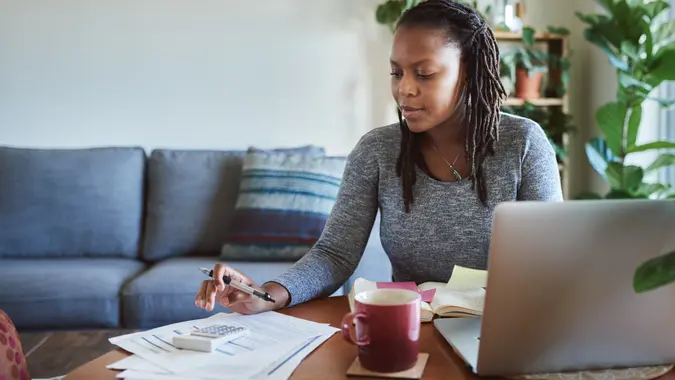 mapodile / Getty Images
Money anxiety doesn't discriminate between the old and the young — but the sources of that anxiety do change with age. 
A new GOBankingRates survey of more than 1,000 adults shows that people struggle with different financial undertakings the older they get — at least to a certain point. 
At 35, one financial task emerges above all the rest as the primary source of confusion and apprehension on the runway to middle age. 
The Big Four: House, Car, Retirement and Taxes
The study polled people on four common sources of financial confusion — buying a car, buying a home, planning for retirement and doing their taxes. 
Fewer than 7% cited buying a car as their primary financial sticking point. But buying a home comes with higher stakes and many more considerations — and it showed. Almost three times as many people — about 18% — cited homeownership as the financial hurdle that confuses them the most. 
Next in line was planning for retirement, which just shy of one in four respondents — roughly 24% — cited as their chief source of financial bewilderment.
Are You Retirement Ready?
But taxes emerged as the most common source of uncertainty — about 27% cited settling up with the IRS as the money task they understood the least. 
That, however, was for the group as a whole. The picture changes when you focus on different age groups.
Take Our Poll: Are You Concerned About the Safety of Your Money in Your Bank Accounts?
As Rookies, Gen Z Struggles With First-Time Milestones
About 14% of young adults between 18-24 labor to understand the car-buying process — roughly double the group as a whole. A nearly equal percentage, about 19%, struggled with the ins and outs of becoming a homebuyer. The biggest challenge by far was paying taxes, which 36% of Gen Zers cite as the money task they were least confident about completing. Comparatively few, just 16%, were most confused about saving for retirement. 
None of that is terribly surprising. 
After all, young adults just entering the workforce are likely to be buying their first car or doing taxes for the first time, and are therefore new to the game. On the other hand, retirement feels a million miles away in your early 20s, so they're probably not sweating about that — at least not yet.
More Seasoned Adults Graduate to Big-Ticket Stresses
Those between 25 and 34 are in their peak homebuying years, so it's no surprise that purchasing a house was that demographic's primary source of confusion — about 26% cited that as their chief cause for concern. Conversely, fewer than 8% fret over buying a car, a task that gets easier once you've already done it.
Are You Retirement Ready?
One in four is least confident in their understanding of taxes, a percentage that barely changes across all age groups after young adults get it out of the way for the first time. Retirement is the biggest point of contention for a little more than 1 in 5 in that age group. 
At 35, People Start Worrying About the Long Game
Stress about buying a car wanes with age, tax anxiety never fades and homeownership becomes less confusing when people hit middle age. 
But at 35, as most people start to feel like their youth is in the rearview mirror, planning for retirement takes center stage and stays there until it's actually time to retire. 
About 28% of both 35- to 44-year-olds and 45- to 54-year-olds cite retirement planning as their chief cause of confusion. For those between 55 and 64, it jumps to 1 in 3, putting all other concerns on the back burner for 30 years of life.
Retirement Planning Starts With Learning How To Plan 
It's no surprise that people feel confused and anxious about retirement planning. It involves complex challenges like identifying your target age, establishing your timeline and savings goals, planning for Social Security and identifying income sources, investments and assets, as well as debts and other liabilities that can get in the way. 
Are You Retirement Ready?
Focus on the Fundamentals and Get Help Wherever You Can
The good news is that free education is easy to come by. Every big financial institution offers helpful primers on retirement planning, as do reputable publications. Learn as much as possible about tax-advantaged retirement accounts like 401(k) plans, IRAs and Roth IRAs. 
If your job comes with retirement benefits, your HR department can help you understand your options, including target-date funds that adjust your holdings as you approach retirement age. 
Don't stress about how much you should have saved by a given age — the most important thing is to start learning and planning now. 
The Department of Labor and other government agencies offer free resources, as do nonprofits like the Foundation For Financial Planning.
But if you can afford it, help from a certified financial planner, financial consultant or another credentialed professional might be your best investment. 
Don't Worry, It Gets Easier
Another trend emerged from the study that offers plenty of room for optimism. Aside from the four big sources of financial uncertainty, respondents had a fifth option, and the percentage who chose "I feel comfortable with all of the above" surged with every age group from less than 15% of young adults to more than 41% of those 65 and up, a nearly threefold increase. 
Are You Retirement Ready?
So if you're not there yet, keep going — when it comes to matters of finance, at least, wisdom truly comes with age.
More From GOBankingRates
Methodology: GOBankingRates surveyed 1,056 Americans aged 18 and older from across the country on between March 17 and March 20, 2023, asking twelve different questions: (1) When you were growing up, which financial topics did your parents talk to you about? (Select all that apply); (2) At what age did you become comfortable with basic money skills (i.e., writing a check, balancing your accounts, budgeting)?; (3) At what age did you start saving and planning for retirement?; (4) How much cash do you think you should have on hand in case of a national emergency?; (5) Do you think a lack of financial understanding has impacted your ability to be financially prepared for the future?; (6) How much did a lack of financial literacy cost you in the last year due to things like not knowing the best way to save for retirement, not being comfortable with investing, not using a budget, etc.?; (7) Which major financial task is most confusing to you?; (8) What percentage do you think you are required to put down on a home when buying?; (9) Do you feel prepared to handle any possible cuts to Social Security benefits?; (10) How has inflation changed how you handle your finances? (Select all that apply); (11) What's the minimum you think experts would recommend you have saved to be comfortable in retirement?; and (12) Which of the following do you find most confusing about Social Security?. GOBankingRates used PureSpectrum's survey platform to conduct the poll.
Are You Retirement Ready?