'Disneyland For Seniors': Why 130,000 Retirees Spend Up to $1 Million+ to Live in This Florida Town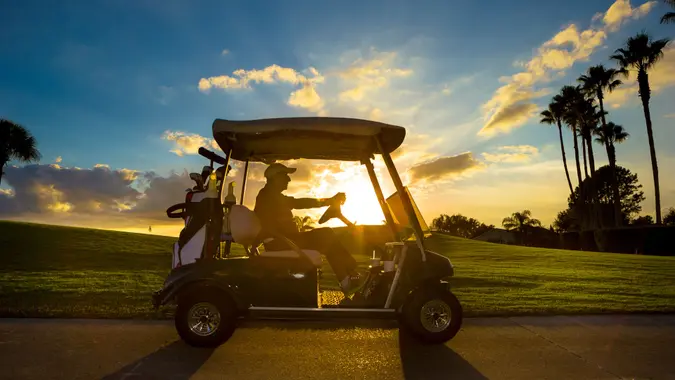 nycshooter / Getty Images
For decades Florida has represented the ideal retirement location, with a warm climate all year, plentiful golf courses, vibrant downtown areas with shopping and entertainment, and an affordable cost of living. When the grandkids come to visit, there is plenty to keep them busy, from a trip to Disney World to a day at the beach.
Retirement Savings: Here's How Much Cash Baby Boomers Need To Retire in the Next 5 Years
Also: 3 Signs You're Serious About Raising Your Credit Score
During the pandemic, busy executives able to work from home, families who were homeschooling, and people in virtually every demographic flocked to Florida, looking to enjoy seemingly endless days at home in a tropical paradise.
The exodus continued in summer 2021, even as public places started to re-open. From July 2021 to July 2022, nearly 444,500 people moved to Florida, according to the Tampa Bay Economic Development Council.
With a cost-of-living index of 100.3, just 26 states are less expensive than Florida. Keep in mind, though, the cost-of-living varies dramatically based on the city or region of Florida you choose.
Are You Retirement Ready?
However, it's not affordability that's attracting seniors to The Villages, a sprawling retirement community just outside of Orlando. The master-planned community, first populated in the 1960s, sits primarily in Sumter County. It houses everything seniors could need, including dining, entertainment, shopping, golf, libraries, and more.
With homes ranging from the mid-300,000s up to nearly $3 million, seniors aren't moving here to stretch their retirement savings. But they are looking for the best lifestyle deep pockets can buy.
The population of The Villages has grown from 93,000 up to 130,000 since 2010, the New York Times reported. The Villages, named "America's largest retirement community" and sometimes called "Disney World for retirees," spans three zip codes and regularly ranks as one of the fastest growing U.S. cities, according to The New York Times.
The subject of a 2020 documentary, "Some Kind of Heaven," which is available on Hulu, The Villages holds a place in American lore as a senior paradise.
Just how much retirement savings would you need to enjoy its splendor?
Are You Retirement Ready?
You can snag a modest, 1,188-square-foot, 2-bedroom, 2-bath home for as little as $370,000. If you sold a home that you owned outright in the northeast, it's highly likely you could pay cash for your new Florida residence and use your retirement savings to cover your other living expenses.
Redfin.com lists the median home price across the state of New York at $790,000. That much cash would get you one of the mid-priced homes in The Villages. For instance, Lantana style homes with an open floor plan, 3 bedrooms and 2 baths, and roughly 2,000 square feet of living space run in the $600,000 price range. Some boast lake views or easy access to golf courses.
Take Our Poll: Are You Planning To Buy or Sell a House This Year?
Learn: Retirees Confess What They Wish They'd Done With Their Money
The wealthiest retirees may, instead, choose a lakefront property of 3,600 square feet, boasting four bedrooms, three baths, and a view of the Arnold Palmer Championship Riley Grove golf course. The home sits on more than half an acre and has plenty of space to install a pool. At a price of $1,895,000, you could expect a monthly mortgage payment of $11,506 per month.  That is nearly triple the median monthly income of retirees in the U.S., which is $3,986.33, according to U.S. Census Bureau data.  
Are You Retirement Ready?
More From GOBankingRates
Are You Retirement Ready?