Does the 4% Rule Determine Safe Spending in Retirement?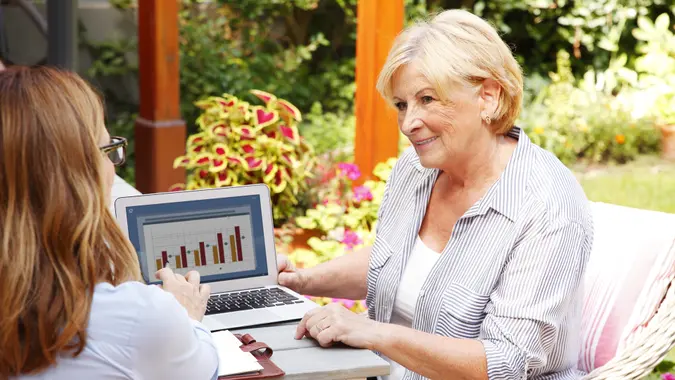 Kinga / Shutterstock.com
Do you know what the 4% rule is and the role it plays in helping ensure safe spending in retirement? Here's a closer look at how following the 4% rule may help ensure retirees do not outlive their retirement income.
Find Out: 8 Purchases Retirees Almost Always Regret
Learn More: 7 Surprisingly Easy Ways To Reach Retirement Goals 
What Does the 4% Rule Mean?
What is the definition of the 4% rule? Anessa Custovic, Ph.D. and chief investment officer of Cardinal Retirement Planning, said the 4% rule is that you can take 4% of your initial portfolio value each year in retirement over the span of 30 years. Taking a yearly 4% withdrawal, for most retirees, ensures they have a reasonable chance of not running out of money.
Is this a hard and fast rule? Not exactly. Kent Lugrand, president and CEO of InTouch Credit Union, said it's more of a general rule of thumb. Retirees who limit their nest egg withdrawals to 4% annually should have enough money to last for 30 years commencing with the first withdrawal. By following the general 4% rule, retirees should not outlive their savings funds.
Take Our Poll: Do You Think You Will Be Able To Retire at Age 65?
Does the 4% Rule Need To Be Adjusted for Inflation?
Custovic, who has conducted personal research into withdrawal rates, said yes, noting that 4% is more of a starting point than a hard rule. While the original 4% rule and safe withdrawal rate study do adjust for the average inflation rate, we are currently experiencing a significant amount of inflation. 
As such, the withdrawal rate needs to be adjusted to maintain living standards. Ideally, this adjustment should be a bit lower than 4% if possible. This is especially true of retirees who retire into a recession or bear market. Retirees want to avoid big portfolio losses at the start of their retirement because it will end up eating into their principle.
"If you are withdrawing money while the market is down, then you are not letting that investment recover," Custovic said. "You are going to spend your money down much faster than the 4% rule says you would."
How Else Can You Cut Back on Retirement Spending?
The 4% rule is just a starting point when it comes to responsible spending during retirement. Follow these additional tips to ensure you spend wisely throughout your retirement years.
Try to wait on large purchases. Specifically, purchasing a new house or car. Consider whether you really need the purchase right now or if it can wait a few years.
Reconsider major vacations. This can be a helpful way to pull back on spending a significant amount of money almost immediately. Can you opt for a vacation that allows you to stay local or go on a staycation?
Have a set budget. This is the easiest way to keep track of your spending and expenses. Budgeting will allow you to track all expenses, including fixed, variable and periodic expenses, and know where all your money is going. As you keep track of expenses, you may determine what needs to be cut back or other areas where you can save extra money.
Shop wisely. Avoid impulse buys, especially if these are for items you do not genuinely need right now.
Try to live a healthier life. Lugrand said a large portion of retirement spending is used on healthcare. Making the decision to live healthier can help defer or eliminate some of these expenses and lead to happier, healthier lives lived out during retirement.
More From GOBankingRates