69% of Americans Want To Live to 100: Here's How Much That Will Cost You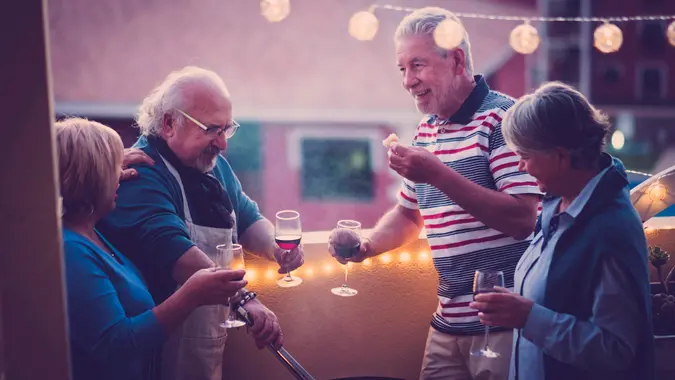 simonapilolla / Getty Images/iStockphoto
Nearly 7 in 10 Americans (69%) want to live to age 100, a new Edward Jones study found. If you're in that majority that plans to surpass the average American's life expectancy of 77 years and live to be 100, you'll need to prepare for it.
"There are a number of ways for pre-retirees to prepare for a long lifespan, such as contributing to a retirement account like a 401(k), paying off a mortgage or other debts or loans, tending to ongoing health and preventive care, discussing retirement plans and goals with family and friends, and beginning or expanding volunteering," said Mona Mahajan, senior investment strategist at Edward Jones. "These planning steps ultimately carry over to become effective and consistent habits of successful retirees, including attending to their health, staying socially engaged and mindfully managing their finances."
One rule of thumb is that you need about 80% of your income before retirement to maintain your lifestyle when you're retired. If you make the average national wage of $51,896 when you retire, that means you need to bring in about $41,517 per year.
By breaking down the costs, you can get a much clearer idea of where your money will be going. Read on to find out just how much money you'll need in retirement if you live to 100.
Are You Retirement Ready?
Retirement Costs for Food
Budgeting for food for a 35-year period can be daunting, so it helps to work within a reasonable range of estimates. Men ages 71 and older spend between $261 and $399 per month on food, according to the latest food plan data from the U.S. Department of Agriculture. Women in the same age group spend slightly less, at $235 to $351 per month. On average, men and women ages 71 and older spend $3,726 per year on food.
Additionally, the most recent Bureau of Labor Statistics consumer expenditure survey estimated that food spending for the 65-and-older age group is $5,698.
Based on the average of the USDA and BLS monthly estimates — which is $4,712 per year and doesn't include eating out — 35 years of food could cost you $164,920.
Retirement Costs for Healthcare
Healthcare is another expense you need to plan for in retirement. For starters, the standard Medicare premium in 2022 is $170 per month, according to Medicare.gov. However, your premium can vary based on your income and Social Security benefits. The Centers for Medicare and Medicaid Services project that healthcare expenditures will increase by 5.5% each year, so expect your premium to go up.
Are You Retirement Ready?
Medicare only covers so much, so total annual healthcare spending — including insurance premiums and other related costs — is $6,668 for people over the age of 65, the BLS estimated.
Based on the $6,668-per-year figure, 35 years of healthcare will cost at least $233,380. To be safe, plan for higher healthcare costs.
Retirement Costs for Housing
In retirement, your housing expenses will depend on whether you live at home or in a facility. The BLS expenditure survey found that housing costs are $17,453 per year on average for people over 65.
Living in your own home can be fairly inexpensive, especially if you have paid off your mortgage, said Brad Hunter, former chief economist for HomeAdvisor, a home improvement resource website.
"The best strategy is to put in place home modifications to allow yourself to stay in your own home, living independently, for as long as possible," Hunter said. This can entail preparing your home by adding things like ramps, grab bars, lever doorknobs, nonslip flooring, wider doorways and the like.
Are You Retirement Ready?
Meanwhile, the national median costs for an assisted living facility are $4,500 per month or $54,000 per year, and a private room in a nursing home can cost $9,034 per month, or $108,408 per year, according to the annual Genworth Financial Cost of Care Survey.
Based on the estimate of $17,453 per year, 35 years of housing will cost $610,855 — if you stay in your home. But it's important to plan for the higher cost of long-term care.
Retirement Costs for Incidental and Discretionary Spending
You don't live on food, housing and healthcare alone. There are incidental expenses that add up, plus you should plan on spending your years in retirement doing the things you love — like traveling and seeing friends and family. But those things cost money.
The BLS found that you need to allow for $14,565 per year between transportation, entertainment and a variety of other costs, including buying clothes and eating out. This means that 35 years of incidental and discretionary spending will cost $509,775.
The Total Costs of Living to 100
Adding up the costs of all the expenses you'll incur by living to 100, you can see that the 80% guideline is a good rule of thumb to follow.
35 years of food will cost $164,920
35 years of healthcare will cost $233,380
35 years of housing will cost $610,855
35 years of incidentals will cost $509,775
Are You Retirement Ready?
Spending 35 years in retirement has an estimated average cost of $1,518,930. The primary wild card is how much time you'll need to spend in an assisted living facility.
Income in Retirement
You'll have income during retirement thanks to Social Security and any savings you've accrued. According to the Social Security benefit calculator, someone earning the national average wage of $51,896 and retiring at age 65 in 2022 can expect to receive $1,325 a month in benefits. Over 35 years, not including cost-of-living adjustments, that's $556,500.
You'll need to provide $962,430 of your own savings and income to make up the difference. Hopefully, you've been contributing to a 401(k) or IRA all these years, which can fill in the gaps. You might also consider taking on a part-time job in the early years of your retirement if you're able to.
"The combination of part-time work, Social Security and pensions make that number far less scary than it seems," said Brian Stoffel, a columnist at The Motley Fool. "Plus, you have a lot more control over your spending than you think."
Are You Retirement Ready?
Planning for Retirement
As retirement approaches, there are things you can do to ensure a more secure future. It's never too late to start saving for retirement, and the right saving strategy can be a big help.
Jean Chatzky, a personal finance expert and co-author of "AgeProof: Living Longer Without Running Out of Money or Breaking a Hip," said that many people are not saving enough to afford the cost of retirement. It's important to try to save 15% of your income, she said, but that can be challenging.
"Human beings have shown we're not good at delaying gratification," Chatzky said. "We'd rather buy something today than stash funds in our retirement accounts for tomorrow. That's why 'set it and forget it' strategies are so helpful. You automate transfers into your retirement accounts, college savings accounts and HSAs, and the money just goes."
If retirement is still far in the future for you, getting on an automated saving and investing plan can give you a major boost in retirement.
Are You Retirement Ready?
"The value of financial foresight cannot be underestimated — and saving early is crucial," Edward Jones' Mahajan said. "According to the study, retirees say they started saving for retirement at age 38 on average, but in retrospect, they should have started saving nearly a decade earlier, at age 29. Younger generations need to understand the importance of starting to save early, maximizing their savings, and staying the course by keeping out of debt and avoiding early withdrawals from retirement accounts."
For people who are much closer to retirement but falling short on funds, consider finding ways to boost your income now, pay off your debts, take advantage of increased retirement savings allowances and significantly cut your costs.
"To help keep you on track, a financial advisor can interpret market conditions and help develop a holistic financial strategy to better financially prepare for a 35+ year retirement and 100-year lifespan," Mahajan said.
More From GOBankingRates
Gabrielle Olya contributed to the reporting for this article.