Retiring in Florida? Here's What You Need To Know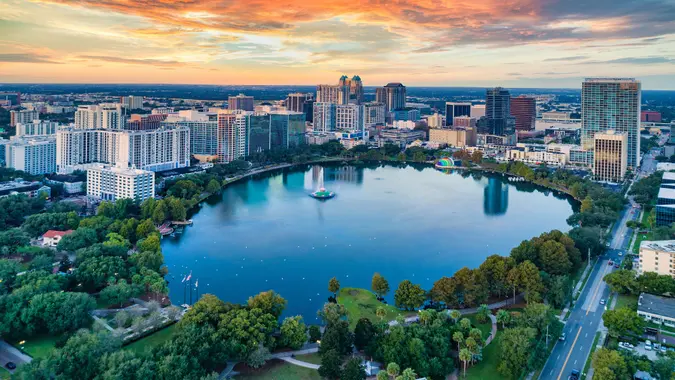 Kruck20 / iStock.com
Florida has been one of America's top retirement destinations for decades, and nothing has happened recently to change that trend.
"According to Florida's Office of Economic and Demographic Research, the state's population grew by 1.61%, with an estimated 352,301 new residents from April 2021 to April 2022," said Laura Adams, MBA, a Florida resident and personal finance expert with Finder.com. "So, if you're considering relocating to the Sunshine State, you're not alone."
What Adams didn't say is that last year's growth — the most recent data available — pushed the peninsula toward a historic milestone. For the first time since 1957, Florida is the fastest-growing state in America, according to the Census Bureau.
But Florida is a state like no other, and it's highly diverse in terms of people, politics, culture, geography, demographics and, of course, the cost of living. The dream of retiring there has lured generations of older Americans, but it's not for everyone.
If you're planning on living out your golden years on the American peninsula that extends to the edge of the Caribbean, here's what you need to know.
There's a Lot To Like About Florida's Tax Laws
Daily life has become more expensive in Florida in recent years, but the tax climate can still be as enticing as the actual climate.
"In addition to the state's natural beauty and warm weather, a big attraction for retirees coming to Florida is its affordability," said Adams. "The state's lack of income tax is another significant financial benefit for Florida residents. Also, property taxes for homeowners remain low compared to other states, and there's no tax on intangible personal property, such as gifts or inheritances. Paying less tax means retirees can save more money or spend it on entertainment, travel, or medical expenses."
Are You Retirement Ready?
Keep in Mind That Florida Makes Up for Income Taxes Elsewhere
Florida doesn't levy an income tax, but the state still has to pay the bills — and it earns revenue every time people buy something there. 
"Most of Florida's taxes come from sales tax because there is no income tax," said Shawn Laib, a finance expert with Clearsurance.com. "This means people who choose to retire in Florida need to be aware of the high tax rates on amenities and other things they might purchase to have fun and enjoy life in their old age. Food, beverages, and other items fall into this category."
The state's 6% sales tax rate isn't the highest in the nation, but it is on the steep side — and you can get a double-whammy from your municipality. According to the Tax Foundation, Florida caps local sales taxes at 2%. [5]
Florida Is the Land of 55-Plus Communities — Start Researching Now
Shri Ganeshram, CEO and founder of Awning.com, is intimately familiar with the Florida market. "In moving to Florida, the biggest expense for most retirees is going to be housing," said Ganeshram. "To overcome this cost and plan for it ahead of time, retirees have two options."
The first option that Ganeshram cites is to research one of Florida's many active adult retirement communities, which are typically restricted to people ages 55 and up. "Usually, these communities are designed around retirement, offering clubhouses, activities and taking care of all of the maintenance."
Are You Retirement Ready?
According to 55Places.com, Florida is home to at least 670 55-plus active adult retirement communities, which Florida for Boomers says is more than any other state in America. There are homes in these communities available for all budgets, starting in the low $100,000s and ranging all the way up into the millions.
"Because of the restricted demand, housing can be much less expensive in these communities compared to the general market," Ganeshram said.
Or, Use Tomorrow's Retirement Home as Today's Investment Property
One of Ganeshram's housing strategies is to start scouting Florida's enormous pool of 55-plus communities for one that matches your budget, desired location and lifestyle. The other could help pay for your retirement while you're still working — purchase your Florida home now and rent it out until you're ready to relocate there.
"Here, a couple that's planning to retire purchases a vacation home in Florida," said Ganeshram. "Before retirement, the home is rented as an Airbnb, earning an income and reducing the size of the mortgage. By the time retirement rolls around, the home is almost completely paid off and represents just a small monthly payment, compared to a huge expense."
He believes that the second option is more practical to plan around for those who have saved enough money to pull it off. 
"It also affords you flexibility since you could continue renting the home as an Airbnb and move to a different place entirely and just have additional retirement income." 
Before You Decide on Housing, Consider Florida's Special Tax Rules
It's not just a lack of income tax. Florida's tax code can be exceedingly gracious to qualifying homeowners. 
Are You Retirement Ready?
"One program to consider is Florida's homestead exemption," said Sean Burke, M.S., vice president at Kirsner Wealth Management. "This allows you to reduce the tax liability on your home. When someone owns a property and makes it his or her permanent residence or the permanent residence of his or her dependent, the property owner may be eligible to receive a homestead exemption that would decrease the property's taxable value by as much as $50,000."
Start Budgeting Extra for Healthcare — It's Pricey in Paradise
Many people nearing retirement plan to buy a Medigap policy to supplement their Medicare insurance. If your destination is the Sunshine State, you will want to pad your budget with the expectation of larger premiums. 
"If you are planning on retiring in Florida, be prepared to spend big on a Medicare supplement plan," said Kathe Kline, founder of MedicareQuick.com and CertifiedMedicareAgents.com. "Rates can be high compared to neighboring states. Many Florida residents opt for Medicare Advantage plans over Medicare supplement plans, likely due to the high monthly premiums that Medicare supplement plans have in Florida." 
There's More to the Weather Than Sunshine — Make Sure You're Down for It
There is such a thing as too much sun, and Florida delivers precisely that for months on end. However, the potential consequences of the Florida climate aren't limited to excessive UV rays.
"As a current Florida resident, I can attest that enduring heat in the spring, summer, and early fall is a downside," said Adams. "There are also frequent thunderstorms and lightning strikes, including the risk of devastating hurricanes during the active season from June 1 to November 30." 
Are You Retirement Ready?
The weather can be more than just uncomfortable or even dangerous — it can be expensive, too. If you're planning to move there, you'll have to budget for the realities of Florida's unique climate.
"Homeowners insurance requires a hurricane deductible that could be higher than you expect," Adams said. "Also, depending on your location, you may need to purchase a separate flood insurance policy. Before relocating to Florida, explore the state and plan an extended stay in a short-term rental. And if you're not sure about tolerating the heat, visit Florida during August to experience its peak temperatures before making long-term retirement plans."
More From GOBankingRates