7 Reasons You Don't Want To Retire in Texas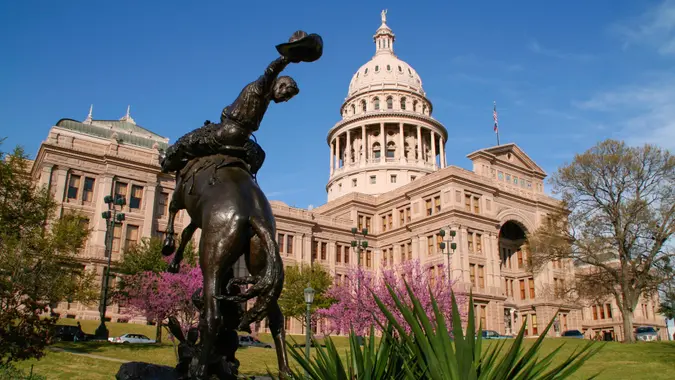 Ed Schipul / Flickr.com
Many people consider retiring to Texas, and many are already doing so. A Moody's Analytics report published by MarketWatch found that the number of retirees in Austin doubled between 2010 and 2020. Dallas and Houston also saw growth in their retiree population, according to the report.
Three cities in Texas earned spots on a list of the top 20 cities to retire for less than $3,000 a month, according to GOBankingRates. Another article from GOBankingRates pinpointed seven Texas cities where you can retire for less than $2,600 a month.
In spite of no individual income tax in Texas, which is desirable for retirees on a budget, the Lone Star State is not for everyone. Richard Soto of VIP Realty recently recorded a YouTube video sharing seven reasons why you may not want to move to Texas for retirement (or at any time in your life, for that matter).
1. Boring Landscape
Soto revealed that he enjoys traveling to other parts of the country for a change in landscape. "Texas is very flat," he pointed out. "The landscape is kind of boring."
For a change of scenery, he likes to travel to cities like Miami, Los Angeles or San Diego.
If you plan to travel in your retirement, Texas may be a good state to hang your hat (literally and figuratively, which we will get to in a bit).
But, Soto said, if you are seeking breathtaking views, mountainsides or coastlines, you won't find much of that. For beachside getaways, there is always Galveston or South Padre Island along the Gulf of Mexico. But depending on where you live in Texas, these world-famous beaches could be hours away.
Are You Retirement Ready?
2. Weather
Many retirees seek to move somewhere warm, but Texas heat might be too extreme.
"The weather during the summer gets extremely hot and humid," Soto warned. "It might not be the ideal environment for you and your family."
If you want to enjoy winter sports to stay active during retirement, Texas also won't be the best choice for you. Soto cautioned that there are no opportunities for skiing or snowboarding.
3. Texas Is a Huge State
Texas has a blend of high-tech, music-friendly cities like Austin, family beaches, small towns and renowned steakhouses and shopping centers. But getting to experience it all takes a lot of time.
"The size of Texas is massive," Soto said. "You can drive from one end of the state to the other, and I believe it's going to be at least a 10- to 12-hour drive."
If you're moving to Texas in retirement to be closer to friends or relatives, make sure to map out the distance. During rush hour, driving from Dallas to Forth Worth, which exist in the same metro area, can take an hour.
"The traffic is horrible," Soto said. "A lot of construction. That just comes with growth."
4. Limited Access to Healthcare in Rural Areas
The size of Texas can make it hard for retirees in rural areas to reach hospitals or doctors, according to Soto. "One of the most significant disadvantages of living in the Lone Star State is healthcare," he said.
According to the American Hospital Directory, Texas has 377 hospitals. For comparison, Florida has 222. Texas has more than 30.5 million people, as of July 2021, while Florida has 22.2 million people. That doesn't sound too bad until you learn that Texas is 4.8 times bigger than Florida.
Are You Retirement Ready?
That means people in major cities, such as San Antonio, Austin, Dallas-Fort Worth and Houston probably won't have problems reaching a doctor if they need it. But Soto said that people in rural areas might have to drive 50 miles to reach the closest provider, which could be a big issue.
5. Aggressive Driving
Some retirees look forward to trading in their cars for golf carts in their later years, zipping around within a tiny community that has everything they need.
But if you're retiring to Texas, you'll want to keep your car. And, to hear Soto describe Texas drivers, you may also want to brush up on your driving skills."A lot of the people [drivers] in Texas, mainly in Houston and Dallas and Austin, are very aggressive," he said. "If you're not ready to speed and cut people off, you might just want to catch an Uber or use public transportation."
He added, "The top limit on the highway is 85 mph. And I assure you, if you're only driving 85, you will be passed up as if you were doing 35."
6. Higher-Than-Average Property Taxes
Texas has no personal income tax. But the state has the sixth-highest property tax rates in the U.S. for owner-occupied housing. According to The Texas Tribune, it's also difficult to get property tax relief, since most of the funds collected through property taxes go toward schools and public health programs.
In addition to high property taxes, shoppers in the state also pay 6.25% sales and use tax, according to the Texas Comptroller website. Local jurisdictions have the authority to add another 2% in taxes for a combined rate of 8.25% on many purchases, including clothing and household goods.
Are You Retirement Ready?
7. Culture Shock
It may sound trivial compared to these other concerns, but you may remember we mentioned hats earlier in this article. Giant cowboy hats are everywhere in Texas — along with oversized belt buckles, massive cowboy boots, and other Western couture, Soto said.
"We embrace the Western culture," Soto said. "So, depending on where you're from, that might be a little bit of a shock."
If you're a fashionista planning to move to Texas and still stay on top of the latest fashion trends, you may not have many local role models.
Final Note
Although many areas of Texas may be ideal for retirees, others may be too hot, too flat, too congested with traffic or simply too far away from emergency medical care.
Before you make your choice, take time to visit different areas of the state during different times of year to be sure you're ready to live a Texas lifestyle.
More From GOBankingRates