8 Reasons You Don't Want To Retire in Hawaii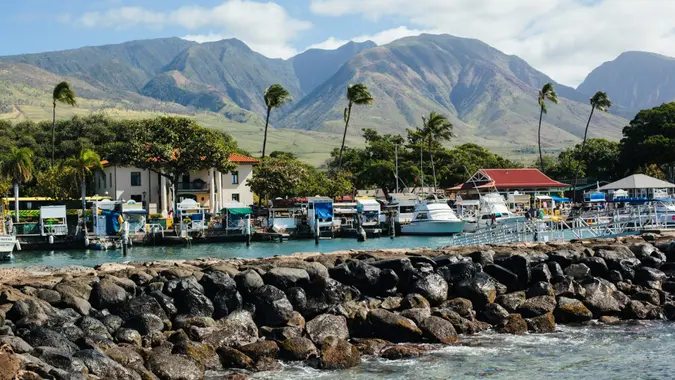 AnnaGodfrey / Getty Images/iStockphoto
Retiring in Hawaii is the dream.
Beautiful beaches. Year-round sunshine. And the ability to slow down to "island time" and enjoy your life a little more.
And while there are many retirees living in Hawaii, it's gotten more and more difficult to live there. With rising costs, crowded streets and an increase in tourism, retiring in Hawaii may not be the paradise you thought it was.
Here are eight reasons you don't want to retire in Hawaii.
It's the Most Expensive Place To Live in the US
While Hawaii is one of the most beautiful places in the United States, this beauty comes at a cost. According to our recent article, Hawaii is the most expensive state to live in and it's not even close. The average cost to live in Hawaii on an annual basis is $124,486 per year. 
This means your retirement dollars won't stretch nearly as far as living in a low-cost-of-living area. And if you're following the 4% rule of retirement (living on 4% of your retirement savings), you would need to have at least $3.1 million invested to retire in Hawaii.
Housing, groceries and taxes in Hawaii are some of the highest in the U.S., which can quickly drain your retirement nest egg. Unless you have significant investments or a well-paying pension, Hawaii may simply be out of reach financially.
You're Stuck on an Island 
Island life is wonderful…until you want to go somewhere else. And while you can visit each of Hawaii's eight islands with a short plane ride, traveling anywhere else means flying thousands of miles. 
Are You Retirement Ready?
Hawaii is nearly 2,500 miles from California, the closest mainland U.S. location to the state. This is a five-hour flight (minimum) and a potentially expensive plane ticket each time you want to visit the mainland.
In addition, while you can get around most Hawaiian islands (like Maui or Oahu) in just a day, this might make some retirees feel a bit claustrophobic. Island life has a lot to do, but if you want to visit anywhere else, it's a long (and expensive) haul.
Single-Family Homes Are Nearly $1 Million
According to Zillow, average single-family homes in Hawaii are about $834,000. On some of the islands, the average home price is nearly $1 million.
If you are looking to retire to Hawaii and buy a single-family home to live in, you need to come over with a lot of money in the bank. Whether you want to pay cash or just put 20% down, this would increase your retirement expenses significantly.
Unless you have significant equity in your current home or a huge cash savings, retiring in Hawaii and buying a home could be cost-prohibitive. One solution is to buy a condo instead, which can significantly reduce costs.
Taxes Are High
Taxes in Hawaii are an additional burden that can make it difficult to retire there. According to the Tax Foundation, Hawaii has an effective state and local tax rate over 14%, which is higher than most states. 
Since you'll need a significant retirement income to live in Hawaii, you may pay much higher state and local taxes than you would elsewhere.
One bonus is that property taxes in Hawaii are much lower than many other locations, which can save you money.
Are You Retirement Ready?
Shipping Takes a While
Hawaii is thousands of miles from the U.S., and if you want to order something to the island, expect to wait a while. Even services like Amazon Prime, which offers two-day shipping (or less) in most locations, takes three-to-seven business days to arrive.
Expect to wait at least twice as long when ordering items that aren't already on the island.
Seeing Family May Be Difficult and Expensive
Unless your family is living on one of the Hawaiian islands, visiting family or having them come visit you may be very difficult. If you're used to seeing your kids or grandkids for holidays or other family events, you might need to adjust your expectations when retiring in Hawaii.
While it would be fun for family to come visit you in Hawaii, the reality is that the cost, flight times and logistics of visiting may prevent you from seeing family as often as you'd like. And unless you plan on regular trips off the island to visit your family, you might be spending more time on Facetime than you'd prefer.
Too Many Tourists
Hawaii is a popular tourist destination for vacationers. But this means you have to deal with those tourists as a retiree on the islands. Popular times like spring break and summer will see an influx of visitors to the islands, possibly disrupting your peaceful retirement relaxation.
Unless you live in a smaller, non-tourist location, you will undoubtedly see the fluctuations in tourist activities and traffic, which can put a damper on living the island life. 
Are You Retirement Ready?
Traffic Can Be Awful
Hawaii is small, but has a fairly big population, with over 1.4 million people living there, 1 million of them on Oahu alone. As such, this concentration of people, along with fewer driving roads than most states, can lead to significant traffic.
Local news station KHON 2 reported that Hawaii has been rated the worst state to drive in. In addition to poor traffic conditions, the high cost of gas, lack of car repair shops and lack of car washes makes owning a car in Hawaii more expensive and cumbersome.
Bottom Line
Retiring in Hawaii may be the dream for some, but it's important to anticipate the high cost of living and other downsides of retiring to these beautiful islands. You most likely need millions of dollars in the bank, will pay higher taxes, and have to deal with tourists on occasion. But if you can manage those things, you can still enjoy retiring in one of the most scenic locations in the U.S.
More From GOBankingRates