I'm a Retirement Planning Expert: These Are the Top 7 Mistakes That Can Hurt for Years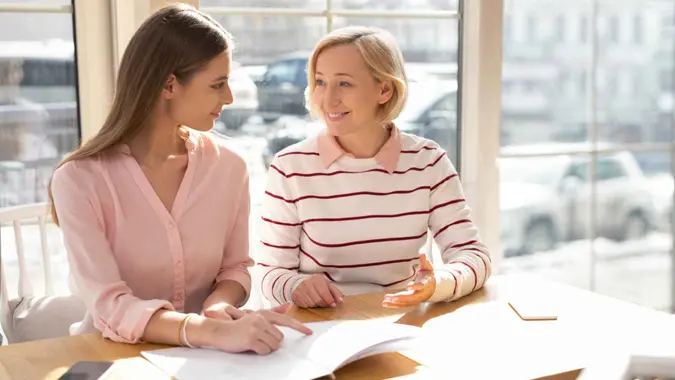 yacobchuk / Getty Images/iStockphoto
Preparing for a successful retirement requires a lot of time and careful consideration. For many people, the process can feel complicated or overwhelming.
Because of this, it's all too easy to make mistakes that set you back or cause financial problems down the road. That's why it's important to take the time needed to really consider your retirement goals and map out a financial plan that enables you to live comfortably upon leaving the workforce.
So, what are some of the biggest financial mistakes that can impact your retirement savings for years to come? GOBankingRates spoke with Michelle Riiska, ChFC, financial planning analyst at Fidelity's eMoney Advisor, and Michael Simon, founder and CEO of wealth manager NDVR, to get their thoughts on the matter.
Here's what they said.
1. Not Having a Realistic Retirement Plan
When it comes to saving and preparing for retirement, it's essential to have a solid plan. Among other things, this plan should include your budget, investments, assets and lifestyle goals upon retirement. Many retirees, unfortunately, either don't have a plan or have one that doesn't account for the things it should.
Are You Retirement Ready?
Simon noted that a big problem a lot of people on the verge of retirement face is the lack of a comprehensive financial plan. "Your portfolio can't be truly optimized for what you need unless it's integrated with this plan," said Simon. "The plan should guide every decision you make and help determine choices from how much risk you should take to determining your optimized mix of assets."
This plan should also account for things outside of your control, like changes to the cost of living.
"Too often, we see investors underestimate retirement expenses or overestimate the amount of income you'll actually have to spend in retirement," said Simon. "There are so many unique factors — like tax profiles, inflation and lifestyle — that affect this, and they're imperative to consider when building your financial plan."
If you don't currently have a retirement plan, you can still make one.
"Make sure you have a solid picture of your current and future finances," said Riiska. "Gather your documents, identify all existing accounts and their balances, and analyze your cash flow needs. You can do so yourself or find a trusted financial professional to help you. Many financial professionals utilize technology that can save time and provide a financial plan. If working with a professional, ensure you are working with a fiduciary, as they are bound to work in your best interest."
Are You Retirement Ready?
2. Not Saving Early Enough
Many people don't start saving up for retirement until much later in life. But the problem with this is that the overall growth potential of your retirement accounts and assets is directly tied to when you begin. The longer you wait to start saving or investing, the less you'll have once you retire.
"Compounding growth helps increase retirement savings the earlier you start, but it can be intimidating to allocate your earnings to savings when you need your paycheck to cover expenses. Don't be intimidated or discouraged if you can only put aside a small amount to get started. You will still benefit from the contribution and possibly get a match from your employer, which is free money," said Riiska.
Simon added, "Not starting to save early enough can be hugely detrimental. The power of compounding is a critical factor in having enough for retirement. It's also important that with the money you are saving, you're maximizing the types of tax-advantaged accounts available to you and diversifying your investments to mitigate risk."
While it's best to start saving money sooner as opposed to later, if you're still working, you can still contribute to your retirement accounts. Depending on your financial situation, you may even be able to catch up in your contributions.
Are You Retirement Ready?
3. Avoiding the Tough Conversations
Another common mistake people make when planning their retirement is avoiding discussing finances with their partner or family members. But it's important to have these tough conversations because it can get everyone on the same page and help prevent otherwise avoidable problems.
"Not talking about money with any loved ones who may be entangled in your financial picture can lead to potential difficulties and resentment," said Riiska. "For those who fall into the category of the 'sandwich generation,' financial obligations to both ageing parents and children can put a damper on retirement savings and reduce the probability of a funded retirement."
Riiska suggested setting expectations for children, parents and other family members in terms of your — and their — financial situation. This is especially important if you might be supporting them in the future.
4. Using Retirement Money for Other Purposes
There are times when using your retirement funds for other reasons might seem like a good idea, but this can set you back for years to come.
"If you are thinking about taking money out of a retirement account for a purchase such as a new home, think about the long-lasting implications. Doing so may incur a 10% early withdrawal fee," said Riiska. "A loan may be the better option, though some plans freeze the ability to make contributions until the loan is repaid. It is usually advisable to keep 401(k) or retirement funds untouched unless there is no other solution."
Are You Retirement Ready?
5. Skipping Out on Insurance
Some people avoid getting life or long-term care insurance, citing it as an expensive or needless purchase. But it can really prove beneficial in your later years.
"Buying life or long-term care insurance is something that many people wait too long to do. After all, who likes making a payment on something they are not receiving the benefits of currently?" said Riiska. "However, waiting to purchase a policy can cost you in the long term. As we age, we incur more pre-existing conditions and are closer to our life expectancy — all factors that increase premiums at best, or at worst, might render you uninsurable, leaving you with high out-of-pocket costs."
Riiska suggested considering your family's medical history, as well as your own, when deciding which type of insurance policy to get. That way, you can mitigate costs and ensure your loved ones don't end up with a lot of medical-related debt if something happens to you.
6. Not Diversifying Enough
Another common mistake when it comes to retirement planning is not diversifying your portfolio enough according to your risk tolerance and goals.
"If you are unsure of how to invest, it can be tempting to jump on the newest trend and throw money at the idea of getting rich quickly," said Riiska. "Unfortunately, this only works out for a small subset of folks who were in the right place at the right time. Instead, commit to an allocation that matches your risk tolerance and age to retirement."
Are You Retirement Ready?
7. Deciding To Do Everything Alone
While seeking professional advice isn't for everyone, it can help if you've already fallen behind or are overwhelmed with retirement planning. It might also be beneficial to work with a professional even if you still have plenty of time left in the workforce.
"Find an experienced fiduciary advisor who is equipped to help you navigate your financial picture as it stands now and can help set you up for success for the future," said Simon. "A good advisor can help you optimize your wealth [and] continually re-evaluate and adjust your plan as life and the markets change."
Consider your own financial situation and needs before seeking out a professional retirement or financial planner. After all, when it comes down to it, you know what will work best for you in the moment. However, someone experienced in the field might have a clearer idea of what will work in the long run.
John Csiszar contributed to the reporting for this article.
More From GOBankingRates
Are You Retirement Ready?