Retirement Savings: Is $1 Million Enough? The Average Retirement Income In the US May Surprise You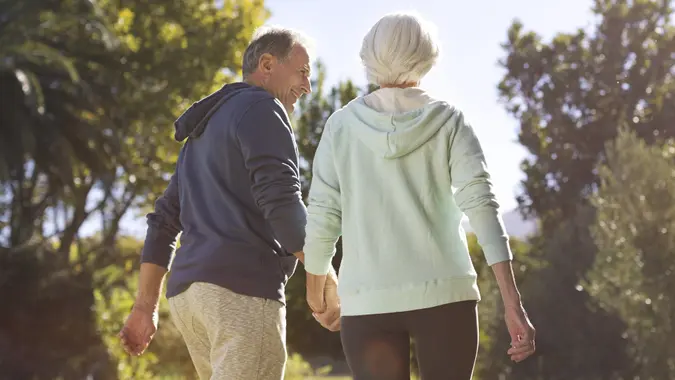 Paul Bradbury / iStock.com
Top money experts and personal finance websites often refer to the figure of "$1 million" as adequate retirement savings. But is it truly enough for all of your needs? If you don't have that much saved as you approach your 50s or 60s, should you start to panic?
A random number like $1 million in the bank doesn't tell you much about your monthly income. Financial expert Chuck Czajka of Macro Money Concepts puts it into perspective. He told U.S. News and World Report, "For every $50,000 of income you need, you need a million bucks."
However, that number depends on the return on your investments, whether you are paying taxes on your withdrawals, and even the age you retire. Experts say you'll need roughly 70% to 80% of your pre-retirement income to retire comfortably.
A 2022 study from the Employee Benefit Research Institute discovered that half of retirees surveyed spent less than $2,000 per month, 33% spend $2,000 to $3,999, 16% spent $4,000 to $6,999, and just 3% spent more than $7,000 monthly.
According to online insurance agency The Annuity Expert, if a 55-year-old purchases a $1 million annuity and retires at age 65, they could draw a monthly income of $10,121 for the rest of their life — as long as the annuity has a lifetime income rider.
That sounds like it should be enough for most people to live comfortably, depending on where you live, your fixed expenses in retirement, any medical costs that might add up as you age, and (ideally) your retirement hobbies.
Are You Retirement Ready?
Walmart's top executive holds $169 million in a deferred compensation account, which will give him a monthly retirement income of more than $1 million, GOBankingRates recently reported. But the average retired American has an income of just $75,254, as of 2022, according to U.S. Census Bureau data. The median income for retired Americans was $47,620.
This money comes from a combination of pensions and retirement accounts, property income, earnings from work such as part-time jobs or side gigs, veterans' benefits and other cash income sources, as well as Social Security income.
If you aren't sure how much you will need for retirement, consider a trial run. Live on 80% of your current salary and see how you fare. Keep in mind that healthcare expenses may go up in retirement, while things like commuting costs may vanish. Once you've settled on a reasonable estimate of how much you'll need to retire comfortably, speak to a financial advisor to decide on the next steps you'll need to take to make it happen.
More From GOBankingRates
Are You Retirement Ready?