Retirement Savings: How AI Can Optimize Your Retirement Savings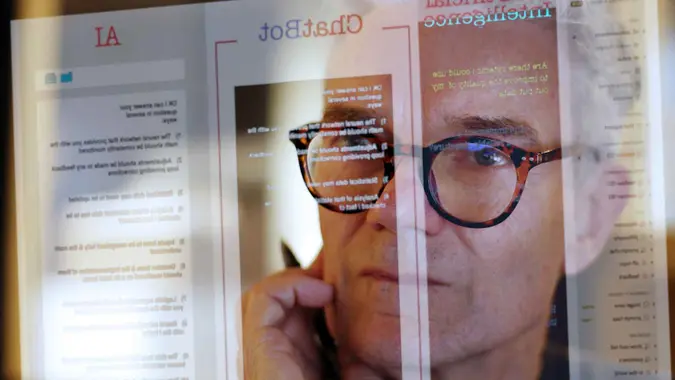 Laurence Dutton / Getty Images
Most Americans are still wary about using artificial intelligence to make important financial decisions, with the vast majority of adults saying they are unlikely to use AI financial advisors, according to a recent Yahoo Finance/Ipsos survey. But that hasn't stopped banks and other financial companies from adding AI-driven software to help with everything from investing to planning for retirement.
Among the major financial firms expanding their use of AI are Deutsche Bank, ING Group, Morgan Stanley and JPMorgan Chase, Bloomberg reported. The upshot is that everyday tasks can be handled more "efficiently and effectively," while complex analysis and risk modeling become easier and faster.
In terms of retirement planning, AI can be used to "prompt advisors to ask the right questions" of clients, according to Investor's Business Daily. It is also helpful in navigating tax changes to bolster retirement savings.
"AI helps us identify what retirement planning issues might be of value to the client," Nitesh Kadakia, head of innovation and advisor platforms at Merrill Lynch, told IBD. "Then it helps us see if the advisor brought up these issues with the client and, if not, it can prompt the advisor to bring it up as insights."
In addition, AI helps boost productivity, reduce paperwork and coordinate retirement planning decisions.
"We have the ability to identify 'trigger' events, like when clients are nearing Social Security age," Kadakia said. "We can then ask relevant questions around these events. If someone is approaching age 73, for example, we can link our advisor to a form that the client needs to sign [to take required minimum distributions from their IRAs]."
Are You Retirement Ready?
Another financial firm, Vanguard, recently launched an AI-powered chatbot that lets customers ask questions or request transactions.
"It allows us to communicate quickly and efficiently with participants at scale," Amber Brestowski, Vanguard's head of institutional investor advice and client experience, told IBD. "There's no human involved, although they can always speak to someone if they'd like."
Vanguard also uses AI and machine learning "to drive better outcomes," Brestowski added. "It's nudging participants to the next best action so that they're more apt to follow through with retirement planning suggestions. It might suggest that they pay down their credit card debt if they're already maximizing the employer match on their 401(k)."
Smaller firms are getting in on the action as well. For example, John Boyd, a certified financial planner at MDRN Wealth in Scottsdale, Arizona, uses an AI-driven risk assessment tool called TIFIN Wealth that can help analyze a particular client's attitude about risk.
"It uses AI to ask different questions and does a better job of assessing risk," Boyd told IBD. "We find that the risk score often aligns better with the client's appetite for risk. It's a great starting point for implementing an investment strategy."
Not everyone is sold on the benefits of AI, however. As previously reported by GOBankingRates, one of the concerns cited in an April blog on the Mission Wealth website is that AI lacks "empathy that is essential in financial and estate planning."
Are You Retirement Ready?
"While AI can analyze data and provide objective advice based on algorithms, it lacks the ability to understand and respond to the emotions of its clients," the blog noted. Also of concern is AI's potential for bias in its algorithms. "While AI is designed to be objective and data-driven, the algorithms it uses are only as unbiased as the data they are based on. If the data sets used to train AI contain inherent biases, such as gender or racial biases, this could lead to biased advice being given to clients."
More From GOBankingRates