7 Safest Places To Retire in Europe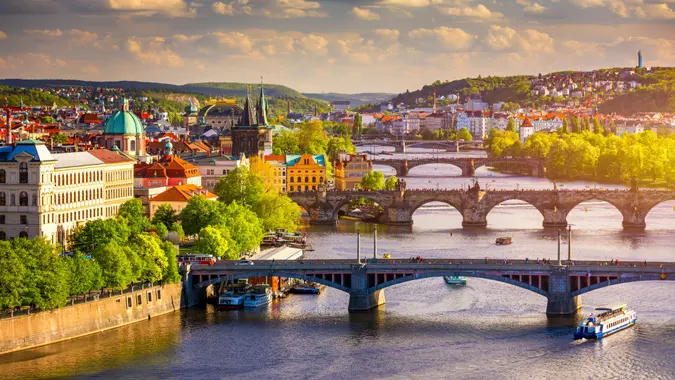 DaLiu / Getty Images/iStockphoto
If you've been watching popular shows like "White Lotus," "Emily in Paris" and "Bridgerton," you might have caught the travel bug — and maybe even wonder what it might be like to spend your golden years in Europe.
See: How 2023 Recession Will Differ From 2008 and How You Should Prepare Differently
Read: Protect Your Financial Future With Gold and Silver
Find: 6 Types of Retirement Income That Aren't Taxable
Whether you're nearing retirement age currently — or planning ahead for the future and want to consider territories outside the U.S. — it might help to know the countries that are considered the safest and most affordable for expats.
To put together this list, GOBankingRates utilized data from the Global Peace Index, issued by the Institute for Economics and Peace, an Australian think tank which ranks countries around the world for their levels of safety. The rankings are based on a few factors, such as crime, militarization, political unrest and access to weaponry. 
As well, data was pulled from Expatistan concerning the median cost of living in various European countries. Regarding Expatistan's data, they begin by using Prague, Czech Republic, as a reference point, assigning it a value of 100 and evaluating other cities against its cost of living. For example, a value of 124 for Limerick, Ireland, means it's 24% more expensive to live there as compared to Prague.
When it comes to safety rankings, it should be noted that six of the top 10 countries on the Global Peace Index are in Europe. The U.S. comes in at No. 129, per the IEP's rankings.
Here are Europe's top seven safest places offering a comfortable retirement:
Ireland 
Irish eyes are smiling because they get to take in all the beauty of this country and its centuries of culture — live here and you can look forward to lush rolling hills, historic castles and homey taverns while enjoying a pint of the country's iconic libation, Guinness. The U.K. territory currently ranks at No. 3 on the Global Peace Index, having overcome a long history of conflict. In addition, there are some cities where the cost of living remains relatively modest. Expatistan assigned Dublin a cost of living score of 183, but Limerick and Cork came in at 124 and 133, respectively. 
Denmark
The Danish are some of the happiest people in the world, according to the World Happiness Report, an annual publication put together by the U.N. Sustainable Development Solutions Network. Denmark comes in at No. 2 on that list, just behind Finland. Safety could be a factor, as the country also ranks at No. 4 on the Global Peace Index. In addition to beautiful architecture (it's the birthplace of LEGO, after all) and a staunch bike culture, it's also relatively affordable. Even large cities like Copenhagen come in at a middle range of 163 on Expatistan's cost of living index.
Austria
Remember in "The Sound of Music" when Maria is singing at the top of a beautiful mountainous hill? That might be the feeling you get every day when living in Austria, where parts of the movie were filmed. Austria comes in at No. 5 on the Global Peace Index, notable for being one of the countries women feel safest in when traveling alone, per CNBC. Even better, it's a very affordable country to live in — its capital city of Vienna comes in with a rating of 125 on Expatistan's list.
Portugal
Bordering Spain and Morocco, Portugal is a beautiful country sitting on the Iberian Peninsula that abuts the Atlantic Ocean. So, if you love water, this is a great place to settle down as its Algarve beaches are a prime destination and fresh fish dishes are part of its appealing cuisine. Plus, it's ranked as one of the friendliest places in the world according to The Travel, earning a score of 94% in this regard. Not only are the Portuguese friendly, but the country ranks No. 5 on the Global Peace Index and places on the very affordable end of Expatistan's list. Lisbon came in at 107 and the northern city of Oporto scored below average, at 97.
Slovenia
Eastern Europe also ranks highly on the Global Peace Index — with Slovenia, Hungary and Croatia all placing in the top 20. Slovenia came at the No. 7 spot, known for its recreational opportunities. With picturesque mountains, the country is known for its destination ski resorts and there's even a glacial lake, Lake Bled, that is a source of hot springs. Spend the day here and you can look at medieval castles while taking it all in. Its largest city, Ljubljana, scores at just 100 on Expatistan's list, meaning it's very affordable as well.
Czech Republic
According to Statista, more than 2.36 million people travel to Prague every year. The capital city of the Czech Republic, it's an intercontinental metropolis known for its roots in Bohemia and stunning Baroque architecture. Cost of living is incredibly low considering its appeal, as mentioned earlier. The country is also relatively safe, ranked No. 8 on the Global Peace Index.
Take Our Poll: What Are Your Financial Priorities in 2023?
Luxury Travel: What a Million-Dollar Vacation Looks Like
Switzerland
A persistent joke concerning arguments is the concept of trying to "remain neutral like Switzerland," and there's much to this statement. Neutrality is a huge part of the country's foreign policy, one which forbids it from entering into armed conflict with other regions. It's not the only such country, however. Austria — another high ranker on this list — has a similar foreign policy. Because of this ongoing legacy, Switzerland comes in pretty high on the Global Peace Index, taking the No. 11 spot. However, there has been a bit of an uptick in crime in recent years, per Swiss Info, which has Switzerland down from the top 10. It also ranks a bit high in terms of cost of living, with Zurich and Geneva being some of the most expensive cities in Europe. Both tip the 200 score on Expatistan's index.
More From GOBankingRates