Travel Predictions 2023: 13 Things To Expect From Airlines, According to Flight Expert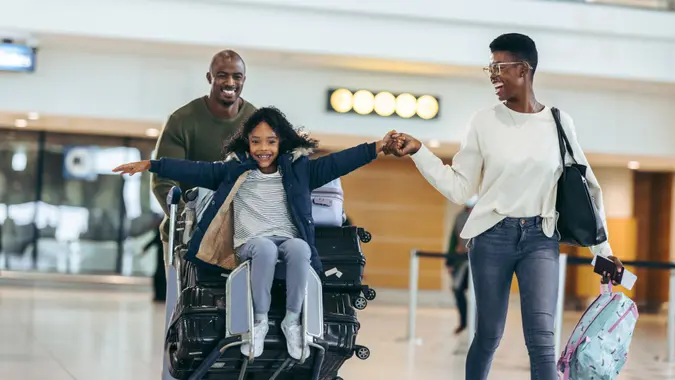 jacoblund / Getty Images/iStockphoto
High prices due to staff shortages dominated air travel throughout 2022, while the year closed out in a frantic flurry of flight delays and cancellations due to inclement weather and FAA system outages. What's expected for flyers in 2023? According to Scott Keyes of Going, previously known as Scott's Cheap Flights, there's plenty to be excited about — especially for those looking for savings and roomier flights.
See: Why Buying Property in These Vacation Destinations Could Be a Great Investment
Read: Get Your Credit Score On Track With These 3 Tips for Success
Find: How 2023 Recession Will Differ From 2008 and How You Should Prepare Differently
Airfare will fall at least 5%
Keyes is 70% confident that airfare will fall by at least 5% compared to 2022. Right now, average airfares are 36% higher than they were this time last year.
Prices on Flights to Asia Will Fall
Keyes has 90% confidence that China, which has been holding fast to COVID-19 travel restrictions, will continue to smoothly reopen and, as a result, get less expensive to travel to and from. Travel to other countries in Asia should follow suit.
Make Your Money Work Better for You
There Will Be More 'Mistake Fares'
In 2022, Going found seven "mistake fares" for members. These included Iceland for $100 round trip, London/Amsterdam for $174 round trip and Tokyo for $316 round trip. Keyes is 60% confident that Going will find at least eight mistake fares this year.
Cheap Flights to Tokyo Will Abound
Going uncovered only 82 cheap flights to Tokyo in 2022. Now that Japan has fully reopened, Keyes is 80% confident many more cheap airfare deals will surface in 2023.
Flights Will Be Less Full
Flights were pretty crowded in 2022, but thanks to less demand and more flight volume, Keyes is 70% confident that more empty seats will abound in 2023.
Flight Volume Will Be Below 2019 Levels
In 2019, U.S airlines averaged more than 26,000 flights per day, compared to 22,300 in 2022. Keyes has 80% confidence that the 14% gap will shrink by a fair amount, but that we won't reach 2019 levels in 2023.
Seat Volume Will Exceed 2019 Levels
In 2022, the number of daily seats was down 7% (2.93 million vs. 3.16 million in 2019). Keyes is 60% confident that we'll top pre-pandemic levels in 2023.
Make Your Money Work Better for You
The Fed Will Step in To Block the Spirit/JetBlue Merger. 
Keyes is 60% confident that federal regulators will move in to block the merger between JetBlue and Spirit because of its adverse impact on airfares and choice for consumers.
There Will Be No Bankruptcies Among Major U.S Airlines
Keyes is very confident (90%) that we will see no major U.S airlines enter bankruptcy in 2023.
More Countries Will Announce Plans To Lift Airport Liquid Restrictions
Keyes has 70% confidence that at least three more countries will announce plans to lift airport liquid restrictions. The U.K has already done this. They announced in December that by June 2024, air travelers will once again be allowed to bring liquids through security.
The Department of Transportation (DOT) Will Propose Its Final Rule On Flight Refunds
Last August, the DOT proposed a regulation that would give travelers' rights to a refund in case of long delays or pandemic restrictions. Keyes is 60% confident that the DOT will propose a final rule similar to its initial proposal in 2023.
Take Our Poll: How Do You Think the Economy Will Perform in 2023?
More: Flight Delayed or Cancelled? Here's When and How To Ask For Compensation
Make Your Money Work Better for You
One of the Big Six U.S Airlines Will Acquire A Smaller Carrier
Keyes is 60% confident that one of the six largest U.S airlines (American, Delta, United, Alaska, JetBlue or Southwest) will try to purchase a smaller carrier.
There Will Be Fewer Flight Cancellations
Keyes is 70% confident that there will be fewer flights canceled in 2023 than there were in 2022.
More From GOBankingRates
Make Your Money Work Better for You