Want To Retire Early? Here Are 5 Ways AI and ChatGPT Can Help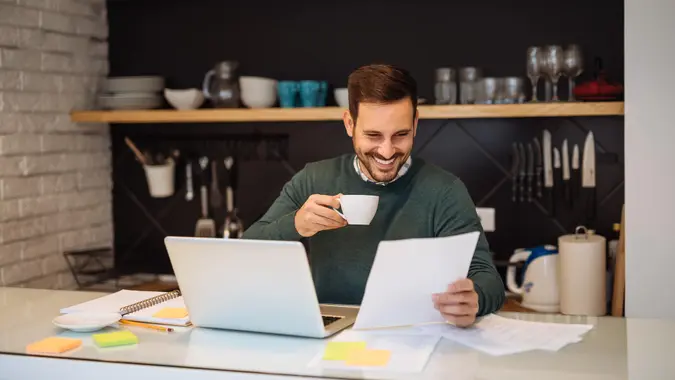 ©Shutterstock.com
ChatGPT is an AI chatbot that is taking the world by storm. While many of its abilities are overhyped, the truth is that ChatGPT can be useful for a variety of purposes, including helping you retire early.
If you stick with the strengths of what ChatGPT offers — namely, its ability to quickly assimilate relevant information and provide it in an easy-to-read format — you can get some real value out of the AI. Of course, as ChatGPT is essentially a computer program, the quality of the responses you get will depend in part on the questions you ask.
Here's a look at how AI like ChatGPT can help you retire early, along with suggestions on how to use it in the best possible way.
Providing a Basic Framework
One of the drawbacks of ChatGPT is that the information it provides is fairly generic. But if you're just getting started in planning your early retirement adventure, that's exactly what you need.
ChatGPT can collect information from experts all across the internet and provide you with a compelling road map to early retirement. For example, if you ask ChatGPT, "How can I retire early?" it will offer you a list of 10 basic steps, all of which provide solid basic information. Examples include "create a comprehensive financial plan," "increase your savings rate," "invest wisely" and "explore alternative income streams."
Are You Retirement Ready?
While none of those suggestions are enough to automatically make you a multimillionaire by age 50, they are all basic steps that people who retire early do take.
Finding Financial Planners
It can be hard for anyone to plan a successful retirement on their own, even if they plan to retire at a more traditional age of 65 or 67. But for those looking to retire early at 50, 40 or even 30, it can be even more challenging.
Hiring a financial planner to help you make all the right moves is a good strategy, and ChatGPT can help point you in the right direction. If you ask the AI to list financial planners in your area, it will offer a disclaimer about how it doesn't have the "ability to curate a list of financial planners," but will then offer specific search terms to use on various sites to find the right financial planner for you.
Suggesting Additional Sources of Income
It's nearly impossible to retire early without generating additional income. ChatGPT can provide you with a list and description of side jobs that you can use to earn more money.
For example, a simple request to "suggest side gig options" generates a list on ChatGPT ranging from freelancing and blogging to handyman services and online tutoring. While ChatGPT can't get you an actual job, it can also help you brush up your resume and tailor it to the type of job you're applying for, thus increasing your chances of generating extra income.
Writing a Better Home Listing
If you're planning on retiring early, you might be considering selling your house. Not only can you unload what may be a pricey mortgage, but you may be able to pull out substantial equity from your house. As the housing market is always competitive, you'll want your home listing to stand out from the rest, and ChatGPT can help you with this.
Are You Retirement Ready?
Although the AI isn't likely to get the perfect writeup from a single request, you can tailor the response ChatGPT gives you — even feeding it additional information to include in your listing — until you come up with a description that suits your needs.
Finding Cheaper Places To Live
Retiring early is always a financial challenge. There's only so much you can cut from your monthly budget, and sometimes earning more income is easier said than done. A slick way to immediately reduce your costs and boost your cash flow is to move to a cheaper place to live.
According to Numbeo, rent prices in Atlanta, for example, are nearly 50% lower than those in New York City. Many other cities, particularly those in the Midwest and the South, are also much cheaper than coastal enclaves. ChatGPT can help guide you toward more affordable places to live, giving you a huge leg up when it comes to planning an early retirement.
The Bottom Line
Artificial intelligence, including ChatGPT, is not enough in and of itself to get you to early retirement. But if you ask the right questions, ChatGPT can provide you with plenty of basic information that you'll need to know.
It can also help you with specific tasks, like finding a side gig, selling your home or moving to a more affordable area. While you'll still have to do the heavy lifting, ChatGPT can get you started and help you along the way.
More From GOBankingRates
Are You Retirement Ready?