Who Can You Rely on for Credible Retirement Advice?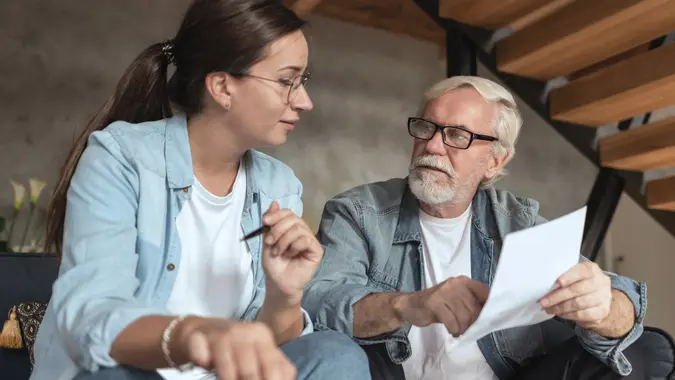 KucherAV / iStock.com
Retirement is one of life's great milestones – a chance to explore personal interests, spend time with loved ones, and take a well-deserved respite from the demands of working life. But having the financial security needed to enjoy a comfortable retirement requires diligent saving and planning, and many don't know where to begin.
In an environment of high inflation, rising interest rates, and uncertainty around the future of Social Security and Medicare, the need for reliable guidance has perhaps never been more critical – but when it comes to navigating something as important and complex as retirement planning, who do people turn to for advice? 
A new GOBankingRates survey asked over 1,000 people from across the country just that — who and where they turn to for advice on investing and retirement — and what sources they avoid.
Are You Retirement Ready?
Turn to Those They Trust the Most
When asked what their primary source is for personal finance advice, friends and family came out on top, with 46% of respondents selecting that as their first choice. This represents a sharp increase from last year's survey, where only 30% of respondents said friends and family. It makes sense that as the economic outlook becomes ever more uncertain, more people are looking to those they know have their best interests at heart. 
However, it's important to keep in mind that someone caring about you doesn't necessarily make their advice sound – you need to consider the source. Their perspective and advice might be influenced by their own circumstances and biases.
Look for Credentials and Relatability
When asked what they look for in sources for personal finance information, credentials and relatability were the most important factors with both being chosen by just under half of respondents.
Looking for credentials is a great idea! While a lot of the financial services industry is regulated in one way or another, it's still very easy for someone that's unqualified, or dishonest, to hold themselves out as a financial advisor.
Are You Retirement Ready?
An established credential can help you weed out the worst of the bunch, and most require significant upfront work and have ongoing education requirements, so you can feel confident they are at minimum reasonably qualified. There are a lot of certifications out there – three of the most respected are the CFA (Chartered Financial Analyst), CPA (Certified Public Accountant) and CFP (Certified Financial Planner).
Valuing relatability in your source of financial advice, however, is a mixed bag at best. It's understandable, these are often complex topics, and people want advice from someone that gives them a sense of comfort, someone that seems to understand their fears and aspirations. Once again – consider the source. Being convincing isn't the same as being right.
Stay Wary of Social Media
Social media platforms have become the go-to source of information for millions of people. That's fine when the stakes are low – your ability to retire won't be jeopardized if that restaurant with the great Instagram account turns out to be bad.
When it comes to financial advice, it's critical to exercise caution on social media – the viral nature of content can amplify trends and strategies that may be unsuitable or even dangerous depending on your financial situation.
Are You Retirement Ready?
The good news is that despite the ubiquity of social media, it seems like people are taking what they hear online with a grain of salt. When asked what their least likely source for personal finance advice would be, social media was the top choice with 32% of respondents. When asked specifically if they would follow money advice they found on social media, over 70% of respondents said never or that it would depend on the source. 
Not Investing or Seeking Advice at All?
One alarming result of the survey is that it shows many are not investing or planning for retirement.
When asked where they felt most comfortable investing their money, 32% of respondents said they did not invest at all – the top response. When asked where they get retirement advice from, 25% of respondents said they do not seek out retirement advice.
It's extremely concerning to think that anywhere from 1/4 to 1/3 of American adults are headed for a financially precarious retirement, or no retirement at all. In today's economy, it can be challenging to save and scary to invest, but without a strategy, your ability to retire comfortably is uncertain at best. If you don't feel confident about your financial future, find a trusted advisor and start planning now.
Are You Retirement Ready?
More From GOBankingRates